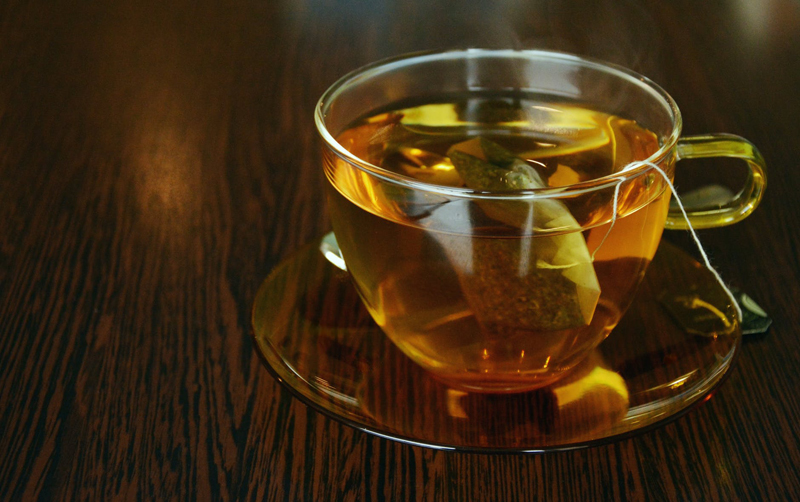 Tea is so beneficial in so many ways, and like with anything over indulgence in tea can wreak
havoc.
Yes, unfortunately even my beloved tea can cause maladies. I have done many an article about
the chemical make-up of tea, each of them with a completely different focus and outlook.

Black tea contains no sodium, no fat, no carbonation, and no sugars and is virtually calorie free.
Tea naturally contains bioactive compounds (sometimes referred to as minerals) such as,
flavonoids, antioxidants, phytochemicals, catechins such as epigallocatechin or EGCG.
All of these mentioned are wonderful for helping people maintain a healthy lifestyle.
Studies will show these naturally occurring compounds to be extremely healthful and highly
beneficial.
But with saying there are good chemicals in tea; there can also be "bad chemicals" too.
How is it possible that tea can be bad for you? Tea in its most natural of states is never
harmful. It has recently been widely reported that a group of large very well- known tea brands
MAY contain some carcinogens on them or in the product. It came to pass that some of the
companies that were "looked" at were because they were considered over the United States and
European limit for pesticide residue on the leaves. So, in other words, pesticides were used in
the process of harvest. When seeking out pesticide free tea, please look for an organic seal.
True organic tea products have to pass a rigorous inspection to keep their seal, therefore, no
organics will ever have pesticides. It is known that pesticides have caused health concerns.
Next, let's talk about a very recent and also widely reported case of Renal Failure (Kidney
failure) and Kidney stones, in May 2014 a man presented to an Arkansas hospital with
complaints of general fatigue, weakness and body aches. While doctors were puzzled,
they continued to test the 56 year old man who showed to have high levels of creatine. The
medical field uses this as a resource to test kidney function. The hospital admitted the man
who eventually was put onto a dialysis machine. Through lots of questions and history still
doctors were puzzled, until the man finally admitted that he consumed (16) sixteen- eight (8)
ounce glasses of iced tea, which amounts to (1) one full gallon of tea per day for many years!
In this man's case he overindulged in the drinking of tea and his body produced (calcium)
Oxalate. Oxalate is a naturally occurring compound. His indulgence caused his kidney (ducts) to
become "clogged" and then this inflamed them, then the oxalate turned into crystals inside the
kidneys. If he had not sought treatment when he did, it would've have caused scarring and the
loss of kidney tissue. Oxalate occurs in so many foods like, strawberries, blueberries,
blackberries, soy, dark beer, instant coffee, spinach, nut butters, chocolate milk, dry beans and
wheat bread to name a few.
Doctors where the man was treated feel that a healthy individual could drink (2) two cups of tea
per day without incident. According to the Academy of Nutrition & Dietetics only 40 to 50 mg
of oxalate should be in the diet per day. The man that drank the gallon of iced tea took in at least
1500 mg per day! His consumption is called excessive and is still a rare case. The doctors though
have dubbed a new diagnosis called "iced tea nephropathy".
In still an ever rarer case, published in the New England Journal of Medicine in 2013, an woman
presented with a bone disease. She consumed too much fluoride. It was linked to the fact that the
woman drank a pitcher of iced tea made from 100 tea bags every day for (17) seventeen years!
No explanation was ever known as to why the woman did that, or what her health outcome
was. As one can see, excessive consumption of black tea can have extreme results.
And finally, a word about tea bags themselves; they have been linked to a number of
contaminations. It is known that chemicals can leach into tea by molecules and released into
boiling water. These types of tea bags are made from plastics as their base material.
Tea bags also can be made with corn as the base product. This product is biodegradable but
would be a GMO. And finally, some tea bags are made with paper strengtheners such as a
common one known as polymerized epichlorohydrin. This is used in pest control and could be
a carcinogen. The content is neglible and is considered minute.
Please also read the labels of the tea product you are buying because of "artificial flavorings" and
"added natural flavors" may contain chemicals that you may not want to consume.

One should always remember that tea is an herb and as consumers we need to be aware of our
own health concerns or conditions and remember that over indulgence of anything over a long
time span may affect our overall health. Please seek out your doctor with questions regarding
tea consumption should you have any.



Related Articles
Editor's Picks Articles
Top Ten Articles
Previous Features
Site Map





Content copyright © 2022 by Mary Caliendo. All rights reserved.
This content was written by Mary Caliendo. If you wish to use this content in any manner, you need written permission. Contact Mary Caliendo for details.