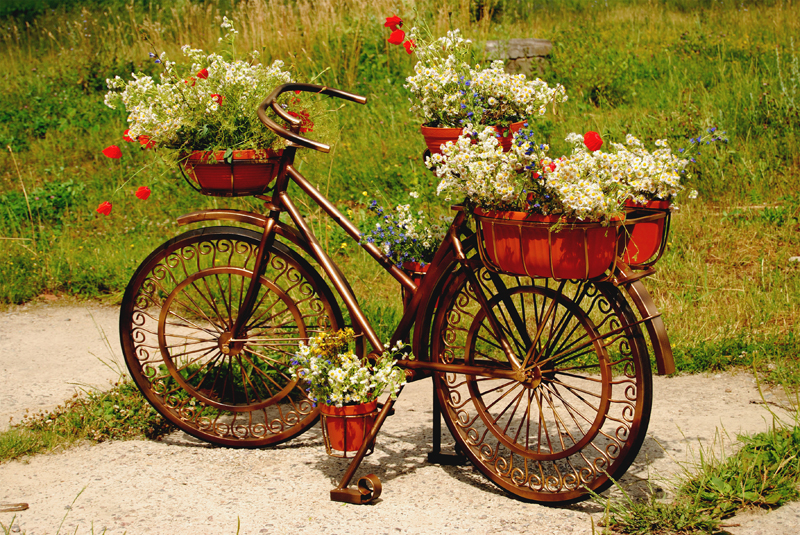 Bokashi is Japanese for 'fermented organic matter' and this is caused by adding wheat bran which has been infused with beneficial probiotic bacteria, yeasts and fungi, to food waste generated daily in your kitchen. It is a convenient, safe and comparatively quick way to make your own compost as well as being a perfect alternative if you live in a place with no garden and where there is no room for a compost pile. Besides, you get to reduce your carbon foot print as well by doing your bit to stop landfill waste. If everyone did it, that would make a lot of 'green' action

WHAT YOU NEED
A Bokashi food bucket or Food Digester. These come in different designs, but essentially this is an opaque heavy duty plastic bucket with a tight-fitting lid and a spigot from which you drain the Bokashi fermented juice. Inside and at the bottom of the bucket there will be a draining tray with holes in it and it is on top of this that you will start to layer your food waste daily. The tray allows any liquid resulting from the fermenting food to collect at the bottom of the bucket - apparently this is yummy for plants!

You will also need Bokashi bran which you can purchase from most garden centres and definitely from the place you bought your Bokashi system. The bran looks like a type of porridge (!) so please store it in the garden shed or box or something … it is not edible or fit for human or pet consumption.

GETTING STARTED
Collect your food waste, cut it up if you want to help the process along (I do this and find it easier to handle along the way) and add this to the bucket. Sprinkle a small handful of bran across the bottom then put in the cuttings and scraps, sprinkle another small handful of bran across the top then cover with a dinner plate or plastic bag. This reduces the amount of oxygen. Seal the bucket and leave it for it to start its magic.

Do this daily (don't open your bucket more than once a day), each time sprinkling the bran, adding the waste, sprinkling the bran, covering with the plate (which helps to squash it all down) and sealing the bucket. Make sure the bucket is sealed properly as no oxygen must get in or the food will rot and you will have to begin again.

This is an anaerobic fermentation process by Bokashi microbes which work together to suppress pathogens, stop rotting and ensure that the end result is a wonderful nutrient rich compost that is easily integrated into your soil. It all happens in a closed system and there is no smell or flies or other nasties.

What you can use into your Bokashi Bucket includes:
All food cuttings like carrot etc. tops, all vegetable cuttings and scraps and leftovers, any fruit skins, peels, pips, juicing pulp etc., tle bread, onions, crushed egg shells, coffee grounds, used tea leaves, meat trimmings, chicken, fish, dairy products like cheese scraps, left-over cooked food, raw food and small bones.

What you can't use includes:
Liquids, gravy, oil, rotten food or large bones. My rule of thumb here is that if you can cut through a bone with some Tullen cutters, then chop it into bits and use it, if not, leave it out.

THE PROCESS
When your bucket is full, seal it for the last time in this round, and then leave it, in a dark place (not in sunshine or heat) for around 14 days. Every second day or so, drain off the juice by opening the spigot and tilting the bucket as necessary, but do not open the bucket during this time.

At the end of the two weeks you can do one of two things which will give similar results.

If you do have some small garden space, dig a trench about four feet long, two feet wide and one plus (or so) foot deep. Turf out your Bokashi mix and spread it along. It will be soft, pickled and smell slightly sour (this is good). If there is white mould, don't worry – just mix it all in. Cover it with a 6-inch layer of potting soil, mix it all up together then cover it with another layer of potting oil. Then just leave it. Do not add water. Just leave it for about a month. Let it be and settle, do not be tempted to go and dig it up to see what is happening. Let it be.

Otherwise, take an opaque plastic storage tote or drum with a lid and do as above – mix the Bokashi waste with potting soil, seal the bin and leave for a month or so. Only check it after a month and you should see the beautiful rich compost full of valuable vitamins, minerals, organic matter and amino acids.

Add this to your garden or your pots and see the results – oh so satisfying to the heart and soul!

Bokashi composting doesn't seem to be an exact science when it comes to timing, there are too many variables – so if after a month your compost doesn't look ready, just leave it a bit longer, it should be fully integrated into the soil you added and look like a friable sweet-smelling compost mix.

IN THE MEANTIME …
It is wise to buy at least two Bokashi buckets so that while you are letting one ferment, you can be filling another. How fast you fill your bucket will depend on how much food waste you generate in your kitchen. If you have a family – then you may want to buy four buckets. As I understand the system, using a 3-5 gallon bucket is the right way to go, trying to go 'wholesale' by using larger containers would not work and for several reasons.

BOKASHI LIQUID
Some people refer to this as 'garbage juice' and rightly so. It is a result of the breakdown of the organic food matter by the Bokashi bran and is almost the perfect liquid fertiliser. Do not use it neat – dilute it one teaspoon to one gallon of water, and only add to the soil (do not use it as a foliar spray). Your garden will love it. Be careful to drain this off regularly and use it within 24 hours of your exposing it to the air.

Besides being a fine fertiliser when diluted, when neat, you can use it to clear drains. Seems crazy that your plants will thrive with a 'juice' you can clean drains with but s'true!

PROBLEMS?
If you are not getting any (or enough) Bokashi liquid it could be because of the type of waste you are using – obviously watery veggies and fruits like watermelon or cucumber or strawberries and so on will be more juicy than cheese rind or chicken bones. Another reason could be that you are adding too much Bokashi bran – just a small handful will do on the top and the bottom of your food layers. Whatever, do not add water.

Other problems can be caused by not closing the Bokashi bin properly; using a bucket that is not airtight; adding too much or not enough Bokashi bran; not draining off the liquid regularly, using rotten food and storing it in the sun.

Imagine this now. If you have the opportunity and are an entrepreneur in the making, or even if you are at home or semi-retired and looking for something useful to do, this could become a very smart and lucrative home-based business; who knows how big you could grow?

You could invest in many buckets and make arrangements for food waste collection from the local cafes and restaurants … and gardens in your area will surely bloom alongside your bank account. Maybe you could introduce it to a school near you? Many hands make light work as we know.

What do you want your container garden to do?

................................................................................

CASUAL VISITOR … and just browsing? Why not sign up to the Container Garden newsletter? It won't matter what space or how many pots you have or even how much time you have to spend in your container garden; what will matter is that you get our reminders and good advice and ideas all in one interesting article.

You Should Also Read:
Earthworms in Containers
Fertilisers and Compost Tea
Mulches and Mulching


Related Articles
Editor's Picks Articles
Top Ten Articles
Previous Features
Site Map





Content copyright © 2022 by Lestie Mulholland. All rights reserved.
This content was written by Lestie Mulholland. If you wish to use this content in any manner, you need written permission. Contact Lestie Mulholland for details.