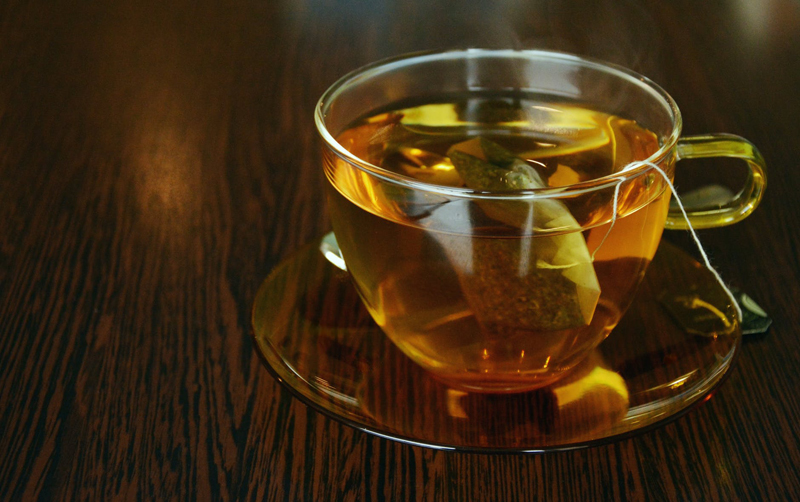 Chilling Out With Tea
The long hot dog days of summer are here. You'd love to host a party but you dislike toiling over a hot boiling stove and a super-hot oven, what you need is recipes and ideas that have little or no prep or cook time.
I think I have a couple of great recipes and party ideas that will help you achieve your goals of getting out of the kitchen and enjoy your party.
The first simple party idea is to hold your party slightly later to catch warmth but not too far from "dinner time" if you are planning a full meal menu.
Take it outside! Dining alfresco under open umbrellas and lights or candle lights, sets a dramatic and romantic mood. Don't just light candles for a couples party; think girls night out or even for children. One can purchase battery operated tea lights/candles. *For girls night put small battery candles into high heels as part of a centerpiece! Or for kids place them into toys (i.e. trucks and cars for boys and toy purses for girls). Take collected jelly jars or mason jars and arrange them all over in groups of three to create ambiance. The jars can be hung from trees or set into landscapes or even to create pathway lighting.
Bugs got you down? You want to be out but the pesky bugs are bothering you? Make a mint tea bug repellant! By making your own, one can eliminate using harsh chemicals.
Recipe: Using fresh mint loose tea or mint tea bags, place into a saucepan with water. (*use an equal parts per 8 ounces) Boil. Let mixture of tea steep overnight. In the morning, strain tea if necessary and then now mix the mint tea mix with equal parts of rubbing alcohol. Mix. Put the mixed liquid into a spray bottle. If flies are a problem, hang tea bag or fresh sachet in the top of the umbrella.
Make cold tea sandwiches. These tea sandwiches are meaty and even then men will like these.
Apple Brie Hamwiches
Ingreds.
Softened butter Dijon mustard green apples
deli ham Brie Cheese French bread
How to:
1. split the French bread loaf, slice brie thinly and slice apples thinly
2. spread softened butter and dijon on the bread
3. fill with layers of ham, cheese and apple
4.slice sandwiches between 3-5" long.
This is easy, and the amounts of ingredients can be tailored to the eater. (i.e. more meat and bigger bread size)
Cocktails anyone?
How about a Gin & Green Ginger Tea. Easy to make and super enjoyable.
Ingreds.
2oz of green tea, or ginger tea, or green ginger tea (make ahead and refrigerate)
2oz gin
1 tbsp. simple syrup
ice
tonic water
limes or lemons (optional for garnish)
Gadgets needed:
martini shaker
How to:
1. into shaker put gin, tea, simple syrup and ice. Cover and shake well.
2.Strain into glass, top with tonic water.
3.garnish with a twist of lemon or lime if desired.
*this drink goes well with vodka as well. Green tea, green ginger or ginger tea pairs well with liquor.
Finally, how about dessert?
Frozen Mint Tea Icee Sorbet
Ingreds:
3 large family size mint tea bags or six regular tea bags
6c boiling water
1c sugar
½ c water
2 tbsp clear corn syrup
6tbsp fresh lemon juice
sprigs of mint (optional)
lemon slices (optional)
Gadgets:
9 x 13 baking dish/pan
saucepan
large bowl
fork
spoon
dessert cups
*need kettle boil water.
How to:
1.Put tea bags into large bowl and pour boiling water over the top. Steep for at least 10 minutes. Discard tea bags after steeping.
2.Now combine sugar & corn syrup in saucepan. Bring to boil over med. heat. Remove from heat let stand 5 min.
3.Now add sugar mixture and lemon juice to the tea and stir.
4.Now pour the entire mixture into 13 x 9 baking dish. Cover and freeze for at least 6 hours, or until firm.
5.Remove from freezer and scrape with a fork until fluffy and spoon into dessert cups. Garnish with mint sprigs or lemons if desired.
I hope you'll enjoy these ideas and very easy recipes to get you out of the hot house and enjoying the party!



Related Articles
Editor's Picks Articles
Top Ten Articles
Previous Features
Site Map





Content copyright © 2023 by Mary Caliendo. All rights reserved.
This content was written by Mary Caliendo. If you wish to use this content in any manner, you need written permission. Contact Mary Caliendo for details.