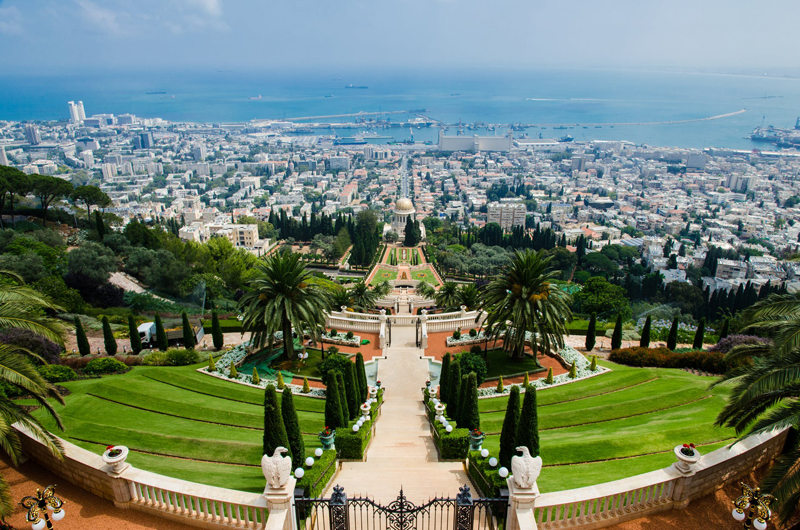 "The world is in travail and its agitation waxeth day by day. Its face is turned toward waywardness and unbelief. Such shall be its plight that to disclose it now would not be meet and seemly. Its perversity will long continue. And when the appointed hour is come, there shall suddenly appear that which shall cause the limbs of mankind to quake." -
Lights of Guidance,
p. 125
It is so easy to see the chaos and the disasters and the inhumanity rampant in the world that there is no surprise in a corresponding rise in End of the World predictions. Some days it hard to resist the endless reports carnage and stupidity and human perfidity that prove people are just no good and never going to be good, no matter what I do.
It is so easy to see the negatives: "Every discerning eye clearly sees that the early stages of this chaos have daily manifestations affecting the structure of human society; its destructive forces are uprooting time-honoured institutions which were a heaven and refuge for the inhabitants of the earth in bygone days and centuries and around which revolved all human affairs. The same destructive forces are also deranging the political, economic, scientific, literary, and moral equilibrium of the world and are destroying the fairest fruits of the present civilization. Political machinations of those in authority have placed the seal of obsolescence upon the root- principles of the world's order. Greed and passion, deceit, hypocrisy, tyranny, and pride are dominating features afflicting human relations. Discoveries and inventions, which are the fruit of scientific and technological advancements, have become the means and tools of mass extermination and destruction and are in the hands of the ungodly. Even music, art, and literature, which are to represent and inspire the noblest sentiments and highest aspirations and should be a source of comfort and tranquility for troubled souls have strayed from the straight path and are now the mirrors of the soiled hearts of this confused unprincipled and disordered age. Perversions such as these shall result in the ordeals which have been prophesied by the Blessed Beauty in the following words: 'Every day a new calamity will seize the earth and a fresh tormenting trial will appear'. "The day is approaching when its (civilization's) flame will devour the cities." -
Lights of Guidance,
p. 126
So why aren't Bahá'ís driven to the same despairing behaviors that the mass of humanity uses to cope? It isn't that they don't notice, or get tired and disappointed, or impatient, or angry, or whatever. But they do have hope for a future past the mess caused by ignorance of true human nature and resistance to change.
Change requires sacrifice, and few people willingly sacrifice for very long. In the past, only religion has had the power to support and maintain change across generations. But religion in its dregs has a bad name, not to mention requiring personal transformation. As a species, we'll try every other possible method for relief of discomfort before doing what we know to be right behavior. [Bahá'ís believe that there is only one Source of guidance, Who has sent great Teachers regularly through the ages to train mankind in how to be good, based upon the needs of the time and the understanding of the people. Bahá'u'lláh is only the latest of Those, and the Bahá'í Faith the latest, but not the last chapter in this ongoing religious Book.]
Any news media will provide ample evidence of the mess, and justification for a despairing definition of the species. Climate changes are daily more obvious and may indeed bring about the calamities scientists predict. Meanwhile, every kind of government and religious and business system fails to improve the lot of most people. Many people are turning to drugs, violence, fantasies, and suicide. Some people are so filled with helplessness that they subscribe to End of the World beliefs, waiting for rescue outside of themselves.
So, is it too late in the day to prevent total annihilation?
Bahá'ís don't think so. And they are willing to do whatever it takes as individuals
to make a difference--one heart at a time--beginning with their own. Here are their religious instructions:
"Be kind to all people, love humanity, consider all mankind as your relations and servants of the most high God. Strive day and night that animosity and contention may pass away from the hearts of men, that all religions shall become reconciled and the nations love each other, so that no racial, religious or political prejudice may remain and the world of humanity behold God as the beginning and end of all existence. God has created all and all return to God. Therefore love humanity with all your heart and soul. If you meet a poor man, assist him; if you see the sick, heal him; reassure the affrighted one, render the cowardly noble and courageous, educate the ignorant, associate with the stranger....for this is the greatest attainment possible for the world of humanity." - 'Abdu'l-Bahá, Foundations of World Unity, p. 73
Not personal perfection, but better every day, little by little, and supporting others working together.
You Should Also Read:
Is Mankind Redeemable ?
Can Religion Provide Hope for a Global Ethic ?
The 5 Most Outrageous Things Bahá'ís Believe


Related Articles
Editor's Picks Articles
Top Ten Articles
Previous Features
Site Map





Content copyright © 2022 by Cheryll Schuette. All rights reserved.
This content was written by Cheryll Schuette. If you wish to use this content in any manner, you need written permission. Contact Cheryll Schuette for details.