Art Tatting Yuuko Terachi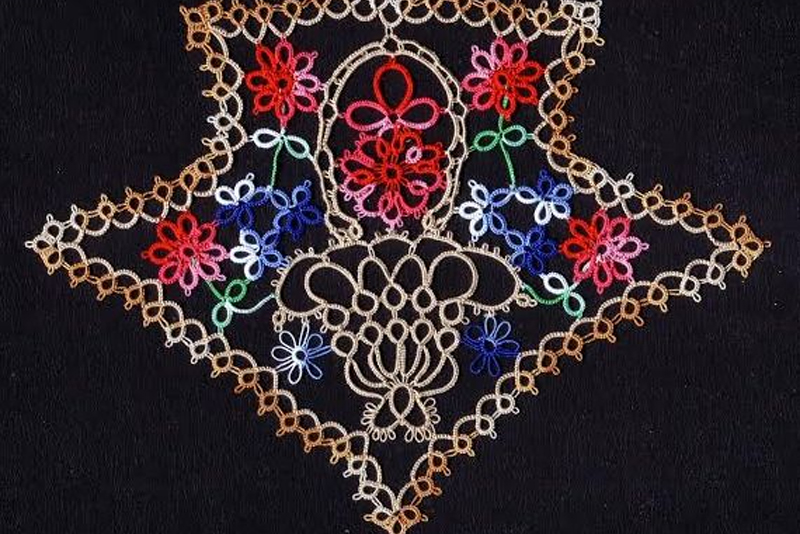 Introducing a New Tatting Designer, Two New Books and a New Shuttle for the New Year 2016
I am still studying "Art Tatting," vol. 1 and "3D Flower Tatting," vol. 2, the new books published in 2015 by Yuuko Terachi. "Art Tatting" features fabulous necklaces, collars and bracelets. These are wide pieces and encrusted with beads, bugle beads, large rice beads, pointy dagger stones and pearls. The tatting required is very traditional and with familiar forms. However, it is Yuuko's unique combination of these traditional type patterns into stunning jewelry which will inspire us.
There is no list of abbreviations for the basic tatting but there is an aide to explain the diagrams.
Using the straight line versus the ovoid teardrop to indicate which type of picot is needed, straight line indicating a picot without beads while the teardrop indicates a beaded picot, is very useful. Additional diagrams show the regular double stitch count and the number of beads per picot.
Yuuko's first book has only Japanese text but as you can see from this sample, there are detailed photos and the diagrams are large and easy to follow.
Please read on about her second book:
Happily vol. 2, "3D Flower Tatting" has both Japanese and English text. The magnificent full color photography for these tatted flowers, leaves and even berries make this book a real page turner. And I find Yuuko's method of overlapping flat pieces of tatting to create a three dimensional piece stunning. Her method is called "Yuuko's Push-out Trick" and is easy to learn with detailed diagrams like this.
I can't decide if I like the purple rose or the pink rose pattern best but I know that the purple berries will be the first pattern I try out. I know we will all enjoy working these patterns.
But first, take a closer look at the cover of vol. 2, please.
On the cover are two samples of a clear shuttle which Yuuko developed herself. With the help and permission of Debbie Arnold of https://www.ds9designs.com/ and Makiko Itoh from the facebook group "Tatting," this short history was obtained.
Yuuko Terachi (Atelier Yuuko) developed the design and concept of the clear tatting shuttle. She designed this shuttle as a personal project, since she really wanted a transparent shuttle. She financed just one production run herself several years ago. It is unknown if a second run will be produced. If interested, a few rare clear Atelier Yuuko shuttles may still available. Please contact Debbie Arnold (see above) for information.
By the way, Yuuko wrote in her forward to vol. 2, "3D Flower Tatting" that her mentor was the late Mituko Ikuta whose three works are familiar to us. Tatting & Bead Tatting 1 Mitsuko Ikuta (Japanese,) Tatting & Bead Tatting 2 Mitsuko Ikuta (Japanese,) Tatting and Beads Book 3 Mitsuko Ikuta (Japanese.)
I highly recommend these two new books. The designs are bright and beautiful and just right for any tatter.
Note: I gratefully received these two books as a gift from Yuuko Terachi - G. Seitz
You Should Also Read:
Selection of Japanese Tatting Books


Related Articles
Editor's Picks Articles
Top Ten Articles
Previous Features
Site Map





Content copyright © 2021 by Georgia Seitz. All rights reserved.
This content was written by Georgia Seitz. If you wish to use this content in any manner, you need written permission. Contact Georgia Seitz for details.