Clotilde Half Wheel Edgings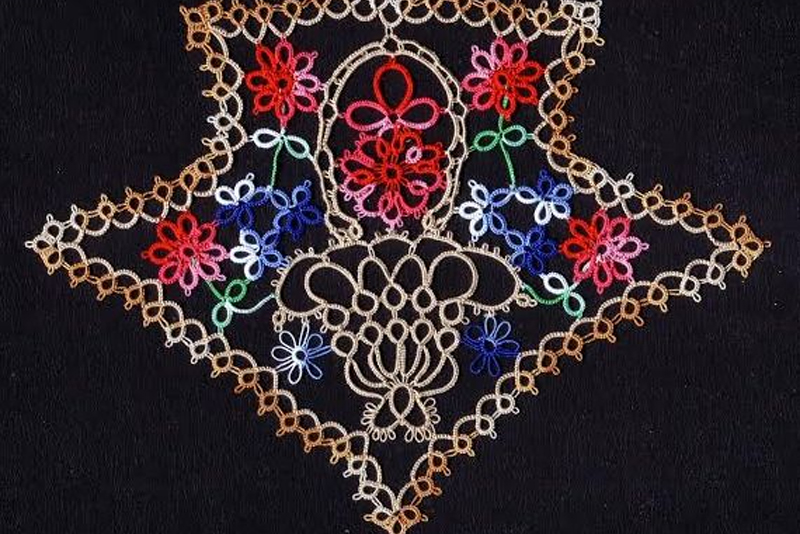 Two Scalloped Edgings by Clotilde
Nov. 27, 1921
I have found a vintage pattern with the publisher's or designer's name as "Clotilde." I do not know this name and am already on the hunt for more information. The patterns are quaintly described as "Half-Wheel Edging and Daisy Insertion, Done in Tatting, Not Difficult for Persons Accustomed to That Kind of Work..." Hmm, so if we know how to tat already, we're in for some enjoyable work? Sounds good to me.
A tatted wheel is familiar to tatters. (See the Classic Wheel: https://www.bellaonline.com/articles/art20219.asp and https://www.bellaonline.com/articles/art302222.asp) as is the plain alternating ring and chain pattern between the wheels. But these are only half wheels separated by the five ring and chain portion. Half wheels are most often depended from a previous round of tatting or sewn to a cloth, but here the design has two lines facing each other in an interlocking position. With picot on the outer edge of each side this make a perfect insertion, too. I can also envision it as a collar or camisole top.
The vintage directions have been rewritten using modern tatting notation and methods.
The Half Wheel Edge:
Center ring = Ring (R) 14 picots separated by 2 double stitches (ds), close ring (clr) and create mock picot and climb out with a split ring.
Split ring 5 / 5 clr do not reverse work (rw).
Chain (CH)8
*R 6 - 6 clr
CH 2 - 2 - 2 - 2 + (join to p of previous ring)rw
R 2 - 2 - 2 - 2 clr rw
CH 3 - 3 - 3 - 3 + (join to base of *R)
CH 8
rw
R 5 + (join to next picot on center ring) 5 clr rw
CH 8 rw
Repeat from * to * joining by the second picot in the side chains
CH 8 rw
Repeat around until there are eight "buds" (spokes, petals?)
Opposite is mirror image. Note the joins and positions of the half wheels. These half wheels do not join to each other. The mid-point of the wheel joins across to a small ring. The poor image is quite unclear, so please do notify me of any errors.
The other edging, the Daisy insertion, appears to be to be a regular edging attaching to the cloth on only one side not both. This pattern uses the roll stitch which, of course, is not a stitch at all. (See Roll Stitch: https://www.bellaonline.com/articles/art386.asp)
I hope you enjoy this and I will work next on the Daisy edging.
Happy Tatting!
You Should Also Read:
Classic Wheel
Classic Wheels


Related Articles
Editor's Picks Articles
Top Ten Articles
Previous Features
Site Map





Content copyright © 2023 by Georgia Seitz. All rights reserved.
This content was written by Georgia Seitz. If you wish to use this content in any manner, you need written permission. Contact Georgia Seitz for details.