Treasure Tatting by Keiko Suzuki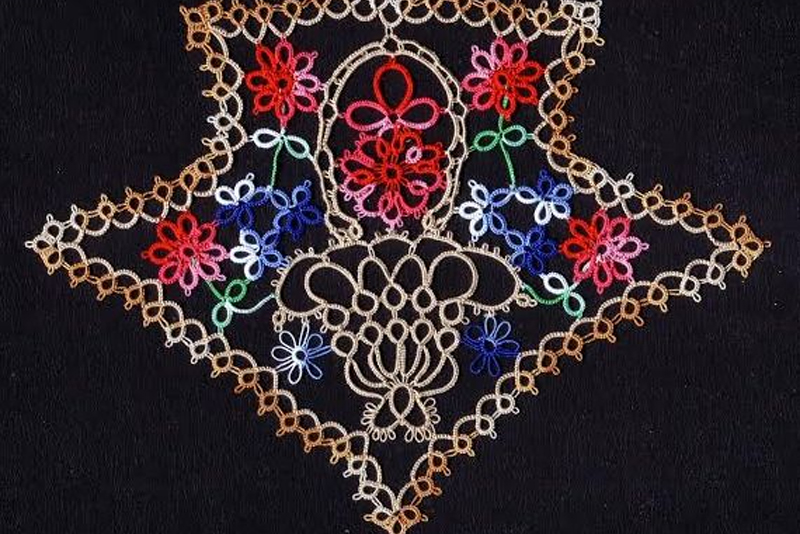 Treasure Tatting by Keiko Suzuki
I am seldom at a loss for words but this book is so different that I am unsure how to describe it. "Treasure Tatting" by Keiko Suzuki ©2014 with 90 pages in the A4 format has 50 pages of color and 40 pages of diagrams and instructions in gray tones. From here there is so much to say that I have separated it into topics.
1. Color photography
The covers are glossy prints to draw the eye. Many of the projects are in jewel tone colors and in exquisite details. The monotone pieces are encrusted with beads. But the color lace jewelry pieces are overwhelming with brilliant color combinations. I am staggered.
2. Presentation
Opening the book I expected to see the usual suppliers' advertisements for threads and shuttles. Instead I was treated to the first of several layouts which include dollhouse miniatures. A single figure and a mother and babe figure are making bobbin lace. A length of bobbin lace runs across the page and draws the eye to a miniature bicycle laying across one of several hand drawn and hand tinted scenes from Europe. I spotted Die Fuggerei from Augsburg, Bavaria beneath the bike. Needless to say I turned the page rapidly.
3. Miniatures
The next few pages are adorned with two cabinets, one with books which, of course, had lace related titles in tiny script. The ribbon cabinet was gorgeous. Reels of ribbons were strung on rods for easy access and lace wrapped on separate holders. There is a table with a bobbin lace bolster and many bobbins spread out. Many more miniatures graced the additional pages.
This is a rather impressive layout so far, but the tatted projects are yet to be introduced! Please read on.
4. Tatted projects
The more than 25 tatted jewelry patterns would easily fit into a display at Tiffany's jewelry counter. Necklaces, bracelets, brooches and earrings are all so beautiful. These items will inspire all of us to tat them over and over in many colors and bead combinations.
And there are two huge doilies (think Jan Stawasz)and several smaller ones and mats, too. Some of the designs are attributed or inspired by the work of others (noted on page.) But there are two projects which deserved special notice, the carousel and the tatted vest.
Tatted all in black, the vest has many pieces and patterns. Sprays of classic rosettes are connected with many patterns of tatting both one shuttle work and multiple shuttle work too. But no actual pattern is included. This is the exception in the book.
5. The carousel
Fireworks in thread first capture the eye on this carousel. Three horses chase each other around beneath the top decorated with pearl tatted ribbons, balloons, flowers, greenery entwined around the center post. Added whimsy is found in the fir trees on each side of the picture and in small images tucked into surprising spots. Two tatted cats are riding for free on the carousel top while a third is tucked beneath the hooves of one horse. A hobby horse seems to be trying to climb onto the carousel while two snails watch (in amazement I suspect.) And Cinderella's slipper hints that the carousel may hide a lovers' tryst. In all aspects, this is beyond charming.
Note: I acquired this book for my personal tatting reference library. G. Seitz
You Should Also Read:
Selection of Japanese Tatting Books


Related Articles
Editor's Picks Articles
Top Ten Articles
Previous Features
Site Map





Content copyright © 2019 by Georgia Seitz. All rights reserved.
This content was written by Georgia Seitz. If you wish to use this content in any manner, you need written permission. Contact Georgia Seitz for details.