Guest Author - Mavis Metcalf
This pretty pair of Lovebirds will make an interesting and fun jigsaw puzzle.
You may have to scroll over to get the whole puzzle into your window. As always, you can make this puzzle harder or easier, by clicking on "Shapes" to the left and changing the number and shape of pieces.
If you would like to send this picture as a postcard, please click
here
More Jigsaw Puzzles
After many years of Lovebird ownership, I have decided to write an e-book about these wonderful birds.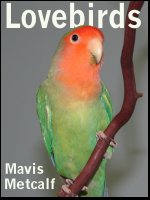 If you are interested in Lovebirds, here are a few books from Amazon.com that you might want to look at.
I found some wonderful parrot t-shirts at
Choice Shirts