Real Tatting or Machine-made?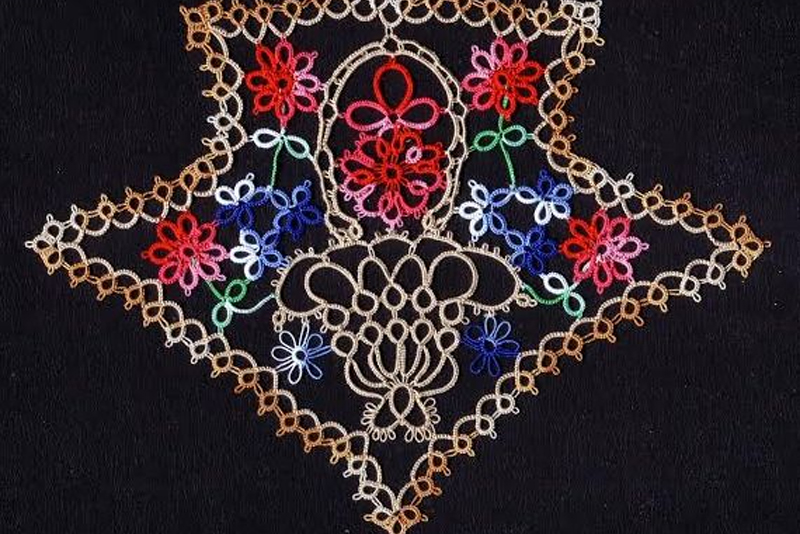 Modern Embroidery Machines Mock the Look of Lace By Anita Barry
They weren't tatted!! These earrings I spotted in a small town shop long ago looked like tatting but weren't. I learned that the earrings had been sewn onto stabilizer fabric by an embroidery machine using sparkling thread and a rhinestone stud was added later to the center. Washing away the stabilizer left a product that resembled tatting.
Look closely. The photograph below shows the machine embroidered motif I purchased on the left. On the right is my hand-tatted unblocked motif.
Look at the clarity of each motif. The machine embroidered motif appears rough. The edges are jagged. Uncut fibers are all around the motif. The negative spaces are obstructed. The picots appear to be made of multiple threads. The thickness of the threads varies throughout the project. And there isn't a single double stitch! A sewing machine is designed to sew, not create knots. The motif holds its shape well. And, I do like the clever way of securing the jewel in the center. It appears the machine embroidered motif was shrunk around the jewel securing it in place.
The texture, beauty and symmetry of an item lovingly tatted by hand is truly a work of art. The motif on the right is simple, clear and beyond comparison. There are precise negative and positive spaces. Light reflects off the rounded threads. The work is tidy, airy and delicate. The strong tightly twisted threads provide a sharp, clean appearance. The thread tension creates smoothness. The three-dimensional shape of the double stitches is like eye candy. It's beautiful, just beautiful.
A comparison between the two motifs makes it clear. Although the machine embroidery pattern companies describe their designs as "mimicking", "duplicating" and "replicating" laces, I disagree. Nothing but the shape is similar.
Machine embroidered patterns come in a variety of forms. Patterns can be purchased for making continuous laces for edgings, for insertions, or for freestanding laces. In my research I found the term "Free-standing lace" descriptive of machine embroidered designs.
Tatting is not the only lace mimicked by embroidery machines. The machines sew heirloom designs of Irish Lace, Needle Lace, Tambour Lace, Renaissance Lace and others. Also, Crazy quilt and cross stitch designs can be machine embroidered.
In an effort to learn more about machine embroidery, I began researching online. One machine embroidery pattern company closed within days of beginning my quest. Another company appears to only accept contacts through email and hasn't responded to my email requests to learn more about their product. Therefore, I can't tell you more about their products at this time. I can only pass on what I observed from my earring motif and what is on the surface of the Internet.
My recommendation to those who spend hours creating hand tatting is to describe your item to others as being "Handmade tatting".
Machine Embroidery pictured on the left, handmade tatting on the right.
You Should Also Read:
Chemical Lace Tatting


Related Articles
Editor's Picks Articles
Top Ten Articles
Previous Features
Site Map





Content copyright © 2023 by Georgia Seitz ed / Anita Barry. All rights reserved.
This content was written by Georgia Seitz ed / Anita Barry. If you wish to use this content in any manner, you need written permission. Contact Georgia Seitz for details.