Nina Libin Long Picot Earring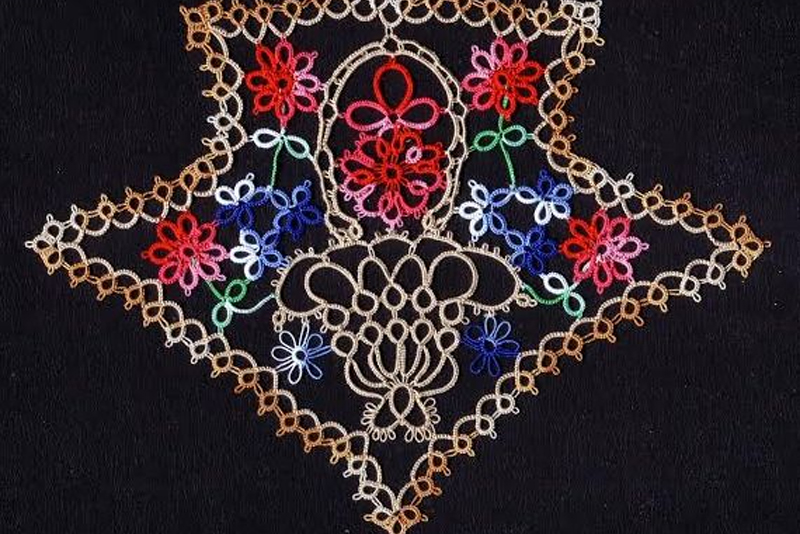 Nina Libin Long Picot Earrings I I
Pattern for shuttle and needle tatting
For a pair of earrings with 3 long beaded picots you will need 2½ - 3 yards of 3-ply metallic embroidery thread and 150-160 seed beads size 11.
Shuttle tatters may use one shuttle or finger tat and needle tatters use tatting needle #7.
Bead Symbols for the Patterns:
b = 1 bead on knotting thread.
20/b or 24/b = place 20 or 24 beads on the long picot.
Pattern for ONE Earring:
Take 1-1½ yards of thread and string 75-80 seed beads, load ½ yard of thread on the
shuttle or thread tatting needle and follow the pattern.
Shuttle tatters make a Self Closing Mock Ring.
Needle tatters make a regular ring.
1) SCMR/R : 1 b 1 b 1 b 2 (20/b) 2 b 1 b 2 (24/b) 2 b 1 b 2 (20/b) 2 b 1 b 1 b 1. RW
To break it into steps:
Tat 1 b 1 b 1 b 2 (20/b) 2 b 1 b 2, place knotting thread (the whole tail) with (24/b) beads under and over the right side of the 1st picot, adjust beads,
Insert ear wire. Then start the second earring.
and tat: 2 b 1 b 2, place knotting thread (the whole tail) with (20/b) beads over and
under the right side of the 2nd picot, adjust beads,
and tat: 2 b 1 b 1 b 1. RW
2) R: 20.
Tie and cut the tails.
Nina Libin's style of Beaded Tatting is fascinating. And now that her new book on beaded split rings for needle tatting is now available even beginning needle tatters may join in the fun. "Essential Bead Tatting Part 111-2 Symmetrical Beaded Split Rings (Adapted for Needle Tatting) @2016, Libin & Swank" https://www.bellaonline.com/articles/art302872.asp
I will never forget the journey of discovery and exploration of the many possible combinations of beads, threads, and knots on which Nina Libin's first book, "Tatted Lace of Beads The Techniques of Beanile Lace" led us. It examined multiple traditional ways to incorporate beads into shuttle tatting. But now Nina has made all the Beanile style patterns available for needle tatters, too.
Nina Libin brought us a new notation form for the placement of the beads. Shuttle tatters began to build up stacks of beads by placing some on the picots and some on the core threads. But needle tatting methods are different and problems arose.
Nina became aware of these problems and worked with Bonnie Swank, an experienced needle tatter, to revise pattern instructions to accommodate needle tatting methods.
This earring pattern is an excellent example of how to solve that problem.
You Should Also Read:
Nina Libin - Beaded Pearl Tatting BK 17
Lace of Beads #21 by Libin & Swank
Finger Tatting


Related Articles
Editor's Picks Articles
Top Ten Articles
Previous Features
Site Map





Content copyright © 2023 by Georgia Seitz ed / Nina Libin. All rights reserved.
This content was written by Georgia Seitz ed / Nina Libin. If you wish to use this content in any manner, you need written permission. Contact Georgia Seitz for details.