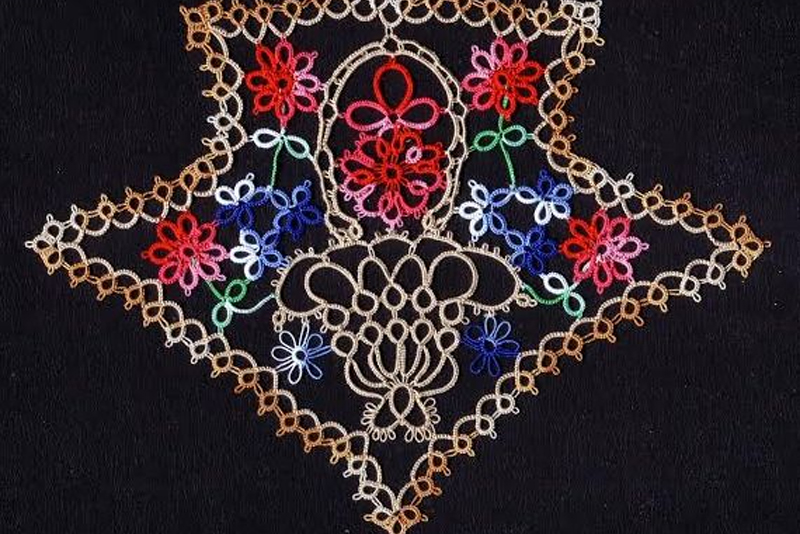 Camisole Yoke Antique
Tatted camisoles and yokes were favorites of tatters in the early part of the previous century. Although intended for lingerie and sleepwear, these are perfect for summer tops and evening blouses. For daily use items use sturdy tatting cotton but for the night life use glitzy threads and beads, baubles and bangles on every picot.
1. Measure the chest about mid-bosom and tat a strip of the "eggs" to match that length.
2. Tat an uneven number of the round motifs; probably 5 or 7 depending upon the bosom of course :). These rounds join to the strip of "eggs" as made. The small area between the rounds are filled with the three-ring filler which joins to a motif on each side and the "egg" strip on the bottom. One picot of the filler is left as decoration while all the others are joined.
3. Measure the distance and space the back round motifs to line up with the front and repeat steps in #2.
4. The underarm area between the front and back row of rounds is tied together with a strip of "hen and chicks and eggs" with the new "egg" row attached to the previous round of "eggs". Continue the one-shuttle work from left to right and then up the side of the round motif and back to form half of the strap and then down the side of the round motif on the opposite ending where you started.
5. Repeat #4 for the opposite underarm area and strap.
6. Attach to the inner side of the yoke above the round motif so that you add a double row of" eggs" for both straps.
7. Now add a final row of "hen and chicks" that attaches to all round motifs (add the three-ring motif if you haven't already where needed) and up the inner side of the strap. (The strap has a double "egg" row with "hen and chicks" on both sides.)
8. For the adventurous, attach by picots to fabric; the more modest will perhaps wish to sew the entire bottom row of "eggs" to the fabric.
Diagrams for Filler, Hen and chicks, and Eggs
Diagram for Round Motif
Please note that the round motif is made with an uneven number of picots; 11 picots separated by 1 DS. Why? I have no idea :)
Stitch Count for Round Motif
Note: The three ring filler piece may also be thrown off a segment of chain on the round motif PS. Should any tatter recognize the origin of this tatting please let me know.
You Should Also Read:
NHY Heart Shaped Edging no. 5


Related Articles
Editor's Picks Articles
Top Ten Articles
Previous Features
Site Map





Content copyright © 2023 by Georgia Seitz. All rights reserved.
This content was written by Georgia Seitz. If you wish to use this content in any manner, you need written permission. Contact Georgia Seitz for details.