Marie Antoinette Hees BK5 Edging 7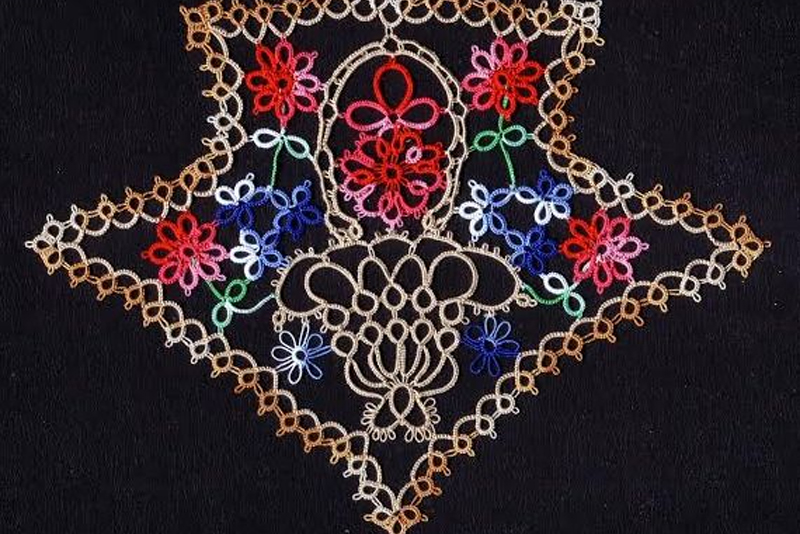 Marie Antoinette Hees Book 5 Edging 7
This vintage book was published by E.C.Spuehler of St. Louis, MO date unknown. The copyright information shows that Marie Antoinette Hees and Minnie North jointly share it. It is an instruction manual in the basics of tatting and includes many useful edgings for everyday objects. It offers 36 patterns and ideas for their use. And the publisher included a list of their publications (covers) on the back page.
This edging is listed as #7 and is also seen in a wider form attached to a handkerchief on page 9. The photo on page 9 is surrounded top and bottom with text. Above is pattern, #22. The original edging #7 shown on page 5 has the directions on page 9 below the hanky photo.
Study the image a moment. Hmm.. how many passes across will it take to tat this pattern?
Just One!!
It is just like following the yellow brick road. A few twists and turns and it guides the pattern to the end.
This shows two repeats tatted without cutting the thread.
Directions
R1 7 - 7 clr rw
CH1 2 - 2 - 2 - 2 - 2 - 2 rw
+ join to picot of ring 1 dnrw
CH2 7 - 7 rw
R2 5 + (join to last picot of chain 1) 5 clr rw
CH3 2 - 2 - 2 - 2 rw
R3 5 + (join to next picot of chain 1) 5 clr rw
CH4 2 - 2 - 2 - 2 rw
R4 5 + (join to next picot of chain 1) 5 clr rw
CH5 2 - 2 - 2 - 2 rw
R5 5 + (join to next picot of chain 1) 5 clr rw
CH6 6 - 6 - 6 + join to the base of ring 1 dnrw
CH7 2 - 2 - 2 - 2 - 2 - 2 rw (this chain arches over ring 1)
+ join to picot of ring 1 (this is the second join into this picot rw
CH8 7 rw
R6 6 - 6 rw
CH9 7 rw
Repeat pattern for length desired.
Diagram with double stitch counts marked.
Here's the latest article from the Tatting site at BellaOnline.com.
Erin Holloway's Square Medallion Many thanks to Erin Holloway for sharing this square medallion with the online tatting class and tatting at BellaOnline.com. This will be an excellent motif to be repeated to create a large doily, table runner, table cloth or even bedspread!
https://www.bellaonline.com/articles/art303773.asp/zzz
Please visit tatting.bellaonline.com for even more great content about Tatting. To participate in free, fun online discussions, this site has a community forum all about Tatting located here -
https://forums.bellaonline.com/ubbthreads.php?ubb=postlist&Board=39
I hope to hear from you sometime soon, either in the forum or in response to this email message. I thrive on your feedback! Have fun passing this message along to family and friends, because we all love free knowledge!
Georgia Seitz, Tatting Editor
https://tatting.bellaonline.com
One of hundreds of sites at BellaOnline.com
You Should Also Read:
Modernize Vintage Tatting Patterns


Related Articles
Editor's Picks Articles
Top Ten Articles
Previous Features
Site Map





Content copyright © 2023 by Georgia Seitz. All rights reserved.
This content was written by Georgia Seitz. If you wish to use this content in any manner, you need written permission. Contact Georgia Seitz for details.