Mignonette Snood - Stephanie Wilson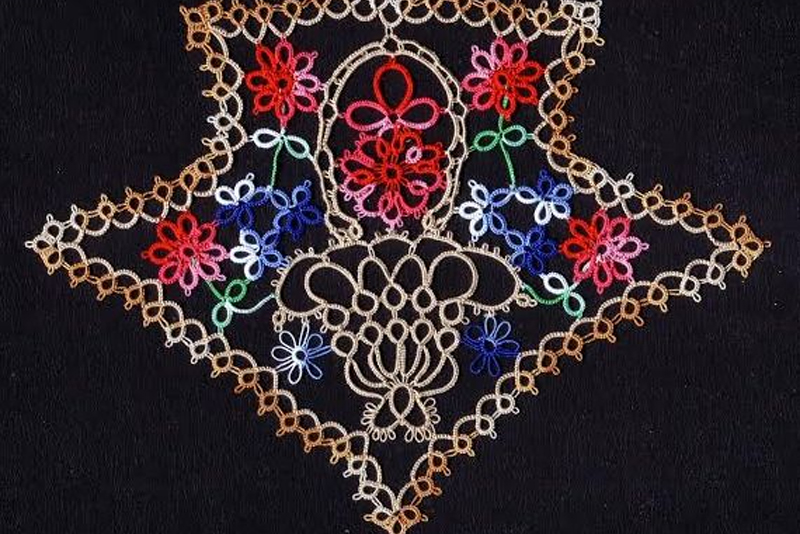 Emmy Liebert Book #36 Pattern #23
From the files of the Online Tatting Class is shared a vintage pattern by Emmy Liebert with revised and modernized text by Stephanie Wilson.
Back in 2008 the online tatting class discussed the possibilities of adapting a pattern by Emmy Liebert (Book #36 Pattern #23) to mignonette style tatting. Many suggestions were made. Stephanie Wilson tatted the sample above and provided the pattern.
Tat the center ring "as is."
R of 10 picots separated by 1 ds.
Make a mock picot for the 11th picot and use it to climb out into the next row.
Add an extra row(s) of mignonette, plain or beaded, before going to the all-rings row.
She changed the way the all-rings row was anchored to the last row of mignonette. She chose not to anchor ANY rings into the ring on the row before, but joined 3 rings to each thread space without attaching ANY of them to each other (to lie more smoothly if the hair wasn't perfectly smooth, which is usually isn't).
Study this detail showing the all rings row.
She added a picot to make 5 picots in a row instead of 4 on the larger ring. And added another beaded mignonette row, then another 2 rows, the addition of which and the addition of more rows will accommodate varying lengths of hair.
If the mignonette stitch is new to you:
The tatted mignonette stitch is not a stitch at all. It is called that for convenience only. It is actually a lace ground, or background. The tatted ground work is comprised of all rings, no chains. The distance between rings must be carefully measured. The rings of each following row will join to the bare thread between two rings in a previous row.


Increases may be made by joining two rings in one space. Deceases may be created by stopping short. Smaller increases or decreases may be worked into the ground by simply shortening or lengthening the distance of the bare thread space between rings.


Mignonette groundwork may also be tatted without cutting the thread if the initial ring leaves a very long tail. This tail may be drawn over to use after the last ring of the row is closed. The work changes directions and the new ring from the next row is started. The tail is then used to make that ring a split ring thus climbing out into the next row.

You Should Also Read:
Mignonette Basics


Related Articles
Editor's Picks Articles
Top Ten Articles
Previous Features
Site Map





Content copyright © 2019 by Georgia Seitz, ed. and Stephanie Wilson. All rights reserved.
This content was written by Georgia Seitz, ed. and Stephanie Wilson. If you wish to use this content in any manner, you need written permission. Contact Georgia Seitz for details.