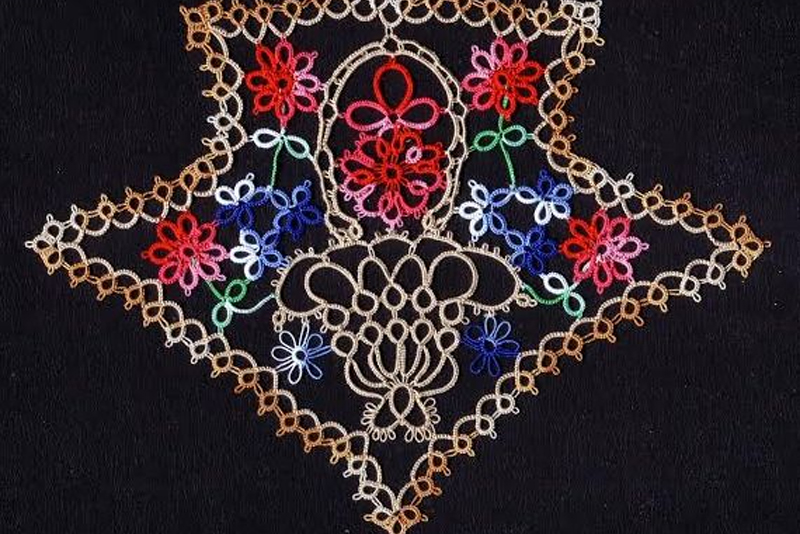 "Tatted Edges and Insertions for Underwear"
These patterns are from the "Needleart" magazine Vol.8 #3 published in 1921 on page 17 and continued on page 68. These pages were given to me but I know little else about this publication. I would welcome any notes that other tatters may have to share. There are seven patterns of varying degrees of difficulties. The designs are intended for underwear but today's fashions would also be enhanced on outer wear as well.
Edging #6
Seen from this direction the pattern resembles a flowering plant, blossoms, leaves, and grass.
But flip the image and we have a grape vine!
Abbreviations:
R = ring
CH = chain
- or p = picot
+ = join
ds = double stitch
lppr = last picot of previous ring
rw = reverse work
clr = close ring
header/footer = a line of tatting used to attach lace to cloth
Starter picot =
Remember that older patterns have advised us many times to cut and tie when it was completely unnecessary. Tatters today strive to avoid that now whenever possible by starting with a starter picot, or using a mock picot to climb out into a split ring or chain to advance to the next row or round.
Using two shuttles or needle and ball thread, this edging is tatted in one pass. Begin with the chains that form a header/footer. Make a starter picot and secure it with a pin or paper clip.
CH Starter picot; 2 - 1 - 1 - 1 - 2 - 6 rw
Note: The first ring is rather large, 42 ds plus joins, which makes it susceptible to looking wobbly. The solution is to work large rings or chains using the double double stitch. Normally we tat, first half stitch (1HS) followed by second half stitch (2HS). To make a double double stitch, form the 1HS, do not flip, form another 1HS and flip and move it into position. Next form a 2HS, do not flip, form another 2HS and flip and move into position. Where the double stitch shows 2 threads under the bar of the ds, the double double stitch shows 4 threads. It makes the ring/chain more stable. Close such rings/chains slowly and carefully.
R 10 + (join to the starter picot) 11 - 6 - 15 clr rw
CH 5 - 8 rw
R 3 + (join to last p of first ring) 8 - 3 clr rw
CH 5 - 3 rw
R 3 + (join to lppr) 8 - 3 clr rw
CH 3 rw
R 3 + (join to lppr) 8 - 3 clr rw
CH 3 rw
R 3 + (join to lppr) 8 - 3 clr rw
CH 3 - 5 rw
R 3 + (join to lppr) 8 - 3 clr rw
CH 8 + (join to p of chain opposite) 5 rw
R 15 + (join to lppr) 6 - 11 - 10 clr rw
CH 6 + (join to p of chain opposite) 2 - 1 - 1 - 1 - 2 + (join to lppr) ...
Repeat design for length needed.
More of this page will be seen in the summer. Enjoy.
You Should Also Read:
Needleart 1921 edging #4


Related Articles
Editor's Picks Articles
Top Ten Articles
Previous Features
Site Map





Content copyright © 2023 by Georgia Seitz. All rights reserved.
This content was written by Georgia Seitz. If you wish to use this content in any manner, you need written permission. Contact Georgia Seitz for details.