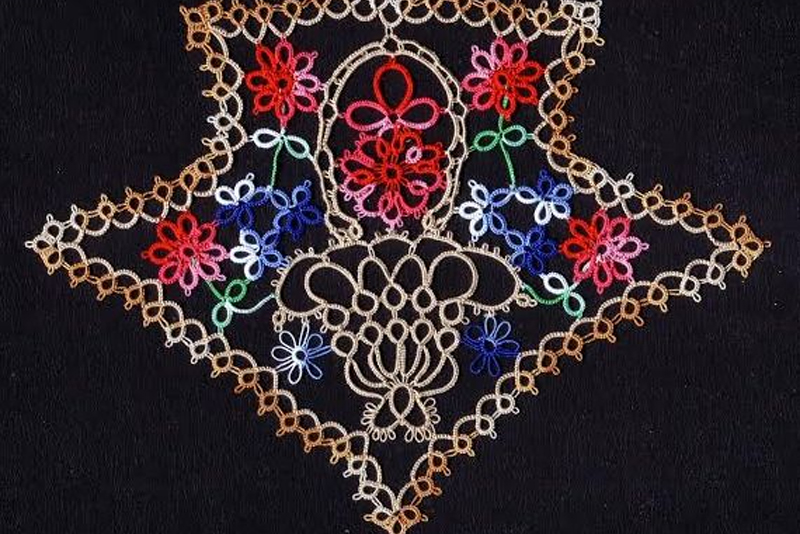 "Tatted Edges and Insertions for Underwear"
These patterns are from the "Needleart" magazine Vol.8 #3 published in 1921 on page 17 and continued on page 68. These pages were given to me but I know little else about this publication. I would welcome any notes that other tatters may have to share. There are seven patterns of varying degrees of difficulties. The designs are intended for underwear but today's fashions would also be enhanced on outer wear as well.
The first pattern shared from this page was #6. This pattern is #4. They share a feature in common, a paucity of picots. Edging#6 and #4 both show few decorative picots. #6 has none on the major part of the edging while #4 has only one picot on certain segments of the last chain tatted. But they both have multiple picots added to those chains that form a header for attaching the lace to cloth.
Not all tatted lace must be covered in frilly picots, but this distinct lack of them makes the style of the lace so much more reserved, staid, subdued even. I can only imagine that since the lace is intended for lingerie wear, this has put a damper on the design. I suggest that you consider the pattern given as a "suggestion" and tat up as many picots as you want to add.
The pattern begins with the header chain interspersed with a ring surrounded by a chain boasting long picots for joining and alternating with a smaller ring. The last row is the bottom chains joining to those long picots alternating with two rings forming a trefoil with the upper single ring.
Abbreviations:
R = ring
CH = chain
- or p = picot
+ = join
ds = double stitch
rw = reverse work
clr = close ring
header/footer = a line of tatting used to attach lace to cloth
Note that the double stitch count is marked with colored numbers. The order of work would begin with the single ring of 12 ds marked in red followed by the red chain and the larger ring in red. But because the area is so small the ds counts for the chain which surrounds the larger ring is marked on the next repeat in blue. Next followed the second chain in red and the repeat continues. The last pass has the two rings in green numbers and all the chains which join to the long picots of the previous round.
Begin with two shuttles or ball thread and needle.
R 6 - 6 clr rw
*CH 4 - 5 - 5 - 4 rw
R 3 - 4 - 4 - 3 clr rw (small picots)
CH 5 + (join to sm p of previous ring) 1 long p
CH 4 long p + (join to sm p of previous ring) 4
CH long p 1 + (join to sm p of previous ring) 5
join chain to base of ring and continue to red chain.
CH 4 - 5 - 5 - 4 rw
R 6 - 6 clr rw
Repeat from *.
Last row marked in green.
*R 6 + (join to the single ring from first round) 6 clr rw
CH 6 - 6 rw
R 6 + (join to the same single ring from first round) 6 clr rw
CH + (join to the nearest long p from the blue chain
CH 10 + (join to the next long p) 6 - 6 + (join to the next long p)
CH 10 + (join to the last long p) Repeat from * across.
Suggestion: Since most of these chain have no or few picots, please consider learning or practicing direct tatting. This is basically encapsulation as the ds are not flipped. The tatter WRAPS the shuttle thread over the SH2 or ball thread to form the DS in the manner of split ring formation, i.e.,encapsulation. Since there is no flip no transfer of the loop it is referred to as "direct tatting."
More of this page will be seen in the summer. Enjoy.
You Should Also Read:
Needleart 1921 edging #6


Related Articles
Editor's Picks Articles
Top Ten Articles
Previous Features
Site Map





Content copyright © 2019 by Georgia Seitz. All rights reserved.
This content was written by Georgia Seitz. If you wish to use this content in any manner, you need written permission. Contact Georgia Seitz for details.