Seaside Yarn Maker Interview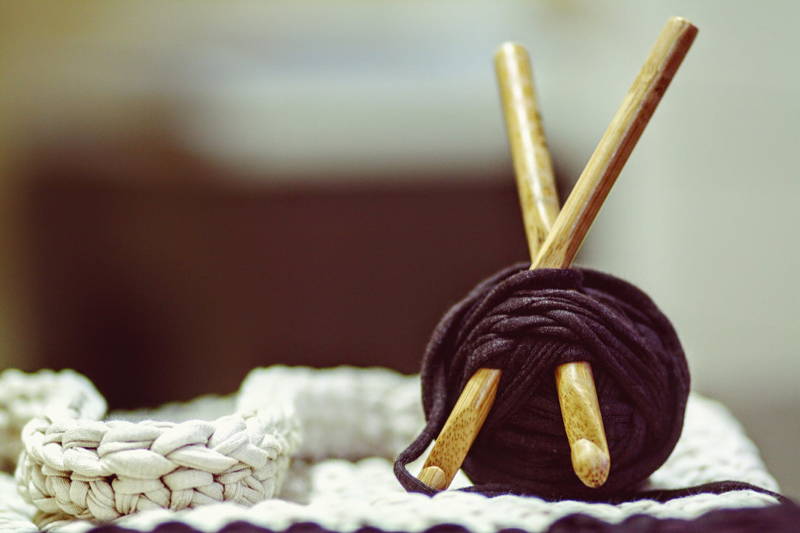 I met Sara via social media, and have followed her shop's growth with delight. She makes beautiful yarns, and is an all-around creative person. I had the chance to ask her a few questions about her process. Find the link to her shop at the bottom of this interview!
1. Tell me where you got your love for yarn.
My love for yarn started way back in the early 2000's when I went to a knitting group in Providence Rhode Island. The group was a Stich n' bitch run by fiber artist Ashley Martineau of How to SpinYarn. This was long before she was where she is now, way before How to Spin Yarn was born. She taught me my first knit stitch and I was hooked.
I became interested in spinning and fiber production around the same time. I bought a drop spindle and I was hooked on making my own yarn. It's usually a progression to dyeing for most of us then and that's just the route I went. I watched tons of YouTube videos on dyeing techniques and I loved it all. There is nothing better than turning my kitchen into a dyeing science lab and coming up with new colors for yarn and roving.
2. What inspired the name "Seaside Yarns" and where did you get your beautiful shop header art?
The name Seaside Yarn is inspired by where I live. I live in a coastal New England town in Rhode Island and I am treated on a daily basis to beautiful views and an ever-changing pallet of colors. The colors inspire my design and they also inspired my logo.
My logo and header were done by an artist that I found on Etsy, I won't tell who it is because she is a secret best kept. I would encourage people looking to find a logo package for their brand to look on Etsy, it's affordable and you can always find an artist who will work with you on your design.
3. What's it like to be an Etsy seller?
I am just starting out on Etsy so I would say that it's a learning curve. Nothing is instant, you really have to work hard on everything from your branding and marketing to your photography. I have learned what sells and what's hard to sell in such a saturated market.
I love to tell a story, I am a writer at heart and I love that I can tell stories that go along with my product on Etsy.
4. Can people find your yarns locally?
I am featured at Craft Land in Providence Rhode Island. I entered a juried contest to be featured in their holiday market and my yarns have stayed there and they are selling well. I can't wait to get my sock yarn mini sets out and talk with some local yarn shops and hold my first trunk show.
5. What's your process for coming up with new yarn colourways?
I like to see what others in the industry are doing, speckled yarn is a huge thing right now, but very tricky to get just right. I also look at what colors go with each season and things that are on trend.
Recently I sent out a survey to my mailing list asking them the things that they like in yarn, from colors, weights and ply. This was very helpful for me to use as a dyer so that I can offer my customers exactly what they want.
6. What sort of projects do you recommend for use with your yarns?
I would recommend socks and anything that you can use sock yarn and sock yarn minis for with my sock yarns. As far as my handspun goes I would say take a chance and be super creative and go wild with it. Since most of my hand spun is thick and thin it's great on it's own or as an add in yarn. It's also great for weaving ( I gifted a friend of mine two skeins of handspun and her friend wove a beautiful table runner and wrap out of them for her) and doll hair.
7. Other than your own yarn, what's your favorite yarn to work with?
I love bulky yarn and naturally dyed yarn. I tried dyeing with plants last summer and I loved it, I hope to feature lots of plant dyed hand spun yarns in my shop this summer.
Seaside Yarn on Etsy
Seaside Yarn Newsletter
You Should Also Read:
Favorite Media to Crochet
Does it Matter How a Yarn is Made?
Online Yarn Shopping - Know Your Fiber


Related Articles
Editor's Picks Articles
Top Ten Articles
Previous Features
Site Map





Content copyright © 2023 by Holly Messenger Aamot. All rights reserved.
This content was written by Holly Messenger Aamot. If you wish to use this content in any manner, you need written permission. Contact Holly Messenger Aamot for details.