Li'l David's Snowflake by Harolah Cheser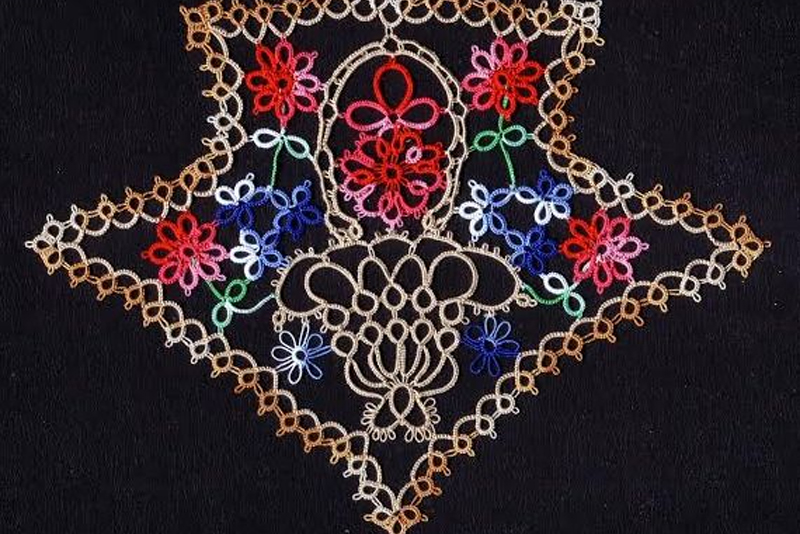 Li'l David's Snowflake
Harolah Cheser 2017
Some tatting designs simply fall from our shuttles. And, some have a great back story. Like this one by Harolah Cheser.
Harolah's story: "This snowflake is named in honor of my father. He worked for the State Road Department and would plow the snowy roads. When it would start to snow he would stand at the window and say, "Bring it on down Little David, daddy needs the overtime," a wonderful memory."
Thanks to Jane Eborall for the inspiration of the bugle center design and to Pam Hemenway for her computer skills.
Two shuttles needed, wound CTM or one - two tatting needles
Abbreviations:
R = ring
SR = split ring
CH = chain
+ = join
LJ = lock join
VSP = very small picot
DNR - do not reverse
TOR = thrown off ring (coming off a chain)
(- or + ) = either a picot or a join
Clover = set pattern of rings
* = repeat
SS = switch shuttles
CTM = continuous thread method
clr = close ring
Center
Split ring 6-1-1-6 / vsp (first SR only) 3-1-1-3 clr SS
Chain 1 vsp 1 vsp 1 SS
Repeat for total of 6 rings and 6 chains.
Join last chain to vsp of first split ring.
Now join to the last picot made and start the arch chain from that picot.
Arch chain and Point
CH* 4-7-7-4 LJ to vsp on next chain on center.
Note: After the first arch chain is complete, on the remaining arch chains, the first picot will be a join to the last TOR on previous point.
CH 4, TOR 3 (Note all TOR will be joined to arch chains) 5 clr SS
(Note there will be a tiny bare thread created when starting the next chain. This small space will be used later for a join.)
CH 4-1--1-3 vsp 1 SS
Note: on the sixth point, the picot on the second TOR will be a folded join to the open picot of first Arch chain.
Clover:
Ring 1: (1+(vsp CH) 5-3-3 clr
Ring 2: 3+(vsp)5-1--1-5-3 clr
Ring 3: 3+3-5 vsp 1 clr ) SS
CH 1+3-1--1-4 LJ to first TOR base (at the tiny bare thread space) SS
TOR 5-3 clr SS
CH 4 LJ to next picot on chain of center **
Repeat from * to ** until 6 total points completed and join last chain to beginning chain on center.
Center Variation:
The center appears to be long beaded picots joined with the last picot in a swirl join.
You Should Also Read:
Building a Tatting Library - Jon Yusof
Superbowl Snowflakes


Related Articles
Editor's Picks Articles
Top Ten Articles
Previous Features
Site Map





Content copyright © 2018 by Georgia Seitz. All rights reserved.
This content was written by Georgia Seitz. If you wish to use this content in any manner, you need written permission. Contact Georgia Seitz for details.