Owl Heart - Phyllis Schmidt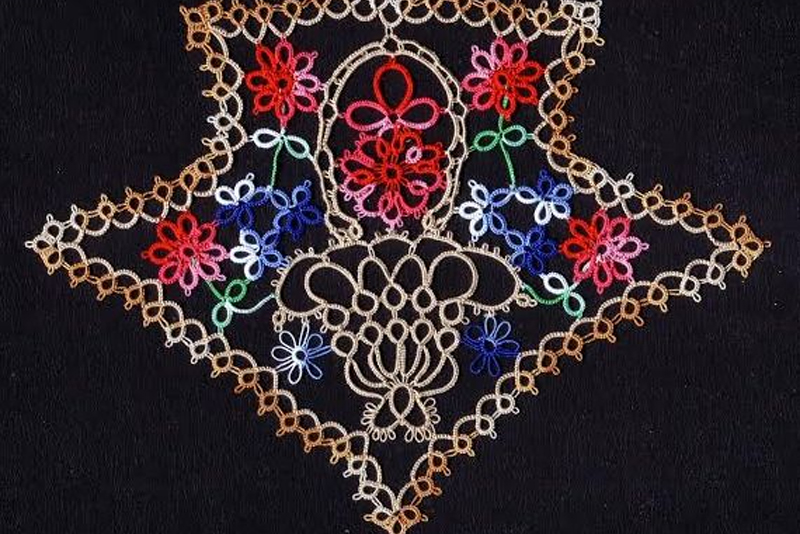 Owl Heart by Phyllis Schmidt
This pattern is suitable for shuttle or needle tatting.
© February 2014, Revised 5-26-2015
+ joining picot
/ = separates number of stitches on each side of a set of stitches
Ch = chain
CR = close ring
CWJ = Catherine Wheel Join
DNRW = do not reverse work
ds = double stitch
LJ = lock join
NS = node stitches
p = picot
R = ring
RW = reverse work
SLT = shoe lace trick
vsp = very small picot
Materials required: 2 shuttles, Size 20 thread (2 contrasting colors).
Motif measures approximately 1.5 inches long x 1 inch wide.
The outside chain is done in a node stitch (aka rick rack or Victorian set). A node stitch is the first half of a double stitch repeated a number of times, followed by the second half repeated a number of times, completing one set (x/x). This is referred in the pattern as NS Ch.
Wind shuttle 1 with 2 yards and shuttle 2 with 2.5 yards.
Note: if you do not know how to do a CWJ, use a LJ instead. Regular ds or lock chain can be used instead of NS on the outside chains.
R 1 vsp 11 p 6 p 6 CR RW
Ch 8 p 8 RW
R 6 p 6 p 12, CR DNRW, SLT
NS Ch 10 sets (2/2) RW
R 18 + 18 CR RW (down join to p on chain between first two rings)
NS Ch 10 sets (2/2)
LJ to vsp on ring 1
NS Ch 8 sets (2/2)
CWJ to next p on ring 1
NS Ch 4 sets (2/2) RW
R 4 + 8 + 4 CR RW (join to last p on first ring and first p on second ring)
NS Ch 4 sets (2/2)
CWJ to 2nd p, second ring
NS Ch 8 sets (2/2)
Cut, join to base of ring, hide ends.
NOTE: Use white and black thread for a penguin.
Review of the The Catherine Wheel Join
The CATHERINE WHEEL encapsulates two threads at the same time. It is created in the manner of making the split chain stitch or the tied double stitch. It is often used when making tatted coils or wheels, thence the Catherine Wheel.
Drop a loop of the SH2 thread behind the core thread which is positioned above the point of attachment (the thread in the space between two double stitches of the previous round. Bring thread up through the work into a loop and put the shuttle through that loop. Remove only a little slack. Next form a loop on the front side and bring it to the back and put the shuttle through. Pull gently on the half stitch closest to the last ds made and snug up. Repeat with the other half. The double stitch on this round covers both the core thread and the thread from the previous round.
You Should Also Read:
Catherine Wheel Join
Node Stitch


Related Articles
Editor's Picks Articles
Top Ten Articles
Previous Features
Site Map





Content copyright © 2019 by Georgia Seitz. All rights reserved.
This content was written by Georgia Seitz. If you wish to use this content in any manner, you need written permission. Contact Georgia Seitz for details.