Superbowl BD Ice Drop - Wally Sosa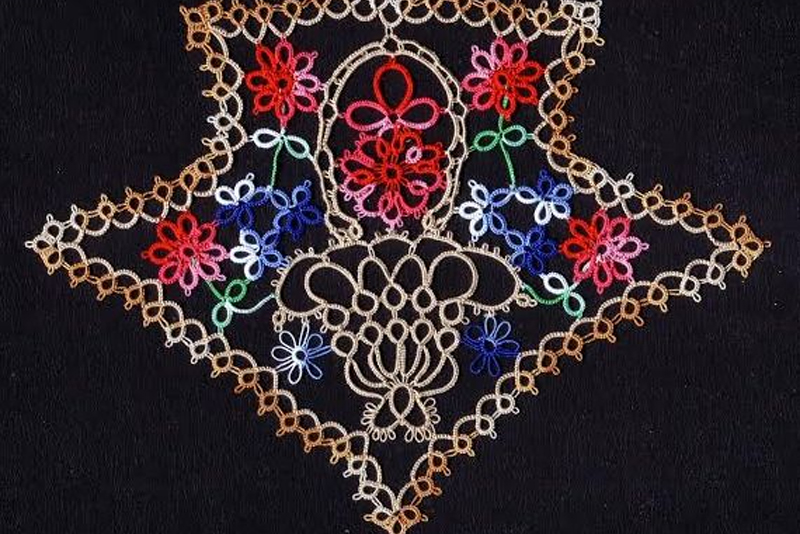 BD Ice Drop 2018
Wally Sosa 0"82018
Wally Sosa of needles-n-shuttles.com is a long time member of the Online Tatting Class which celebrates its 19th year online in 2018. The class has a tradition of a special meeting on Superbowl Sunday. Wally's birthday falls around that time as well. So Wally has been kind enough to prepare a tatting pattern to share in honor of both occasions for many years. We thank her for this new one.
MATERIALS:
Shuttle and Ball
Dome Glass Gem 0†6¡¨ (aka as Ice Drop jewel)
18 Size 6 Glass Beads
Thread size #10
ABBREVIATIONS:
RW: Reverse Work
DNRW: Do not reverse work
vsp: Very Small Picot
SCMR: Self Closing Mock Ring
(b): Bead
SSSR: Single Shuttle Split Ring
The Ice drop is done in one pass. You¡¦ll make rings with letters (A, B, C, etc.) to make the back base and rings with letters and numbers (A1, B1, C1, etc.) to make the front base. Only rings with letters are shown on the diagram. All beads are on the ball thread.
Round 1:
Ring A: 5 - 3 - 5. DNRW.
Ring A1: 5 - 3 - 5. RW.
Chain: 5 (vsp) 5. RW.
Ring B: 5 + (join to ring A) 3 - 5. DNRW.
Ring B1: 5 + (join to ring A1) 3 - 5. RW.
Repeat chains and rings until you have joined 6 rings on the back base.
Start ring F1 and before joining to the 1
st
ring on the front base insert the gem.
Join to the 1
st
ring on the front base (A1) and close ring.
Join last chain to the middle of the 1
st
ring on both bases.
DNRW
Round 2:
Chain: 6. Join to vsp of previous round.
Chain: 4 (b) 4. RW.
Ring: 6 + (join to same vsp) 6. RW.
SCMR: 5 (b) 5. Close.
Chain: 4 (b) 4. Join to the same vsp.
Chain: 6. Join between base's rings.
Repeat around. Cut and hide ends.
Optional: Make a SSSR of 15 for hanging loop.
This is how Ring A (left) and Ring A1 (right) look like.
Join Ring B to Ring A when working the back base.
Ring A1 is on top of Ring A.
You Should Also Read:
Creative Buttons Brigitte Nettles


Related Articles
Editor's Picks Articles
Top Ten Articles
Previous Features
Site Map





Content copyright © 2019 by Georgia Seitz. All rights reserved.
This content was written by Georgia Seitz. If you wish to use this content in any manner, you need written permission. Contact Georgia Seitz for details.