Dora Young Knot Stitch Understanding the Technique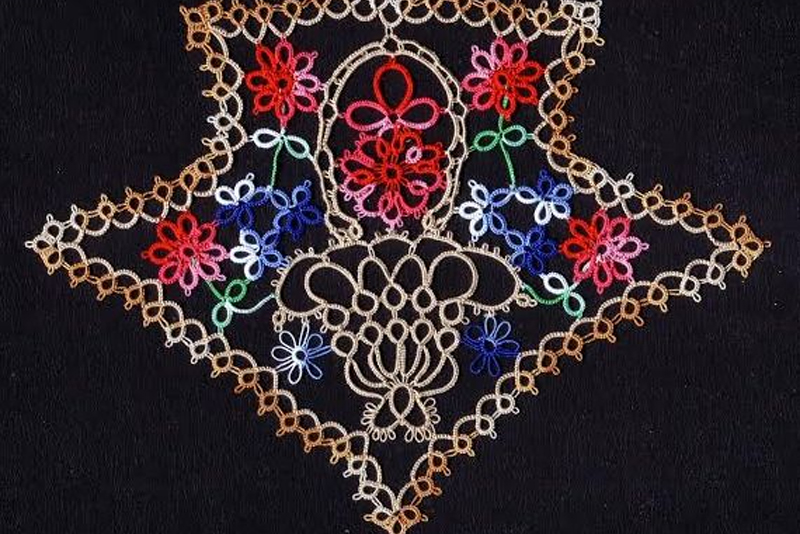 Dora Young Knot Stitch
Help! Here is a tatting technique that I have not yet learned how to do.
Dora's book has been recently reprinted and many tatters are seeing it for the first time. Most of us are already familiar with her bridging or split chain technique.
To review please see: https://www.bellaonline.com/articles/art26819.asp
Tatters have been using the split chain technique for decades. Dora called it knotless because the shuttle thread is wrapped around the core thread to cover a gap instead of being tatted. Needle tatters have to reverse the needle and wrap double stitches (ds) to make this work for them.
But I received a letter from Leigh Ann just today asking me about Dora's Knot stitch. It has been years since I studied the knot stitch and at this moment I do not remember how to do it. So we must all review or learn this together. Since this book has been reprinted so recently I do not yet have permission to share the diagrams which teach the knot stitch. Just bear in mind that we are not wrapping ds on a core thread to make a line of ds.
The tatted knot stitch is the tatted representation of the crocheted knot stitch. Searching for a hanky edged with tatted knot stitch produced nothing in all my files. Searching online for a true crocheted example taught me that the names of stitches are not always the same.
So, following Dora's original directions:
Shuttle one will be wound with two threads; trim one thread about 15" from the shuttle. (I do not know why yet.) You will need a third thread, a ball thread or a second shuttle thread. Space stitches out 3/4" inch as you work.*Use shuttle one and WRAP
not tat
1 double stitch (ds) picot (p) wrap another ds, space again, wrap 1 ds and + (join back to the picot.) Repeat from *.
Now you can help with this problem. If you know this DY knot stitch, please send some tips I can share with the newsletter readers. Better yet, if you have a photo of an edging or doily using the knot stitch please share.
Your help will be much appreciated by all of us.
You Should Also Read:
Dora Young Knot


Related Articles
Editor's Picks Articles
Top Ten Articles
Previous Features
Site Map





Content copyright © 2023 by Georgia Seitz. All rights reserved.
This content was written by Georgia Seitz. If you wish to use this content in any manner, you need written permission. Contact Georgia Seitz for details.