Pilsner Urquell - A Bohemian Original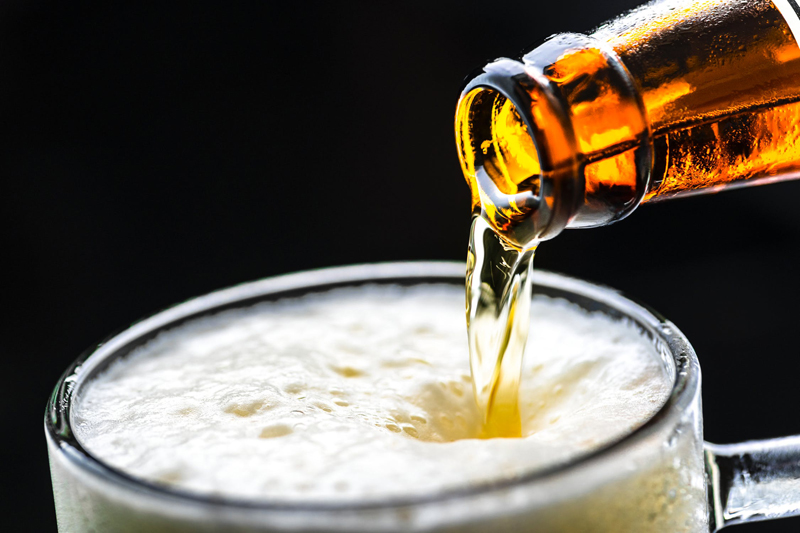 Wide rolling plains, meandering hills, lush forests, rich farmland and abundant mineral water springs – tulips spreading like a royal carpet before historical buildings – sunflowers cocking their brilliant yellow heads toward the sparkling sun! It is no small accident that the city of Plzen created the clear, light-inducing style of Pilsner in the mid 19th century.

King Wenceslas II of Bohemia, a visionary with the foresight for the merchantibility of resources within his region, established the town of New Plzen on the Redbuza River, an area that was an important trade route between Nuremburg, Saxony and Regensburg. Four important waterways merged in this area – the Radbuza, Mze, Uslava and Uhlava Rivers – making it a highly desirable location.

At the founding of the town in 1307, King Wenceslas gave 260 citizens documentation that validated their right to brew beer and sell it from their houses. These burghers developed recipes, passing family secrets down through generations, and eventually formed brewers guilds to increase the efficiency of the brewing process. They honored two legends from history: King Wenceslas, their patron saint, and King Gambrinus (a bastardization of the name Jan Primus), the first brewer of beer known to the people of that region.

Despite the long history of beer in this southwestern section of Bohemia (now the Czech Republic), a lack of understanding about quality fermentation processes caused great deterioration in the drinkability of beer by the early 1800's. In 1838, it was so bad that 200 courageous brewers dumped 36 barrels of "undrinkable" beer in the town square, directly in front of the City Hall.

After considerable resistance, the brewers were granted permission to build a brewery on the banks of the Radbuza River. They contracted an architect named Stelzer to design a brewery of modern efficiency – one that was in close proximity to a natural well, and set above a sandstone foundation into which tunnels for cold storage (lagering) could be carved.

Stelzer hired an arrogant and rude 29-year-old brewer named Josef Groll to be Master Brewer of Mestansky Pivovar(Citizens' Brewery). His arrogance paled in comparison to his genius – genius that was to set-the-stage for the most influential beer in the next 150 years.

Groll developed a beer of brilliant, golden clarity that took on an imperial quality that was in sharp contrast to the dark, cloudy beers of the day. His beer possessed a smoother mouthfeel, mellow flavors, and a supreme elegance that displayed striking beauty in the Bohemian crystal that was so coveted by the neighboring European communities. This style became the "model" for state-of-the-art beer. The Campenhaus brothers (representatives of the brewery in Berlin) coined the phrase "Pilsner Urquell" (Urquell means "original source") as a brilliant marketing description that has endured the test of time and is still used today.

The unique process began with the soft water of mineral springs that were a characteristic of the natural resources of the region. Home-malted barley endured a complex system of mashing with three decoctions (boiling down and skimming to strengthen flavor and aroma) that produced extremely thin mash. The development of a special brew kettle boiled wort in a process that eliminated haze-producing proteins. A proprietary lager yeast was smuggled out of the German Bavarian region by a monk who was one of Groll's loyalists. Czech Saaz Hops were added three times, though the beer was not dry-hopped. After lagering in cool, dark, underground tunnels, the new style was ready, and took the continent by storm!

Since its debut in 1842, there have been further modifications to the style, resulting in three distinct sub-categories: Bohemian Pilsner, Northern German Pilsner, and Classic American Pilsner. Subtle distinctions exist within each group. All are characterized by light color and a creamy, mousse-like head. Classic American Pilsner is brewed with the addition of Native American maize, and must not exhibit any hint of fruitiness or diacetyl. Bohemian Pilsner has a rich complex maltiness with rounded bitterness that cuts off at the finish. Northern German Pilsner features the distinct flowery nature of noble hops, with low maltiness and sharp, lingering bitterness due to higher attenuation and soft water.

Beer Fox Guide to Pilsner

Pilsner (also referred to as pilsener or pils) is to be served at 45 degrees in a vase-like pilsner glass or flute. Dispense jets of pils down the center of the glass for the most favorable display of rich, mousse-like foam of 2 to 3 inches on top of the golden body.

Pilsner Urquell – Plzensky Prazdroj (formerly Mestansky Pivovar), Plzen, Czech Republic (recently purchased by SABMiller) – Bohemian Pilsner – Complex malt, with spicy floral Saaz bouquet. Prominent bitterness that softens like a subdued kitten.

Marynka Pils – The Tap/Haverhill Brewery, Haverhill, Massachusetts USA – Bohemian Pilsner – bready with mild floral-hop bitterness and a hint of sweetness. Smooth mouthfeel with a crisp, clean, seductive finish.

15th Anniversary #4–Twelfth Street Pilsner – Minneapolis Town Hall Brewery, Minneapolis, Minnesota USA – Bohemian Pilsner – Wild flowers, light malts and vanilla, with lively carbonation and a smoothness that touches the tip of the tongue.

Bitburger Premium Pils – Bitburger Brauerei – Bitburg/Eifel, Germany – German Pilsener – clean, grainy malts up front with flowery noble hop bite. Finish is bitter with slight maltiness.

Prima Pils – Victory Brewing Company, Downingtown, Pennsylvania USA – German Pilsener – Subtle sweetness in the front with clean, dry, crisp hop bitterness at the back end. Superb!

Tuppers Hop Pocket Pils – Tuppers' Hop Pocket Brewing Company, Bethesda, Maryland, USA – German Pilsener – Fresh floral character with herbs and spiciness. Grainy flavors with aggressive hop bitterness.

Morimoto Imperial Pilsner – Rogue Ales, Newport, Oregon USA – Classic American Pilsner - Mellow, yet spicy, with a clean hop bite at the finish.

Prescription Pils – Dogfish Head Craft Brewery, Milton, Delaware USA – Classic American Pilsner – Sweet amber and pale malt with slight graininess, and a moderate, creamy mouthfeel. A strong pils with decent bitterness.

Newport Storm '04 – Coastal Extreme Brewing Company, Middletown, Rhode Island, USA – Classic American Pilsner – Deep-rooted malt sweetness with herbal German spice flavors, with very light bitterness at the finish.

These brews exhibit the golden sparkle of European excellence – the unique Bohemian attitude that speaks of individuality, the shift to the style of Northern and Central Germany, and the German immigrant creativity that mirrors Native American adaptation. A golden style that celebrates the golden age of brewing!
Cheers!

 
You Should Also Read:
Anheuser-Busch - Beer - Caffeine & Legendary Herbs
Happy Hour Bees , Mythology and Mead
Is Beer the Secret Spice of Life?


Editor's Picks Articles
Top Ten Articles
Previous Features
Site Map





Content copyright © 2018 by Carolyn Smagalski. All rights reserved.
This content was written by Carolyn Smagalski. If you wish to use this content in any manner, you need written permission. Contact Carolyn Smagalski for details.