Guest Author - Mavis Metcalf
A young pair of Masked Lovebirds pose for this jigsaw puzzle picture.
You may have to scroll over to get the whole puzzle on your screen.
If you wish to make this puzzle harder (or easier) just click on "shapes" to the left of the puzzle to change the number and shape of the puzzle pieces.
More Jigsaw Puzzles
Lovebirds can make wonderful pets. The Masked Lovebirds are not as common as the Peach Faced Lovebirds, but if handfed, they can be very loving and trusting.
For more information on Lovebirds, check out this book from Amazon.com or Amazon.ca
After many years of Lovebird ownership, I have decided to write an e-book about these wonderful birds.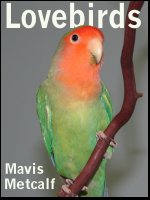 Please drop by the Bellaonline bird forum where we can chat about our birds. Just follow the links below to the most recent posts and join into the conversations.