Guest Author - Mavis Metcalf
Ringo, the Cockatiel makes a pretty jigsaw puzzle.
You may have to scroll over to get the full puzzle on your screen. As with all the puzzles, you can make this easier (or harder) by clicking on "Shapes" to the left and changing the shape and number of pieces
To send this picture as a postcard, please click
here
More Jigsaw Puzzles
After more than 20 years of Cockatiel ownership, I have decided to write an e-book about the care of these wonderful birds.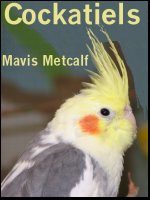 Do you have a cockatiel - or do you have more than one cockatiel? Since they come in many colours, it is often tempting to keep adding more and more of these wonderful birds. They do get along with other birds, so that is not a problem though.
Why not drop by the bird forum where we can talk about our favourite bird(s). If you have questions, you will find someone available to answer them for you and if you have answers to other people's questions, that would be wonderful too. The more experience we can pass on to new bird owners, the better it is for the birds.

create & buy custom products at Zazzle