Marketing Handmade Jewelry Book Review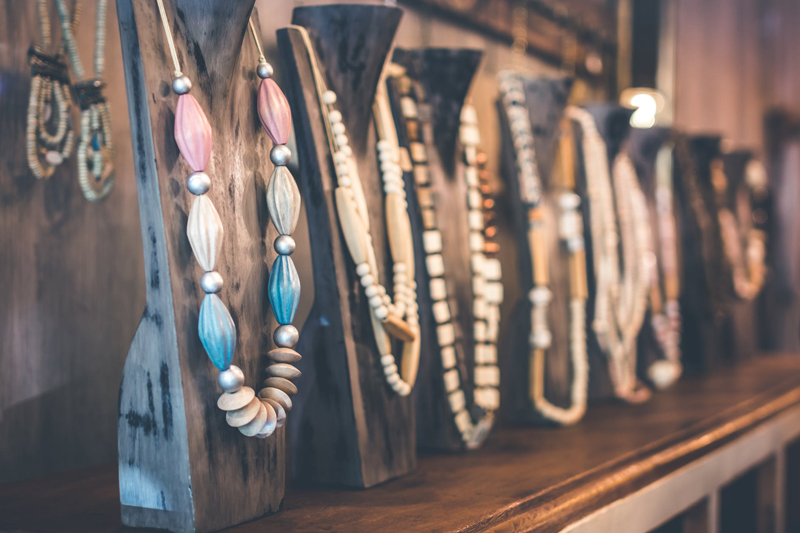 Sooner or later, most jewelry crafters consider selling their handmade jewelry. Turning a hobby into a business can be fun and rewarding. But it also changes the way you approach your craft, the designs you invent, the materials you use, and even how you assign priorities in your life. And, it's just plain not easy to succeed.
When I first thumbed through the new book Marketing and Selling Your Handmade Jewelry by Viki Lareau, I was skeptical. The book isn't very long (under 100 trade-size pages, including index), and it contains a lot of glossy pictures of jewelry and nicely designed side bars. Its design and style are colorful and upbeat, and I feared the content would go too far in the same direction - oversimplified and super motivational, without communicating the difficulties and challenges of operating a one-person jewelry business. As I began reading, however, I quickly learned that wasn't the case.
Author Viki Lareau has a strong, real-life background in handcrafted jewelry making, marketing and sales. She combines her years of hard-learned knowledge with excellent communication skills to create a book that's optimistic, but also straightforward, helpful, and honest.
Designed to be a roadmap for beginners, Marketing and Selling Your Handmade Jewelry presents a series of discreet steps which Lareau recommends jewelry artisans follow, in order, when transitioning from hobbyists to professionals.
In the first chapter, we learn the importance of defining our individual style and getting to know our target customer. From my experience, this process can be time consuming and even frustrating - but I agree with Lareau that it's absolutely essential. The second chapter jumps straight into building and assembling a jewelry portfolio. It covers promotional materials, portfolio design and contents, photography, price sheets, and more.
Chapter 3 is devoted to pricing - a difficult issue for most new entrepreneurs. There are entire books devoted to pricing crafts, but I found this one chapter to be clearer and actually more helpful than most I've read. For example, Lareau offers a simple step-by-step plan for determining your overhead and applying it to your pricing calculations. But this chapter goes farther than the basics, in my opinion, by describing some of the pricing pitfalls you'll likely experience, and some ways to respond to them.
Next, there's an entire chapter on selling at craft shows. Lareau recommends that we all do at least some retail shows as a way to learn more about our customers and our businesses. She also explains how doing shows can help you develop a successful wholesale policy, which is discussed in detail in the following chapter.
The last chapters cover marketing and business management specifically (although these topics are really dealt with throughout the book). If you focus carefully on what Lareau is communicating here, you may save yourself a lot of frustration and "learning the hard way" over time.
Overall, I was very pleased with this book. It will be helpful if you're just starting out, or if you're merely considering selling your work in the future. If you've been selling part-time for several years, as I have, you'll probably also find the book useful. The step-by-step approach allowed me to look back at which steps I "missed" when I first developed my business, and I'll use several of the chapters as a reference for making some needed improvements.
Marketing and Selling Your Handmade Jewelry is available at Amazon.com.
~~~~~~~~~


Chetti Beads
Some links in this article point to websites not associated with BellaOnline.com. BellaOnline.com is not responsible for the material found there.
---
Chris Franchetti Michaels is a writer and jewelry artisan specializing in beaded designs, wire work, and metal fabrication. She is the author of the books Teach Yourself Visually: Jewelry Making and Beading, Beading Quick Tips, and Wire Jewelry Quick Tips. Visit her website BeadJewelry.net for more jewelry-making help and inspiration.
You Should Also Read:
Choosing a Technique - Introduction
Ultimate Guide to Your Profitable Jewelry Booth - eBook Review


Related Articles
Editor's Picks Articles
Top Ten Articles
Previous Features
Site Map





Content copyright © 2021 by Chris Franchetti Michaels. All rights reserved.
This content was written by Chris Franchetti Michaels. If you wish to use this content in any manner, you need written permission. Contact Susan Mendenhall for details.