Beadalon Nylon Coated Bead Stringing Wire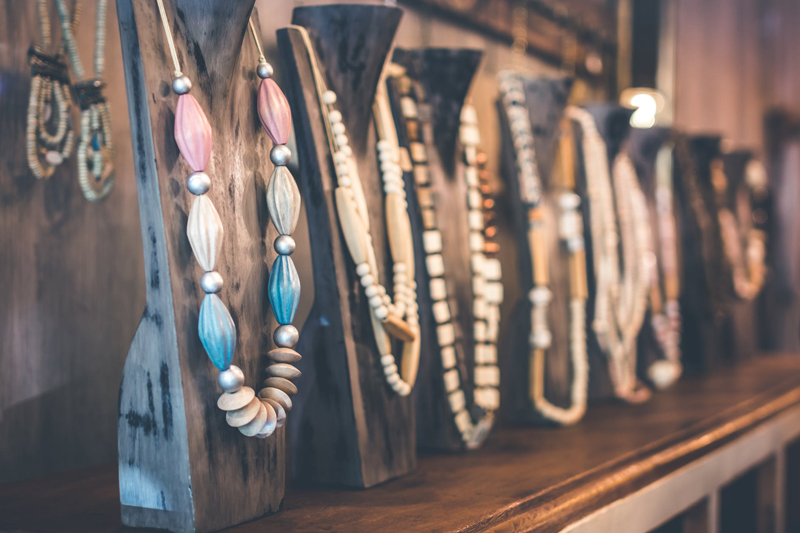 The most popular bead stringing material these days is nylon-coated steel cable. Beadalon® and SoftFlex® are the most common brands, but other brands can be just as useful. In this article, we take a look at the properties of Beadalon. The same principles typically apply to other brands, as well.
Beadalon is composed of tiny stainless steel cables coated with nylon. It's available in a variety of sizes and weights. Each type of wire has two important characteristics: number of strands and wire diameter.
Number of Strands
The number of strands determines the flexibility of the wire. The larger the number of strands, the more flexible the wire will be.
When deciding on number of strands, consider the kind of drape you want your design to have. Seven-strand wire will keep its shape better than 49 strand wire - but 49 strand wire is softer and more flexible. If you're just starting out, or unsure how much flexibility you need, try experimenting with 19-strand wire.
Wire Diameter
Wire diameter determines the size and strength of the wire. Here are Beadalon's recommended uses for each of its wire diameters. (Not all wire diameters are available in all three numbers of strands.)
| | | |
| --- | --- | --- |
| Smallest | .010" | For lightweight bead stringing and weaving of seed beads, freshwater pearls, and very small gemstone beads. |
| | | .012" or .013" | For use with beads that have very small holes, including crystal beads, seed beads, and freshwater pearls. |
| | | .015" or .018" | Considered the most versatile sizes for making necklaces, bracelets, and anklets using medium to heavy gemstones, crystals, seed beads, or glass or metal beads. |
| | | .020" or .021" | For medium-weight designs with large or heavy gemstone beads with unevenly drilled holes (common to most gemstone beads). |
| | | .024" or .026" | For designs using beads that are large or heavy, or have larger holes, such as African trade beads, or larger glass or gemstone beads. |
| Largest | .030" to .036" | The largest diameter, for use with large, heavy beads made of glass, chunky metal, or gemstone. |
Which Crimps to Use
Crimps come in two general designs: "beads" and "tubes." Tubes are usually less likely to crack or break than beads. Remember that choosing a quality crimp is as important as any other element of your project. If a crimp fails, it can mean the loss of many hours of work.
Beadalon categorizes crimps into 4 different sizes, #1 through #4. Number 1 crimps are the smallest, and #4 crimps are the largest. If you're shopping by crimp tube number, choose the number according to this chart:
| | |
| --- | --- |
| Crimp Size | Wire Diameter |
| #1 | .010", .012", .013" |
| #2 | .013", .015", .018", .020", .021", .024" |
| #3 | .024", .026" |
| #4 | .026", .030", .036" |
If you don't know the number of the crimps you'd like to purchase, you'll need to determine the inside diameter needed to accommodate two strands of your wire (because, of course, you'll be doubling it through the crimp). You can convert cord diameter into metric and multiply by two, or buy a few crimp sizes to experiment with. Keep notes on which crimps work best for your designs so you'll know which to reorder.
You'll notice that crimp tubes also come in different lengths. The longer the crimp tube, the better its ability to grip the cable. However, longer crimps are more difficult to close smoothly, and they may have less of a "professional" look when secured.
Tips for Success
Even though Beadalon describes its wire as having "the strength of steel," rest assured that it can - and probably will eventually - break. The goal is to create jewelry that will last as long as possible without breaking. There is no standard lifetime for strung jewelry, because many factors are involved - including how often the jewelry is worn and the conditions it's exposed to.
The most common cause of wire breakage is friction. Edges of beads will rub against the wire and gradually saw through it. Follow these tips to hinder this wear in your designs:
Use the largest diameter wire that fits inside the smallest-hole bead in your design.
Leave a little space in the design, so that the beads are not packed tightly against each other. It may seem to look more professional to leave no cord showing, but the jewelry wire will actually wear through faster.
Check beads you jagged or sharp edges around their holes. Use a bead reamer to remove them to the extent possible.
Be sure to follow proper crimping technique.
After crimping an end, you do not need to double the wire end back through the next bead(s), as long as you have a well-done crimp. According to Beadalon, it's much more important to use the largest diameter of wire possible with your beads - and not choose wire size based on its ability to go through a bead twice.
Beadalon is available at many bead shops and jewelry making suppliers, including ArtBeads.com.
You may also be interested in:
Teach Yourself Visually: Jewelry Making & Beading
Advanced Beadwork by Ruth F. Poris - Book Review
---
Chris Franchetti Michaels is a writer and jewelry artisan specializing in beaded designs, wire work, and metal fabrication. She is the author of the books Teach Yourself Visually: Jewelry Making and Beading, Beading Quick Tips, and Wire Jewelry Quick Tips. Visit her website BeadJewelry.net for more jewelry-making help and inspiration.


Related Articles
Editor's Picks Articles
Top Ten Articles
Previous Features
Site Map





Content copyright © 2021 by Chris Franchetti Michaels. All rights reserved.
This content was written by Chris Franchetti Michaels. If you wish to use this content in any manner, you need written permission. Contact Susan Mendenhall for details.