French Fashion Haircuts – How to Avoid Getting One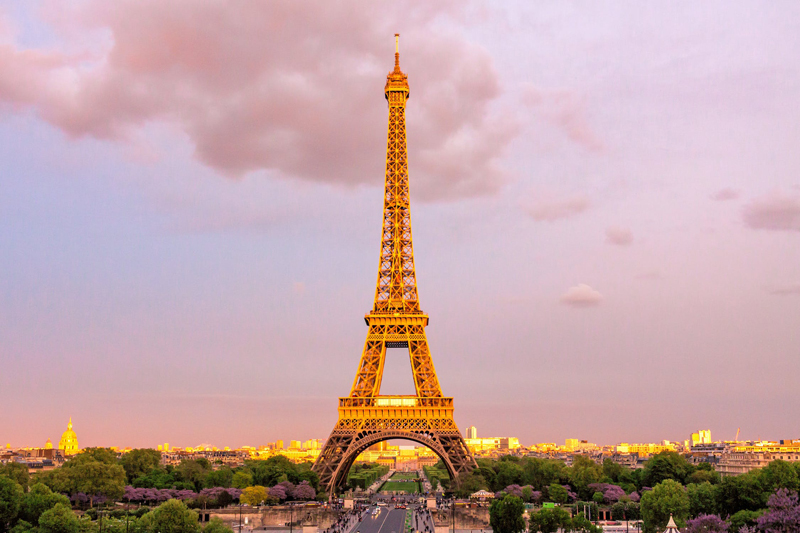 Moving to Paris, I knew the time would arrive when split ends and dingy color would overrule my fear of how the language gap might take shape in my hair. Yes, eventually I'd venture into a salon and put my limited vocabulary, courtesy of several months of French classes, to the test. When that time came, I took less of a chance and called on friends of the family at their branch of a popular salon.

I asked for a balayage, natural looking highlights, and wrung my hands as I waited for the clock to tick around the near hour the chemicals need to take effect. So far so good, and this is the point when I usually let my guard down. Years of wearing long hair where a trim meant running the scissors across the bottom provided a false sense of comfort at this halfway point. A messy shoulder length cut, still a novelty to me after a lifetime of long hair worn stick-straight, was what I aimed to have shaped up when noses began to wrinkle.

"Oui, just a trim, je voudrais garder le longer," I assured the gal with the razor. At this particular chain, Jean Louis David, everyone scraps their scissors and is forced to cut with an electric shaver. "Oh très classic," she said as if it were a profanity, and I knew I had been labeled as boring. I filed this away for the next time a few months down the line, classic, a word to help me achieve the ends I required.

Leaving her to cut, watching inches fall away in the buzz of a razor, I began to realize that the customer is only partially right. The problem wasn't in communicating what I wanted. It was rooted in the fact that a coiffeur is an artist. It is not what you want that is most important, it is realizing their vision of you that powers the scissors.

I left the salon with a tiered 'do that I lacked inspiration to style, layers the texture of my hair fell short of filling out. But I smiled and delivered mercies a plenty. No worries, I would consult my trusty dictionary and the next time come armed with the words, "I don't like layers."

A season or two passed and I found myself at the salon once again. In addition to keeping the length and something classic, I added the bit about layers. "Je n'amie pas mon cheveu dégrade." Though I left with the same coiffure, the layers seemed more accentuated this time. Rather than insulting my gift horse, I though I'd slip off to another salon the following week and have the under layer cut out. This is where I encountered problems.

Meandering the Paris streets after French class, I entered a purple washed salon just outside the gates of the Jardin du Luxembourg. Approaching the stylist, he wore one of those long 80's man-styles which should have been a red flag, I showed him the bits I didn't like in the back. He saw nothing wrong with the layers, another unheeded warning, but agreed to give it a cut none the less.

In the half hour wait, I thumbed through magazines and chose a sleek plunging bob to try on like a wig. I presented him with the photo to which he shook his head in disapproval. "No, that style doesn't suit you at all," he said and began campaigning for a different look all together. He moved his arms around a bit, held up various pieces if hair. I did my best to decipher familiar words, then said to myself, "this is his job, he knows what is best," and nodded my head in approval. As he combed my hair and sliced into it with a knife blade, away fell what was left of the length I'd been trying to protect. At this turning point, watching helplessly as locks drifted to their resting place on the floor, I knew I was doomed and it was too late to protest. I'd have months of looking in the mirror to detest what he'd done but I'd only let the tears flow once in self-pity.

That scalper gave me a mullet with a third of my hair cut as short as bangs on top, some messy pieces mid length pieces filling it out and the tell-tale layer of length along the underside. I paid with a sorrow-laden smile and I learned to handle this mistake by pinning it up with a hundred bobby pins. I thought I might go back and ask him to doctor it up by cutting the under layer shorter, but this was where the problem had begun. I waited it out until returning to the states. Upon letting my hair down I met my hairdressers response, "Who did this to you?"

I've learned to be very articulate in what I expect before the scissors begin their work. Layers don't suit me and "fashion" haircuts are my nightmare. Call me classic or even boring and I'm happier with that than with the shame of wearing a mullet.

Once the damage was undone, I'd built up enough courage to call on another French salon and looked to my neighbourhood branch of Franck Provost. I tried a plain old carré, an Anna Wintour-esqe bob that the English vogue editor makes look much more mysterious in oversized sunglasses and fur coats than I can pull off. The following week I went back with the precise element of the request that was missing before. The owner snipped my hair into a plunging bob that resembles a lavender wig I paraded around Vegas. I need search no longer as this is a salon I'm comfortable in returning to. Cut and color run just under 100 euros, though I've tinted this bob blonde rather than purple.

They say "if it ain't broke then don't fix it," but why doesn't this ever apply to hair? Now that I've found a style to suit me, I'm thinking maybe I'll grow my hair out again.
You Should Also Read:
Franck Provost styles
Jean Louis David cuts


Related Articles
Editor's Picks Articles
Top Ten Articles
Previous Features
Site Map





Content copyright © 2023 by Melissa Demiguel. All rights reserved.
This content was written by Melissa Demiguel. If you wish to use this content in any manner, you need written permission. Contact Melissa Demiguel for details.