Workbasket Pattern List 1935-44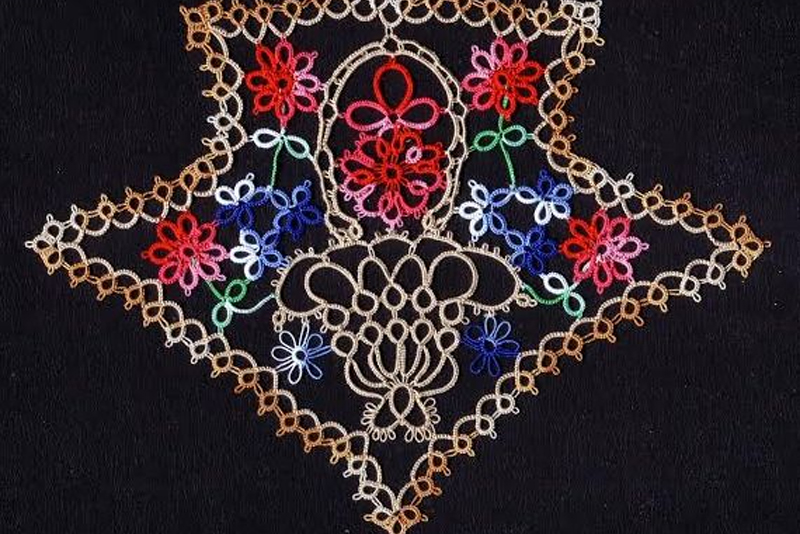 This is a list of tatting patterns which are found in the old "Workbasket" magazine which was edited for so many years by our own Myrtle Hamilton. It was sent to me by another tatter who did not know where the list originated. I want to thank the person who made this list available to all tatters. I know that it was a tatter because they carefully indicated those editions without tatting patterns and noted the type and location of the patterns in the editions that did.

Although it is not complete, it took a lot of time and effort to gather this information. From other notes and my own collection I have added the dates of some missing volumes where possible. Since I do not have a complete collection I would be grateful for any additional notes to add to the list.

1935 - 1944

1935 October : Vol. 1 #1
1935 November : Vol. 1 #2
1935 December : Vol. 1 #3

1936 January : Vol. 1 #4
1936 February : Vol. 1 #5
1936 March : Vol. 1 #6
1936 April : Vol. 1 #7
1936 May : Vol. 1 #8
1936 June : Vol. 1 #9
1936 July : Vol. 1 #10
1936 August : Vol. 1 #11
1936 September : Vol. 1 #12
1936 October : Vol. 2 #1
1936 November : Vol. 2 #2
1936 December : Vol. 2 #3

1937 January : Vol. 2 #4
1937 February : Vol. 2 #5
1937 March : Vol. 2 #6
1937 April : Vol. 2 #7
1937 May : Vol. 2 #8
1937 June : Vol. 2 #9
1937 July : Vol. 2 #10
1937 August : Vol. 2 #11
1937 September : Vol. 2 #12
1937 October : Vol. 3 #1
1937 November : Vol. 3 #2
1937 December : Vol. 3 #3

1938 January : Vol. 3 #4
1938 February : Vol. 3 #5
1938 March : Vol. 3 #6
1938 April : Vol. 3 #7
1938 May : Vol. 3 #8
1938 June : Vol. 3 #9
1938 July : Vol. 3 #10
1938 August : Vol. 3 #11
1938 September : Vol. 3 #12
1938 October : Vol. 4 #1
1938 November : Vol. 4 #2
1938 December : Vol. 4 #3

1939 January : Vol. 4 #4
1939 February : Vol. 4 #5
1939 March : Vol. 4 #6
1939 April : Vol. 4 #7
1939 May: Vol. 4 #8 8 pgs 1 sheet folded up/over green cover (No tatting.)
1939 June : Vol. 4 #9
1939 July : Vol. 4 #10
1939 August : Vol. 4 #11
1939 September : Vol. 4 #12 8 pgs, 1 sheet folded up/over (No tatting.)
1939 October : Vol. 5 #1
1939 November : Vol. 5 #2 8 pgs, 1 sheet folded up/over brown cover (No tatting.)
1939 December : Vol. 5 #3

1940 January : Vol. 5 #4
1940 February : Vol. 5 #5 8 pgs, 1 sheet folded up/over purple cover (No tatting.)
1940 March : Vol. 5 #6
1940 April : Vol. 5 #7
1940 May : Vol. 5 #8
1940 June : Vol. 5 #9
1940 July : Vol. 5 #10
1940 August : Vol. 5 #11
1940 September : Vol. 5 #12
1940 October : Vol. 6 #1
1940 November : Vol. 6 #2
1940 December : Vol. 6 #3

1941 January : Vol. 6 #4
1941 February : Vol. 6 #5
1941 March : Vol. 6 #6
1941 April : Vol. 6 #7
1941 May : Vol. 6 #8
1941 June : Vol. 6 #9
1941 July : Vol. 6 #10
1941 August : Vol. 6 #11 8 pgs, 1 sheet folded up/over green cover (No tatting.)
1941 September Vol. 6 #12
1941 October : Vol. 7 #1
1941 November : Vol. 7 #2
1941 December : Vol. 7 #3

1942 January : Vol. 7 #4
1942 February : Vol. 7 #5
1942 March : Vol. 7 #6
1942 April : Vol. 7 #7
1942 May : Vol. 7 #8
1942 June : Vol. 7 #9
1942 July : Vol. 7 #10
1942 August : Vol. 7 #11
1942 September : Vol. 7 #12
1942 October : Vol. 8 #1
1942 November : Vol. 8 #2
1942 December : Vol. 8 #3

1943 January : Vol. 8 #4
1943 February : Vol. 8 #5
1943 March : Vol. 8 #6
1943 April : Vol. 8 #7
1943 May : Vol. 8 #8
1943 June : Vol. 8 #9
1943 July : Vol. 8 #10
1943 August : Vol. 8 #11 8 pgs, 1 sheet folded up/over green cover (No tatting.)
1943 September : Vol. 8 #12
1943 October : Vol. 9 #1 8 pgs, 1 sheet folded up/over orange cover (No tatting.)
1943 November : Vol. 9 #2
1943 December : Vol. 9 #3

1944 January : Vol. 9 #4 8 pgs, 1 sheet folded up/over purple cover Pg 3 : How to Tat : Lesson I
1944 February : Vol. 9 #5 8 pgs, 1 sheet folded up/over Pg 2 : How to Tat : Lesson II
1944 March : Vol. 9 #6
1944 April : Vol. 9 #7 8 pgs, 1 sheet folded up/over Pg 6 : Tatted Edgings (4 Edges & 1 Insertion)
1944 May : Vol. 9 #8 8 pgs, 1 sheet folded up/over (No tatting.)
1944 June : Vol. 9 #9 8 pgs, 1 sheet folded up/over black cover (No tatting.)
1944 July : Vol. 9 #10
1944 August : Vol. 9 #11 8 pgs, 1 sheet folded up/over (No tatting.)
1944 September : Vol. 9 #12 8 pgs, 1 sheet folded up/over Pg 7 : Two:Color Tatting Lesson III
1944 October : Vol. 10 #1
1944 November : Vol. 10 #2 8 pgs, 1 sheet folded up/over (No tatting.)
1944 December : Vol. 10 #3


You Should Also Read:
Tatting Basics and History
Building a Tatting Library - Standards


Related Articles
Editor's Picks Articles
Top Ten Articles
Previous Features
Site Map





Content copyright © 2022 by Georgia Seitz. All rights reserved.
This content was written by Georgia Seitz. If you wish to use this content in any manner, you need written permission. Contact Georgia Seitz for details.