Guest Author - Mavis Metcalf
Here is a jigsaw puzzle showing a Zebra Finch in flight for you to try.
You can make this puzzle easier (or harder) by clicking "Shapes" on the left, to change the number and shape of the pieces.
To send this picture as a postcard, please click
here
More jigsaw puzzles
.
For more information on Zebra Finches as well as Society Finches, please take a look at my e-book about these birds.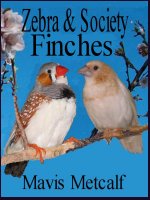 Click on the picture or
here
to see more information and to order.
Zebra finches are great fun to have. Their cheerful little song just has to brighten up any day.
Please be sure to get the largest cage you can afford and that you have room for, before bringing these birds home. I say these birds because one zebra finch would be very lonely on his own. If you obtain a male and a female, they will mate and they will have babies, but you can just have two (or more) males or two (or more) females and they will be very happy together. They do need plenty of room in their cage to allow for flight as well as hopping from perch to perch. Swings or swinging branches are loved and I had a small BOING in the cage with my little guys. They were often found on the BOING and really did enjoy having it there.