Beer Fox Marinades for Outdoor Grilling: 3 Winners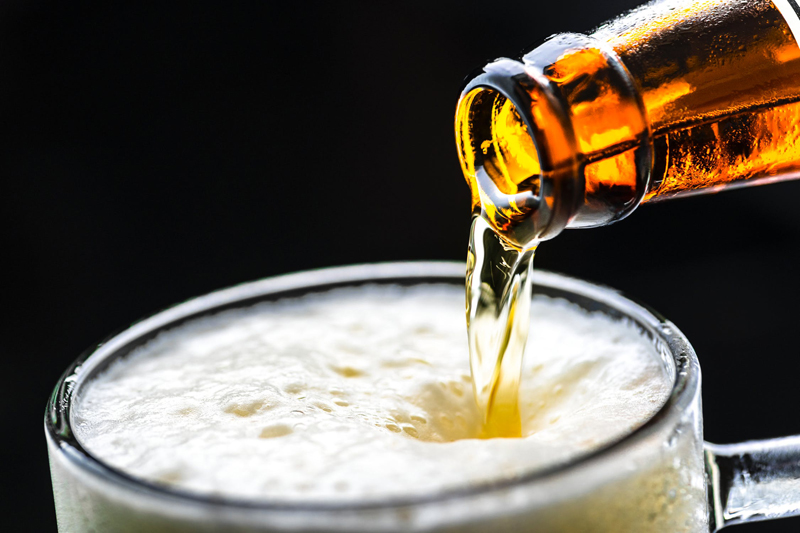 It's July – American Beer Month! What a great time to discover tips that add to your overall health, especially tips that elevate your favorite brew to the pinnacle of the food-chain pedestal. That lovely, coppery brew – glowing within your sweating mug - ready to quench a thirst or add zest to a gourmet meal!

Recent studies by German food chemist Udo Pollmer indicate that soaking red or white meats in beer, before grilling, reduces the formation of cancer-causing HCA's (heterocyclic amines), and actually prevents the formation of these compounds. In his book Lexikon der Populären Ernährungsirrtümer (or Dictionary of Popular Food/Nutrition Misbeliefs), Pollmer expunges the myths about beer being bad for your health, and exposes the benefits of marinating with beer and spices. One catch…the beer must be alcoholic.

This is great news for those of us who delight in beer-based marinades for everything from steaks, dripping in their own juices, to shrimp kebobs or roasted veggies. The diversity of foods and international ingredients available to the enthusiastic chef – complete with red-and-white-striped apron – coupled with an orchestra of finely crafted brews, makes for a grilling experience that etches itself in your mind for two decades.

Below are three simple, yet zestful, marinades to set your grill in motion:

Ruckus Marinade
The Beer Fox says: "For a taste that is different and exciting, try this as a marinade for red meats, zucchini or peppers. Then grill for a maximum flavor explosion!"

Recommended Brew: Saint Arnold Brown Ale, Saint Arnold Brewing Company, Houston, Texas USA

Style: English Brown Ale – Mid-tones of coppery amber – Sweet and spiced with caramel, toasty bread aroma.

16 oz. Saint Arnold Brown Ale
1 medium onion, sliced or chopped
1 tablespoon lemon peel, grated
1 tsp. ground sage
1 tsp. Cajun Spice

Combine all ingredients. Use non-metallic container. Marinade meat for 2-3 hours at room temperature, turning at half-hour intervals.

* Health Benefit: Rich in calcium, phosphorus, vitamin C

Orval Trappist Ale Marinade
The Beer Fox says: "A lovely marinade that blends well with chicken, veal, seafood, and fresh vegetables. Be creative."

Recommended Brew: Orval Trappist Ale, Brasserie D'Orval S.A., Florenville-Villers-devant-Orval, Belgium, Distributed by Merchant du Vin Corp., Tukwila, Washington USA

Style: Belgian Pale Ale – Hazy Sunset orange with rocky head – A firm body, this ale has profound hop bitterness and a fruity, complex bouquet of lemon zest, orange peel, apricot and fresh grass, with a peppery, dry finish.

¾ C. olive oil
6 oz. Orval Trappist Ale
3 tablespoons lemon juice
2 cloves garlic, split
¼ teaspoon thyme
1 tablespoon Old Bay seasoning

Combine olive oil, Orval Trappist Ale, lemon juice, garlic, thyme, Old
Bay seasoning, scallops and mushrooms. Marinate 1-2 hours.

* Health Benefit: Rich in calcium, phosphorus, vitamin C, vitamin F, vitamin K

Pyramid Marinade
The Beer Fox says: "The fruity flavors in this marinade blend best with poultry or white meats like pork and veal."

Recommended Brew: Midas Touch Golden Elixir, Dogfish Head Craft Brewery, Milton, Delaware USA

Style: Ancient Ale – Hazy Golden Sunlight in color – Seductive aperitif with the presence of honey, grapes, saffron and barley that excites the palate, ending with a balance of light malt and hops.

1 -- 8 ounce bottle Wishbone Russian salad dressing
6 oz. Midas Touch Golden Elixir
1 envelope dry onion soup mix
1 C. apricot preserves

Combine Pyramid Marinade ingredients. Allow chicken or meat to marinate for 1 to 2 hours.

* Health Benefit: Rich in calcium, phosphorus, vitamin C, vitamin F, vitamin K, iron

Happy grilling!
Cheers!

Grills come in all shapes and sizes, from this standard, easy-to-use gas grill to simple and super-deluxe models. Grilling is fun and there is nothing quite so satisfying as that outdoor flavor.

Weber 586002 Q 320 Portable Outdoor Gas Grill
You Should Also Read:
Beer Cookery - Beer Fox Arrogant Bastard Steak
Beer Cookery - Seattle Style Apple Glazed Chicken
Beer Cookery - Roanoke River Barbecued Pork


Related Articles
Editor's Picks Articles
Top Ten Articles
Previous Features
Site Map





Content copyright © 2022 by Carolyn Smagalski. All rights reserved.
This content was written by Carolyn Smagalski. If you wish to use this content in any manner, you need written permission. Contact Carolyn Smagalski for details.