Crochet Bear Artist, Berta Hesen-Minten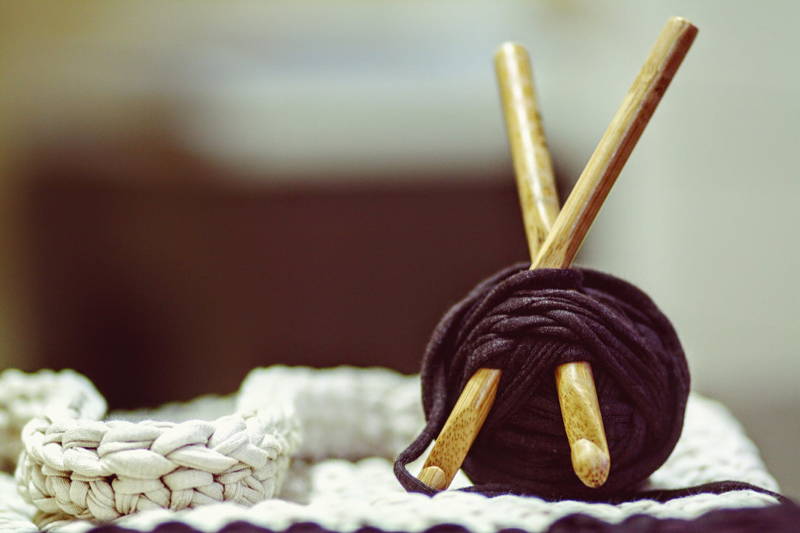 Keep on Smiling by Berta Hesen-Minten
Kate Pullen: Thank you for agreeing to do this interview with me for BellaOnline crochet. Berta, you crochet miniature bears and have won awards for your bears, you have also published books on the subject (including designs and tips) as well as running your own website
ThreadTeds.com
and the extremely vibrant Yahoo Group
Thread Animals
. I'm really interested in finding out more about how you started to crochet miniature bears and also more about the craft of crochet in the Netherlands. Firstly - which came first the crochet or the bears! How long have you been crocheting and who taught you to crochet?
Berta Hesen-Minten: Crochet came first. I learned crochet from my mother and at school. These days there are no needlecraft lessons anymore, which I think is a pity. I always had some kind of needlecraft that I worked on. As my kids were small, and I was a stay at home Mom, I made knit-wear for adults and children, and also for our local yarn shop. I started to make bears after visiting my first bear show with a friend. I bought a kit for a mini-bear and I got the bear-virus. I never recovered from that!
KP: What made you start to crochet miniature bears?
B H-M: I made traditional bears and loved it, and needlecraft always was part of it, in the form of tiny knitted and crochet clothes and decorations for my bears. Although I loved making my bears, I was still searching - still hadn't found my niche. Then someone suggested, "Why not crochet a bear". I had crocheted toys and animals for my kids when they were small, and loved it. In my mind already was the bear I wanted to make. He had to be jointed, like the traditional bears I made. As my crochet skill was advanced and the anatomy of a teddy bear was not strange to me, I took the challenge. After much trial and error, I held my first crochet bear in my hands. I was very pleased with the result; in my mind was already the idea for the next bear. I was 'hooked'!! I discovered the internet and a new world opened ... My crochet skills, and knowing the anatomy of a teddy bear, helped me to design my own first bear pattern. Now I not only have a bear virus, but I am also hooked!! And that's where my adventure in thread crochet bear making begun.
'Cradle Me' Bear by Berta Hesen-Minten
KP: How is a �miniature� bear defined and what size thread and hook do you typically work with?
B H-M: A mini bear is between 1"and 5". 1" and under they are called Micro bears. I love to work with natural fibers, like cotton, wool and linen, but I also use synthetic threads. These days synthetic threads have a high quality, and I think that is important. It takes a long time to finish a bear, and it would really sadden me if the bear would lose quality, because of a poor quality yarn or thread. When my bears go to a new home, I hope the new owner can enjoy him for a very long time. The hook size I use is from 0.4 mm up to 1.5 mm. The 0.4 mm hook I use with silk sewing thread. The crochet hook to use for making thread bears is mostly smaller than the size mentioned on the yarn label, as the bears are crocheted very tight, to let no stuffing show through.
KP: How do you go about designing a bear or animal? When does it go from being a lump of thread to starting to get it's own personality? Where does your inspiration come from?
B H-M: The basis of each bear is the same, body, head, limbs, ears and maybe a tail. Sometimes it is the kind of thread that inspires me, the color, the look or the feel. I always look in each yarn shop, sale, flea markets etc to see if I can find something that I have not tried yet. I get excited when I find something new that I am yet to try. I start with the basic design, but while crocheting, I change shape by increasing or decreasing stitches and/or rows. When stuffing the parts, the bear is taking form; slowly he is coming to life. As soon as I attach the eyes, he has his personality. And he is telling me how his facial features are going to be - if he is a sad bear or a happy bear, if he wants to be dressed or is he going bare through life. A lot inspiration I also get from books, I special love old vintage needlecraft books.
KP: You sell your bear designs as well as the finished bears - do you have a preference for publishing the designs or creating the bears?
B H-M: Collectors love my bears, and the group of collectors has grown. I am a pioneer in thread crochet bear making and no patterns were available for a jointed miniature bear at the time when I started. I received many requests for a pattern and I decided to write down my experience and knowledge about this new bear-making medium. I had so much fun with it, and knew crochet and bear addicts would love it too.
I didn't want to publish 'just a pattern', my goal was to teach something in each pattern. Something new - a new level, a new technique, another shape, another way to assemble the bear, different joints and movement etc so the reader would continue to learn as they work; starting from the basics, and working towards more experienced levels. I think going through all the levels will make a better artist, and when learning all the skills, it will be easier to make new bears and designs. As you have to crawl first, before you can walk - the same can be said with making crochet bears. I know not everyone is able to make their own designs though, some crocheters always need the use of a pattern. For them, my patterns are easy to use and make and when they finish their bears and start to add details, they also give the bear their own unique look, even if it was my pattern they used. From these beginnings, many people started with my ThReAdTeDs patterns, and became successful. After publishing several patterns, my wish was to publish my own book which would include all the information, and would be enjoyable for the beginner as well for the experienced thread bear maker. In 2004 my book 'ThReAdTeDs Secrets & Patterns was published, I am proud to mention it was the very first Pattern book in the category of crocheted, jointed, miniature bears. The book is in 2 languages, English/Dutch. (German translation available !!)
KP: Many of your bears have clothes and accessories which include tiny little bags and hats - do you ever crochet full sized items for yourself? How difficult is it to adjust from the tiny miniature items to full sized items?
B H-M: Oh yes, I did crochet full size items too. Not only for myself, but also for my kids - and the windows in my house have seen 3 times new crochet curtains - lol. I don't think it is very difficult to adjust from mini to full size, or visa versa, if you understand how a design is built up it is easy to adapt. I also have a seamstress background, I learned from nuns. They taught me the old fashioned way, very solid, not with ready to go patterns. We had to measure and draw all clothes ourselves. To use a paper template to crochet the shape you want to achieve is a good thing. Having the experience I have now, I don`t need the templates, but I can see in my mind the shape and/or design.
Bear Pin Cushion by Berta Hesen-Minten
KP: For people looking to start out making miniature bears � or indeed people looking to enhance their skills I notice that you offer online workshops. How long have you been doing this and how does it work?
B H-M: My first on-line workshop was in 2006. It was for a Christmas Ornament Bear called 'Christmas Ball Bear' The plan was for only one workshop, but I received many requests for another, so I held this workshop twice. Soon the next on-line class will be starting called 'Gift from the Heart'. I designed a pincushion bear and in this project many new techniques will be taught. A workshop runs for 4 weeks in an on-line (virtual) group, with 2 extra weeks to finish and show the finished projects to the group. In the 4 weeks students can work at a time best suited to them, they can ask questions, show their progress or even vent their frustrations! I try to explain as much as possible with pictures, a picture often is worth more than a thousand words. Students also learn from each other. A comment from one of the students: 'The on-line workshops are next best to the real live workshops'. Well, that does say something... I love it, and I am sure I will continue the workshops in the future as long as there is interest.
Continued - click HERE for next page


Related Articles
Editor's Picks Articles
Top Ten Articles
Previous Features
Site Map





Content copyright © 2022 by Kate Pullen. All rights reserved.
This content was written by Kate Pullen. If you wish to use this content in any manner, you need written permission. Contact Holly Messenger Aamot for details.