Guest Author - Mavis Metcalf
A cute picture of a Society Finch & Zebra Finch sharing a perch, in a jigsaw puzzle for you to try.
You can make this puzzle easier (or harder) by clicking on "shapes" to the left and changing the size and number of pieces.
Click here
to send this picture as a postcard.
More jigsaw puzzles
.
As you can tell by the picture, Society Finches and Zebra Finches are very compatible in a mixed setting, whether it be in a cage or a large aviary. Both species are very friendly and active.
The male Zebra Finch has a much louder song than the male Society Finch, whose song is sometimes almost silent. Both are lovely to look at as well as to hear though and they can brighten up an otherwise dull day.
For more information on Zebra Finches and Society Finches, please take a look at my e-book about these birds.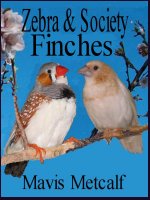 Click on the picture or
here
to see more information and to order.
Do you keep finches of any species? What species do you keep together - or do you just keep one species? What is your favourite finch and why? These are all things that we love to talk about at the bird forum. Why not drop by and join in the conversations about our birds and about birds that we would love to have. Just follow the link below to the most recent forum postings.