Bringing in Your Orchids for the Winter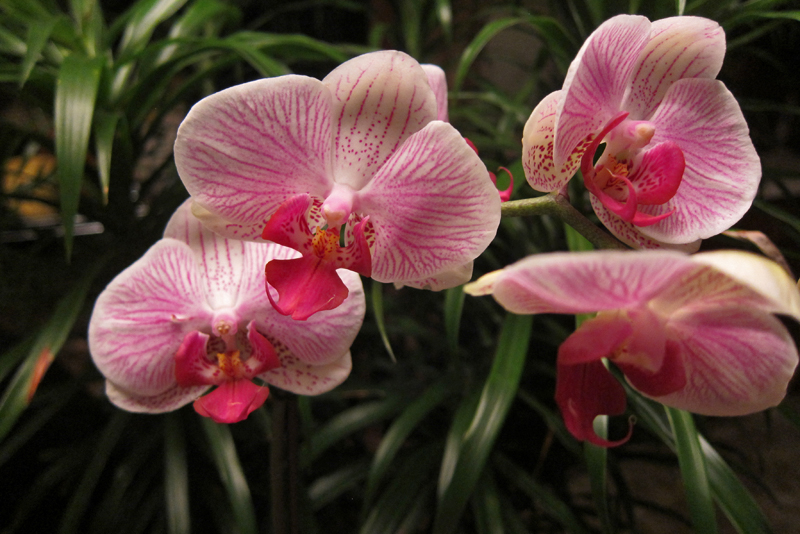 It's hard to believe here in Texas that the end of August is time for thinking about bringing in your orchids for the winter in some parts of the country!! We have a couple more months to leave them outdoors, but should start preparing now for the gradual move. That way we'll be totally prepared and it will not be such a major operation.
Start with the orchids which are warm growing since they need the warmest nights. Make sure they are cleaned up—all old dead growth removed, dried sheaths removed—this will uncover hidden bugs that can be killed and keep new ones from hiding there. Doing a couple a day lets you enjoy the job instead of being overwhelmed by trying to do them all at once. The old adage, "Talk to your plants" works just as well for orchids as any other plant. Sit down and take time to check it over; look for new growth; is it outgrowing the pot it is in; stake if necessary.
Then treat for insects—either by dunking the entire plant, putting diatomaceous earth (DE) in the pots or spraying to the point of runoff with your favorite product. The dunking method when possible, but this is very difficult with some large plants. It will get any and all insects and pests that the product touches and you virtually guarantee instant and complete coverage. DE is a second alternative which works well, but takes longer to work. As the nighttime temperatures reach the 60-65 degree Fahrenheit level, move this first group of plants into their winter home.
Then go through the same steps with the intermediate plants and move them inside as the temperatures at night fall in the 55-60 degree Fahrenheit range. Then the cool growers as temperatures fall to the 50s at night. Cymbidiums can be left outside until actual freezes are due to occur.
One of the problems for most of us at the end of the summer is that our collections often multiply to fill the available space outside and when it's time to bring our orchids inside there is just not enough room for them all. For several years now I've been following Bill Fender's advice which he has graciously allowed me to quote here:
"When an orchid bloom opens and I don't say 'WOW!', that orchid is history. This is an extremely efficient way to have a wonderful, manageable orchid collection." To read the entire article
Winter Orchid Care at Fender's Flora
. I highly recommend that you also take the time to read the other articles Bill has there, too. Good, commonsense advice!! Visit the site and be sure to check out the photo gallery.
You Should Also Read:
Bringing in Your Orchids
Diatomaceous Earth
Repotting an Orchid


Editor's Picks Articles
Top Ten Articles
Previous Features
Site Map





Content copyright © 2022 by Susan Taylor. All rights reserved.
This content was written by Susan Taylor. If you wish to use this content in any manner, you need written permission. Contact Anu Dharmani for details.