Herbs in Action - CHILLIE PEPPERS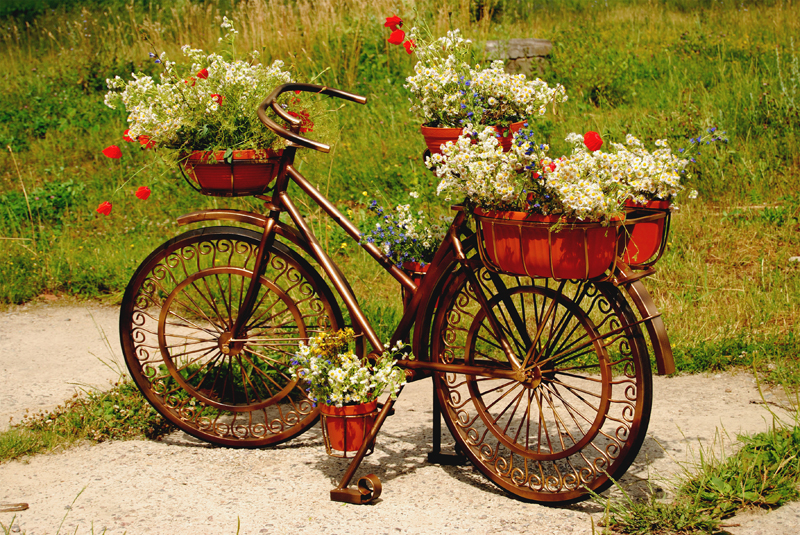 Ah Yes! Chillie peppers certainly pack a spicey punch when they weigh in as heavyweights in the kitchen and the garden and for healthy herby reasons – yet they are such lightweights when it comes to growing them … each a pleasure and oh so easy. Got yours going already? Great. Wanna get going but not really sure where to start? Read on, you may be surprised at how simple these are to grow in your container garden. Start soon so you will be pleased with your results. How hot? Get advice to suit you from the nursery, choose your variety of chillie seedlings and off you go. You can then harvest and save some seeds from your 'crop' for next year's growth.

Choose Chile, Chili, Chillie, or Chilli - it doesn't matter how you spell yours. Growing them is what we are interested in here so no fuss for you when you read another version. A Chilli is a Chile is a Chili ... say thanks now taste buds.

ABOUT THE PLANT
The more common and popular chillie plants are annuals but there re many perennials too, especially in the hotter regions. They grow into medium sized bushes and will need support depending on what type you are growing (of course you will see what to do as to whether or not to support your plants will become obvious to you as they mature). Like sweet bell peppers, they start out green then ripen going yellow to deep red but they come in other colours too – brown, purple, black, maroon, and orange … and if they are the ornamental varieties (brighten up the garden so!) they can be freckled and spotty and mottled. Some of the fruit stands up like fingers and many hang down like tree decorations.

TYPES
Chillie Peppers are members of the Solonaceae family, genus capsicum and are relatives of tomatoes potatoes and aubergines … hah! Maybe that is where the saying 'talking with a hot potato in your mouth' comes from?

There are many types grown all over the tropical world and sub-tropical climes (and greenhouses etc), they come in many shapes, colours and sizes and oh so pretty. The heat factors swing wildly as seen below in some of the suggestions I have added. Can you add your own? Please let us know in the forum.

LIGHT! SOIL! ACTION! What do you need to grow Chillie Peppers?

Chillies need full sun, temperatures of 20C for seeds to germinate and at least a temp of 30C for fruit to ripen. They like a touch of afternoon shade in desert sun conditions and best of all growing them in containers makes sense as the growing season can be extended by growing them 'indoors' as it were. They love humidity too so mist your plants if the dry air is just too much.

They grow well in rich soils, friable so a good potting compost mix is fine, don't fuss and fertilise only if the soil is poor (chillies like potassium fertilisers but not those with too much nitrogen as you will get leaves and no fruit) BUT they hate having their not so deep roots disturbed, they will sulk and some may even die on you cheeky things. So, just one plant per pot, and while they will look out of kilter in a big pot while they grow, they will grow well and love the solitary status for the while. I surround my centrally placed chillie seedlings with something like allysum or lobelia which act as mulch and look pretty and allow the chillie its room. P.S. I had chillies growing in mustard and scarlet coloured pots once which, with the dark green leaves and purple of lobelia spilling over got many comments and smiles from all visitors and me-toos.

Chillies look hardy don't they? Surprise! These are actually sensitive plants and can be finicky with a few more do's and don'ts.

* Don't let them dry out, make sure the moisture is there,
* Make sure to give a good watering but no wet feet so
* Good draining soils are a must.
* Compost and mulch always with plants but peanut shells, bark, newsprint etc. (but no grass cuttings please, it just doesn't work).
* Chillie plans like a prune or a hair cut/cut back now and again. I keep my bushes nicely shaped (not topiary mad) and they reward by growing more branches and providing more fruit for longer.

FACTS and CAVEATS (say ka-vee-ats not ka-veets). Caveats? A Latin word often used, means something like but a bit more than watchpoints or cautions.

* Get some good advice if your palate is bland as 'hot' chillie peppers often look much the same as 'cool' and spicy peppers.
* DO NOT rub your eyes touch your nose or get the juice anywhere near a cut or a graze or you will certainly regret it. Use gloves when harvesting and cooking and cutting and planting and drying or grinding or bottling and so on. Hear ye Hear ye.
* Vitamins and minerals in chillie peppers include A B C E P K+ as well as magnesium, iron, niacin and riboflavin.
* If you burn your mouth use fatty things to help like milk, ice cream, peanut butter or yoghurt. Water will not help at all!
* Use about 5 to one measures of FRESH to DRIED or processed chillies. Dried are hotter than fresh because they are concentrated and we tend to be a little heavy handed with powder. The hot factor in fresh chillies is in the whiter membranes and seeds, so use the flesh only if you want to cool things down a bit and still have the bite.

SCOVILLE Heat Scale? Just a brief note here about impossibly hot to nice'n'spicey or is nice'n'spicey to impossibly hot your preference?

The scale goes from 0 to 500 000 in less than a second – so you can swing from a Red bell Pepper to a Habanero chilli PDQ (pretty darn quickly) … and up through the ranks. See a summary table below for the kinds of chillies most often found in shops, but I see that pure capsaicin (the heat factor in chillies) actually goes up to 15,000 000. It is like talking about trillions of dollars to me – I can't even imagine anyone eating anything that hot. It defies imagination I am afraid. Anyway, here are some representative varietals for you to try and eat and grow too, especially if you are going to train to enter those chillie eating contests!

0 to 1 000 Bell Peppers, Pimento; Banana Pepper; Aji Dulce
1000 to 1 500 Pasilla; Ancho; Pablano; Annaheims; Cubanelles
1500 to 2 500 Padrone Pepper
2500 to 5 000 Red Fresno; Jalapeno mild
5000 to 15 000 Hungarian hot wax Pepper (Paprika); Jalapeno hot;
15 000 to 30 000 Serrano; de Arbol; Aleppo
30 000 to 50 000 Cayenne, Tabasco
50 000 to 100 000 Thai; Bird's Eye Chillie
100 000 to 500 000 Red Savina Habanero; Scotch Bonnets

Oh my, there is so much more to say so more we will say in another article about harvesting and processing and uses and recipes and all and all.

What do you want your container garden to do?




Related Articles
Editor's Picks Articles
Top Ten Articles
Previous Features
Site Map





Content copyright © 2022 by Lestie Mulholland. All rights reserved.
This content was written by Lestie Mulholland. If you wish to use this content in any manner, you need written permission. Contact Lestie Mulholland for details.