Guest Author - Deborah Adams
The Original White House Cookbook
is a 2003 edition of the 1887 edition that was originally written by Mrs. F. L. Gillette and Hugo Ziemann, Steward of the White House.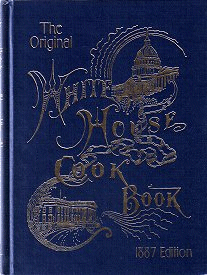 The cookbook is a wonderful hardback book with regular binding and contains 570 pages front to back with several black and white printed graphics of first ladies and rooms of the White House as well as drawn diagrams for butchering various meats and cutting and serving certain cuts.
The book is divided into several chapters including:
Carving / Soups / Fish / Shell Fish / Poultry and Game / Meats / Mutton and Lamb / Pork / Sauces and Dressing for Meats and Fish / Salads / Catsups / Pickles / Vegetables / Macaroni / Butter and Cheese / Eggs / Omelets / Sandwiches / Bread / Biscuits, Rolls, Muffins, etc... / Toast / Cakes / Pastry, Pies and Tarts / Custards, Cream and Desserts / Ice Cream and Ices / Dumplings and Puddings / Sauces for Pudding / Preserves, Jellies etc... / Canned Fruits / Coloring for Fruit and Confectionery / Confectionery / Coffee, Tea and Beverages / Varieties of Seasonable Food / Menus / Management of State Dinners at White House / Preparations for the Sick / Suggestions in regard to Health / Miscellaneous Recipes / Facts worth Knowing / Toilet Recipes and Items / French Words in Cooking / Articles required for the Kitchen / Dyeing or Coloring / Small Points on Table Etiquette / Dinner-giving / Measures and Weights in ordinary use
Everything in the book was written in the 1800's so you're going to come across interesting measurements, recipes and even more interesting cures for things (which I wouldn't take in these days without consulting a doctor) :) cures such as poultices, Draughts for the feet, blackberry cordial, and more. Health suggestions include things like cough syrup, and many first aid suggestions which again should be considered entertainment only these days. The miscellaneous recipes include some such as how to starch, fold and iron shirts, getting rid of moths in carpets, how to wash white thread lace, how to clean kid gloves, starch polish, jewelry cleaner, soft soap and more. There is just tons of interesting reading within this book.
Some of the recipes offered include: Pineappleade, Steamed Brown Bread, Flannel Cake, Cayenne Cheese Straws, Snow Cake,Wine Jumbles, Canned Mince Meat, Mushroom Catsup, Butter Scotch Candy, Ju Jube Paste, Orange Charlotte, Crystalized Fruit, Oyster Omelet, Clam Fritters, Terrapin Stew with Cream, Coconut Ice Cream, Frizzled Beef, Fried Sweetbreads, Veal Pot Pie, Mutton Pudding, Pork Chops and Fried Apples, Scrappel, Maids of Honor, Boston Cream Pie, Macaroni and Chicken, Green Pepper Mangoes, Orange Tartlets, Pigeon Pie, Preserved Pumpkins, Ham Salad, Watercress Sandwiches, Curry Sauce, Grandmother's Sauce, Mullagatawney soup, Reed Birds on Toast, Sour Crout and so many more!
History buffs and cookbook collectors will have a ball with this cookbook and the recipes are great! Everything you could just about ask for in American cooking is in this cookbook. If you like the sound of this cookbook you can get a copy at Miles Kimball by
Clicking HERE
. You'll spend hours going through this one!
Miles Kimball
is a fantastic company that offers just about everything you could need for a home including cookbooks, things for kitchen, home, desktop & office, gifts & collectibles, apparel & personal care, outdoor & pets, travel & leisure, kids korner, christmas, christmas cards and other holidays! Check them out.