Guest Author - Mavis Metcalf
Budgies or Parakeets are one of the most commonly kept pet birds. The more you know about them, the more you can enjoy your pet.
Budgies
is a 23 page e-book about these wonderful birds.
Includes
Introduction
About Budgies
Budgies as Pets
Where to Obtain a Pet Budgie
One Budgies or Two?
Bringing Your New Budgie Home
Cages
Diet
Taming Your Budgie
Talking Abiity
Bathing
Wingclipping
Budgies And Other Pets
Toys
Household Dangers
Breeding
More Information
This book contains lots of pictures of several different Budgies.
For more information or to purchase
click here
or click on the book.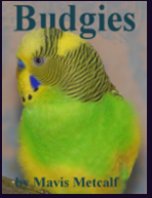 See the rest of my e-books
here
| | | | |
| --- | --- | --- | --- |
| --- | This store brought to you by | | --- |