Call of Duty 3 is the classic combat game of World War II. If you've seen Saving Private Ryan, you know what you're in for. Head-throbbing noise and death all around you.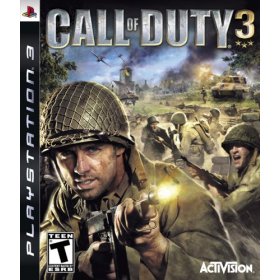 The game goes for instant immersion. You're barely off on your first trip when shells are landing, guns are hammering in your ears and there is complete chaos. You have to be careful not to hit a friendly while you're blasting away at the bad guys. You can barely see what you're doing. Your friends drag you along when you're hurt, and the rain and smoke can blind you.
Call of Duty 3 does a great job of giving you a WWII environment with character. You're in destroyed homes with cans on the shelves and holes blown into bedroom walls. You can see the smoke drifting across the main street, the plunks of rain as it falls through the boards. Bodies collapse realistically. The PS3's high def graphics really shine here.
The controller also adds to the sense of immersion. When you want to whap someone in the head with your gun, you just give the controller a sharp twist. You also use the controller for other steering-related tasks as well.
How about the sound? Playing the Call of Duty series always gives me a headache after a while :) But that's the point - war wasn't fun. It's not about cool pop soundtracks while you blow away the enemies. It's about listening carefully for footsteps in the silence, and then having your eardrums shatter when the barrage rains down on you.
Gameplay is well done with multi-pathed missions that let you choose your objective, within the current mission's parameters. You can't just decide to turn around and head for Bermuda :). Your leaders tell you what your group needs to do - but then it's up to you how to get it done.
Even if you're an uber-soldier and whip through the main gameplay in a short period of time, there is still the online side, which can keep you going for *months*. The in-game play is only training for the real challenge, live human opponents. Of course, if you don't like online gameplay, there is certainly a wealth of gameplay to replay for quite a while before you start to get bored.
Highly recommended!
Buy Call of Duty 3 from Amazon.com


Related Articles
Editor's Picks Articles
Top Ten Articles
Previous Features
Site Map



Follow @lisavideogames
Tweet





Content copyright © 2022 by Lisa Shea. All rights reserved.
This content was written by Lisa Shea. If you wish to use this content in any manner, you need written permission. Contact Lisa Shea for details.