Guest Author - Mavis Metcalf
This little Budgie posed for a picture to make this wonderful jigsaw puzzle.
You can make this puzzle harder (or easier) by clicking on "Shapes" on the left side to change the number and shape of the puzzle pieces.
Click Here
to send this picture as a postcard.
I have a short video of Sweetie the Budgie at youtube and since he is new to my home I am still trying to figure out what he says. Please take a look (he's hard to see, but you can hear him) at
Hi Sweetie
and maybe you can help me figure out his words.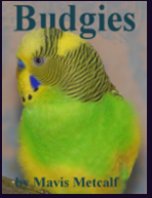 Please take a look at my new
Budgie E-Book
written after many years of experience with these wonderful little birds.
Have you ever had a budgie? Many people have had at least one in their life. Budgies come in many more different colours than they used to. When they first became available for pets and for many years after, they could only be found in the original green and yellow colour found in the wild as well as a similar blue and white colour. Now the greens are every shade of green and the blues are every shade of blue - yellow might be with blue and white might be with green or the may be pure yellow or white. Now when you look at a breeder's flock of birds, you don't see many birds that look the same.