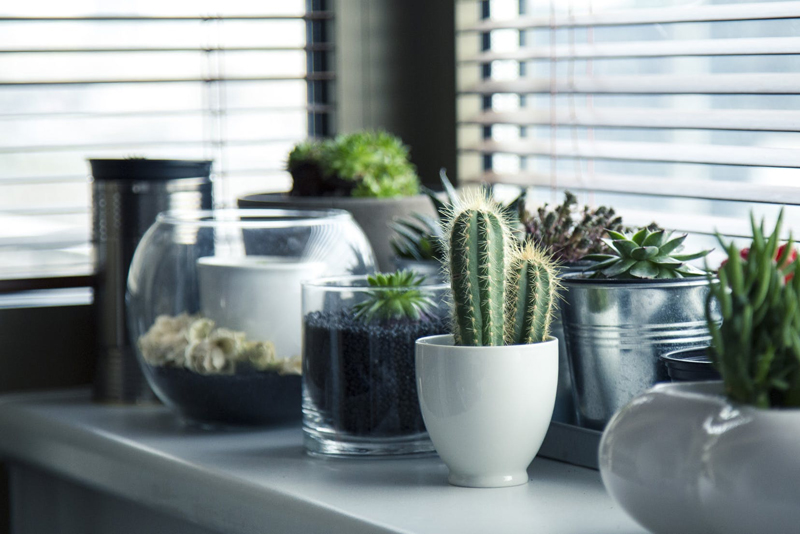 Staghorn Ferns (
Platycerium bifurcatum
) were once a rarity, but they have seen a tremendous surge in popularity. Also known as Elkhorn Fern, the Staghorn is interesting because it has a very different appearance from other ferns. Most ferns have delicate, lacy fronds. Staghorn Ferns have two types of fronds: one type is a flat, branched frond, resembling the horn of an elk, and the other type is a flat, round one that grows around the other fronds like a collar.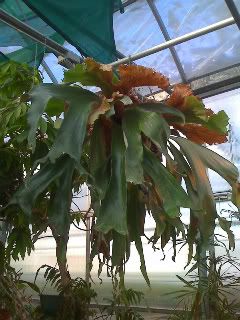 It's not just appearance that makes the Staghorn different from other ferns. Most ferns grow in soil, but the Staghorn Fern is an epiphyte. Epiphytes prefer to attach themselves to some object for support, such as a tree, and catch water when it rains. Staghorn Ferns can be grown in a hanging basket but are more commonly seen mounted on slabs of cork, redwood, or some other material. Sphagnum moss and peat moss can be mixed together or used alone and placed between the flat, round fronds and the mount. The fern should be wired on to the mount by its flat, round (basal) fronds.
Mounted Staghorn Ferns require a little bit of special care for them to thrive indoors. For one thing, they need fairly high humidity and do not like to be misted. Some people do mist their Staghorns, but usually they have a fan going to help the water evaporate quickly. Water should not sit on the fronds for extended periods of time without air movement. Keep your Staghorn away from drafty windows, doors to the outside and heating vents. Sudden temperature changes can cause the plant to wilt.
To water a mounted Staghorn, place the whole slab in mild water for about 10 minutes twice a week. Adjust according to the seasons and how quickly the plant is growing. Ideally, the moss should never get completely dry all the way through, but you don't want the moss to be wet all the time, either. You can add some dilute fertilizer to the water when you are irrigating, but these plants don't require much in the way of nutrients. A weak fertilization once a month is sufficient.
Staghorn Ferns are pretty tolerant of a wide range of lighting conditions, but bright, filtered light is the best. If you summer your plants outdoors, remember to keep the plant protected from the sun. These plants average two feet in diameter at maturity, but are known to get much larger than that if they are cared for carefully.
If you see silvery scales lined up along the backs of the fronds, have no fear: they are spores. Ferns do not grow from seeds. They propagate themselves from the neat and orderly little dots you may see on the back of your fern. As interesting as this sounds, you will probably not be able to reproduce your plant from spores. More likely, you will be able to propagate little Staghorns from plantlets generated by the original plant. Plantlets develop at the base of the fern, and when they are big enough can be given their own slabs.
If you've been yearning to try a Staghorn Fern but have held back for fear of killing it, I hope that you now have the confidence to give it a go. The best way to learn to grow a new plant is to grow it. You can always start with a little one for practice, and work your way up!
This site needs an editor - click to learn more!

You Should Also Read:
Boston Ferns
Caring for Houseplants in Winter
Houseplants Newsletter




Related Articles
Editor's Picks Articles
Top Ten Articles
Previous Features
Site Map





Content copyright © 2022 by Lisa Beth Voldeck. All rights reserved.
This content was written by Lisa Beth Voldeck. If you wish to use this content in any manner, you need written permission. Contact BellaOnline Administration for details.