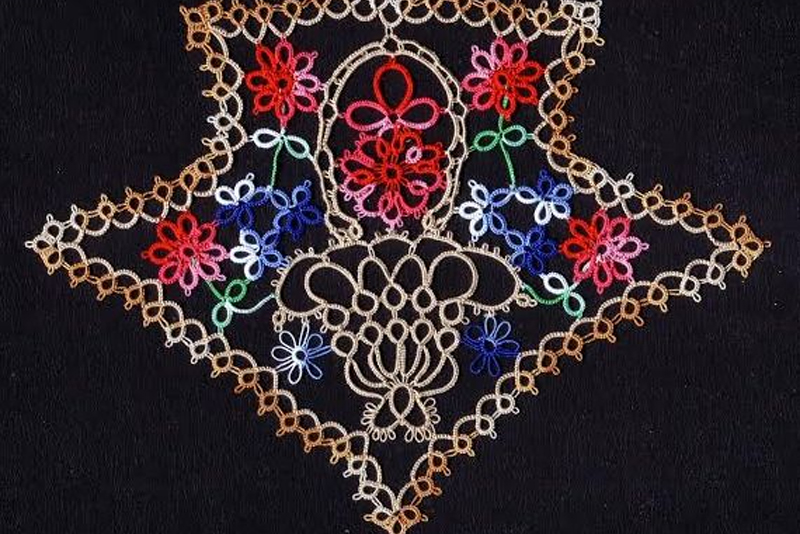 What is the origin of the tatted doily?

The term doily is familiar to tatters everywhere. It comes in a variety of shapes, round, oval, square, rectangular and even heart-shaped. It is comprised of openwork, i.e., embroidery or needle lace done on fabric part of which is removed to allow the stitching to be featured, or, most often, lace made from tatting, crochet, bobbin lace or knitting. True, a doily does just lay there, but, it looks GOOD displayed on fine wood and other backgrounds. And it has a practical function, to protect the wood or other surface from scratches.

Over the years I have read a couple of stories about the origin of the word doily. The easiest to accept is the story of a textile merchant from London in the 1600's. His last name was "D'Oyley." He supplied the fabric which was used to make small napkins needed during the fruit course after the main course and the dinner napkins were cleared. (Hmm, napkins for fruit... could this be the origin of the cocktail napkin?) However it happened, his name became synonymous with these little mats or napkins. Over the years the changes in spelling and pronunciation varied from d'oyley to doyley to d'oilie to doilie and eventually to doily.

A second story I have read concerned a member of William the Conqueror's,(ca.1028 - 1087 CE) entourage, Robery D'Oyley. Granted conquered lands for his service, D'Oyley was required to pay tribute to the King with a annual donation of tablecloths. Woven by the women and then embroidered by female relatives, the tablecloths and their napkins became a hit and were thence referred to as "doyleys."

The antimacassar is also a type of doily, but it is of much newer origin. Around the mid-19th century a hair oil was imported from the Indonesian island of Sulawesi. It was made in the district of Macassar or Mangkasara. This hair oil became very popular so doilies were created especially to place on chairs and sofas to protect the fabric from the oily hair.

Tatted doilies as extremely popular.
Patterns listed here:
https://www.bellaonline.com/subjects/8421.asp

You Should Also Read:
Doilies from Motifs
Doilies Free Tatting Patterns


Related Articles
Editor's Picks Articles
Top Ten Articles
Previous Features
Site Map





Content copyright © 2023 by Georgia Seitz. All rights reserved.
This content was written by Georgia Seitz. If you wish to use this content in any manner, you need written permission. Contact Georgia Seitz for details.