Guest Author - Phyllis Doyle Burns
Every morning I love to get up before the sun and sit out on my patio with a mug of steaming hot coffee or tea. Sometimes as it begins to get light, a mist will softly creep over my little mountain and drift down the hillside towards me. When this happens, I feel as if Avalon is calling.
It is such a peaceful and quiet time as the mists gently cover and embrace the little mountain. It is like being in another realm where the cares and concerns of daily life simply fade away. The mist seems to be calling me to enter the magical land of the faerie folks.
For just a little while, enchantment surrounds me and I drift into the days of King Arthur, Merlin, and Morgan le Fay. The mists shrouding me from the world I live in softens outlines of huge stones that have stood there for ages. All sounds become muffled and distant -- making me feel so peacefully alone and protected, as if loving arms hold me close. It is an ethereal realm of my imagination, and a time of reflection and meditation.
Anyone familiar with the Arthurian legends knows that Avalon is where Morgan le Fay took King Arthur to heal from the wounds he received by Mordred at the
Battle of Camlann
. In Arthur's final battle some say he died -- but there are many who believe he was healed in Avalon and will some day return to once again lead his people.
Avalon is the magical, enchanted island in Arthurian legends. It is on Avalon that Arthur's famous sword , Excalibur, was forged by powerful magic -- and it is there that Arthur was taken to be healed. It is the home of the immortal Morgan le Fay, priestess and leader of the sisters of sorcery.
In
Vita Merlini
, (The Life of Merlin), by Geoffrey of Monmouth, Avalon is described in a dialogue between Taliesin and Merlin as follows:
The island of apples which men call "The Fortunate Isle" gets its name from the fact that it produces all things of itself. The fields there have no need of the ploughs of the farmers and all cultivation is lacking except what nature provides. Of its own accord it produces grain and grapes, and apple trees grow in its woods from the close-clipped grass. The ground of its own accord produces everything instead of merely grass, and people live there a hundred years or more. There, nine sisters rule by a pleasing set of laws those who come to them from our country. She who is first of them is more skilled in the healing art, and excels her sisters in the beauty of her person.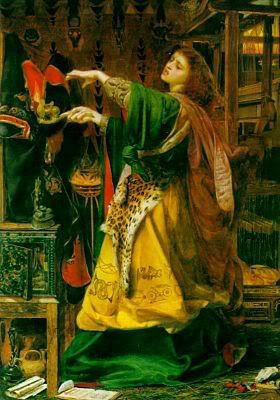 Morgen is her name, and she has learned what useful properties all the herbs contain, so that she can cure sick bodies. She also knows an art by which to change her shape, and to cleave the air on new wings like Daedalus. When she wishes she is at Brest, Chartres, or Pavia, and when she will she slips down from the air onto your shores. And men say that she has taught mathematics to her sisters, Moronoe, Mazoe, Gliten, Glitonea, Gliton, Tyronoe, Thitis -- Thitis best known for her cither. Thither after the battle of Camlan we took the wounded Arthur, guided by Barinthus to whom the waters and the stars of heaven were well known. With him steering the ship we arrived there with the prince, and Morgen received us with fitting honour, and in her chamber she placed the king on a golden bed and with her own hand she uncovered his honourable wound and gazed at it for a long time. At length she said that health could be restored to him if he stayed with her for a long time and made use of her healing art. Rejoicing, therefore, we entrusted the king to her and returning spread our sails to the favouring winds."
There are many theories as to where the exact location of Avalon was in those ancient days. The early medieval Spanish scholar, Isidore of Seville, claimed they were the Canary Islands. Some believe Avalon was at the antipodes to Glastonbury. Some say it was in Sicily. Others believe it was on the coast of Brittany and Burgh by Sands in Cumberland which was the fort of Aballava on Hadrian's Wall near Camboglanna. St. Michael's Mount in Cornwall is another sight believed to have been Avalon.
My theory is that Avalon is as Geoffrey claimed, "What is now known as Glastonbury was, in ancient times, called the Isle of Avalon. It is virtually an island, for it is completely surrounded by marshlands. In Welsh it is called 'Ynys Afallach', which means the Island of Apples and this fruit once grew in great abundance."
Glastonbury was no longer an island in the twelfth century. The high conical bulk of Glastonbury Tor had been surrounded by marsh at one time, before the surrounding fenland in the Somerset Levels was drained. Gerald of Wales, (c. 1146 – c. 1223), a medieval clergyman and chronicler of his times, stated that Glastonbury's earliest name in Welsh was Ineswitrin (or Ynys Witrin), the Isle of glass, a name noted by earlier historians which indicates that the location was at one point seen as an island.
When I watch the mists rolling gently down the hillside, I like to imagine that even though Avalon receded into deeper realms and closed the entrance to mortals it is still very much alive -- and still existing are Morgan le Fay, her sisters, Arthur, and Merlin, all waiting to appear to those who believe in them. In peace and timeless beauty, it floats in the ether and comes to those who can hear Avalon calling.
*******
Image Credits Morgan le Fay
*******
Editor Picks:
,
*******