Micro Beer Club - Award Winning Beer Service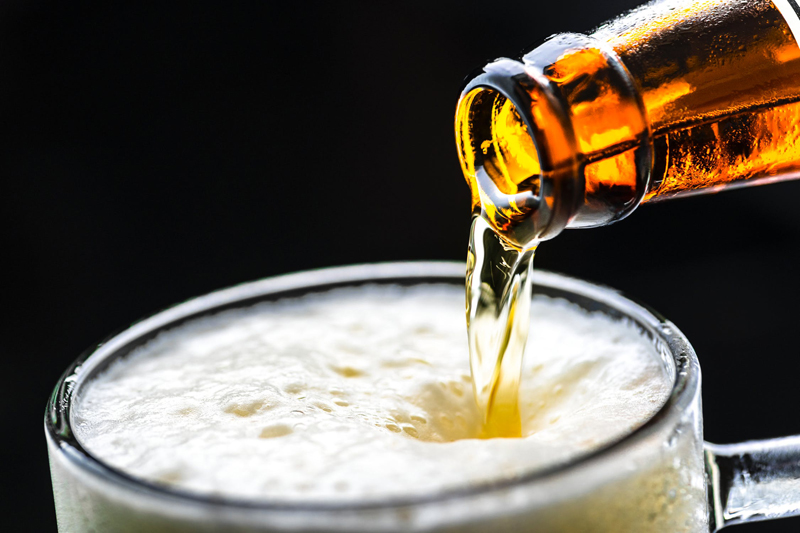 Today would have been the perfect day to stay in bed. As you softly drifted out of that cobwebby slumber, the sound of gentle rain spattered rhythmically against the window. Gray clouds outside cast a monochromatic tinge across the bedcovers, while thoughts of a 'silver-kind-of-day' entered your mind. You pulled the billowy comforter around your torso and snuggled against the warm body at your side, determined to revel in hedonism.

Then it started like a gunshot at the Olympic Stadium. Vibrations of thunder growled through the air, triggering your car alarm with blaring urgency. Your lunatic black lab barked with vexation and pounced at your head in watchful alert. As you leaped out of bed, your toe rammed against the nightstand with the force of a catapult. Called to the front lines, you surrendered to the day, sure that it would get better.

It didn't!
By the end of the day, you felt like you had a hose attached to your head and every ounce of energy was being sucked from your body. It wasn't over yet, because you knew you needed to find special gifts for all those tough-to-buy-for people on your list:  Christmas gifts, two December birthdays and some "Holiday gifts" for your Corporate contacts!

Your brain was fried!

Think about it! Through all that stress and misery, the image of a coppery golden beer with a capacious white head kept invading your brain. You could practically smell the caramel-toffee malts and peppery hops in the air. Your mouth watered with each growing thought.

The Beer Fox at BellaOnline is here to rescue you!

After searching through websites, guides, and commercial channels for a solution to the beer lover's dilemma of finding diversity and supreme satisfaction in microbrew beer, "Fox" - as I am sometimes called - recommends the Best in Beer of the Month Clubs:


Micro Beer Club gives you the ability to satisfy all your gift-giving needs, while adding the self-gratifying option of rewarding yourself for being the hero that no one else seems to recognize. Each month, Micro Beer Club provides 4 styles (3 of each selection) of high quality craft-brewed beer from notable microbreweries across the USA. This distinctive gift comes as twelve 12-ounce bottles, along with a newsletter filled with information about the featured breweries, beer tasting notes, food pairings and little extras about beer – articles about yeast, hops, brewing techniques, or other topics of the month. The first shipment even includes a personalized gift card!

There are no preset minimums, as there are with other clubs. The best part is this: You are the one who gets to choose the option that fits your style!

Prepay with 1-12 months or every other month, or select the "beer of the month club" option and get billed monthly. There are no minimums, you can cancel at any time, the shipments are guaranteed (in case you happen to get a broken bottle), and the variety is superb!

For those who prefer wine, the Cellars Wine Club option offers 5 different wine clubs with an availability of over 400 individual bottles:

Premium Wine Club
Platinum Wine Club
West Coast Wine Club
All Reds Wine Club
90+ Point Club (this is for true wine connoisseurs who appreciate the world's finest wines)

For those who may be undecided about which option works best, choose a Gift Certificate !

Located in Seattle, Washington, Micro Brew Club is highly experienced and has been serving the needs of beer and wine enthusiasts since 1995. Be aware that current laws do not allow shipments to be made to Alaska, Hawaii, or Utah, and are subject to change without notice.

Micro Beer Club is easy, offers variety, high quality and versatility, and you will delight in knowing that you have given a gift that is greatly appreciated…and remember to treat yourself!

Contact Micro Brew Club by clicking here

Micro Brew Club - a "BellaOnline Recommends" Award Winner!
Cheers!
 
You Should Also Read:
Homebrewing - Books & Resources - Novice to Expert
Homebrew Tips for the Novice Brewer
Is Beer the Secret Spice of Life ?


Related Articles
Editor's Picks Articles
Top Ten Articles
Previous Features
Site Map





Content copyright © 2023 by Carolyn Smagalski. All rights reserved.
This content was written by Carolyn Smagalski. If you wish to use this content in any manner, you need written permission. Contact Carolyn Smagalski for details.