Belding Bros. Silk Tatting Book Pt. 3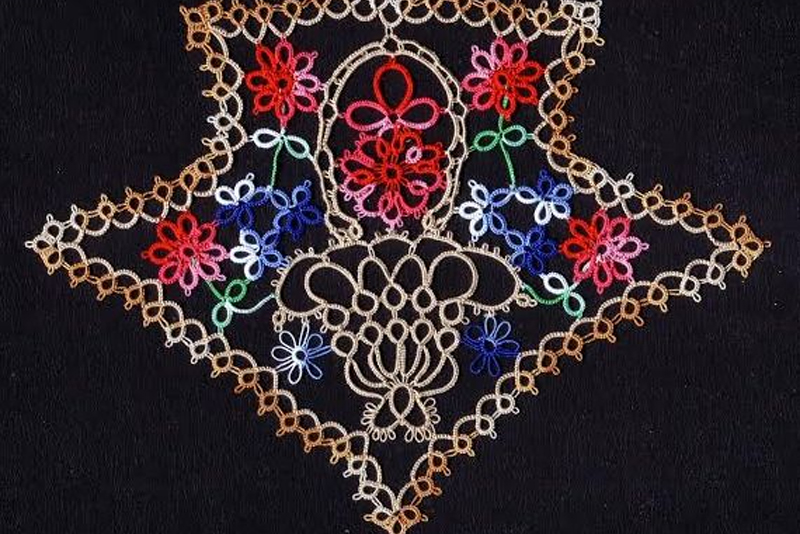 SILK TATTING


LESSON BOOK


--WITH--


ILLUSTRATIONS






Belding Bros. ∓ Company


MANUFACTURERS OF


Carlson Currier


FAST DYE


GRAND PRIZE TATTING SILK


SPECIAL HARD TWIST EACH SPOOL CONTAINS 125 YARDS PURE SILK




     Abbreviations used: d s. double stitch; p, picot or purl; *, repeat from preceding *; r, ring; ch, chain; l p, long picot; c l, clover leaf.


     In every kind of tatting, the double stitch that comes after the picot is independent of the loop. Thus, if the directions say, 2 d s, 1 p, 3 d s, 1 p, 2 d s, etc., you must count the d s that served to form the loop and not make 2 d s, 1 p, 4 d s, etc. To join the different rings, oval, etc., together by means of picots, take up the silk that runs over the left hand with a crochet needle or pin, inserting it into the picot downwards from above, draw the silk through, pass the shuttle through the loop thus formed, and pull it up like any other stitch.

     SINGLE OR HALF KNOTS. JOSEPHINE PICOTS (Figs. 10 and 11). The Josephine picot or purl, as it is also called in tatting, consists of a series of single or half knots formed of the first knot only. These picots may be made of 4 or 5 knots, or of 10 or 12 knots.





     DETACHED SCALLOPS. Make 12 d s with one shuttle, then tighten the silk so as to draw them together into a half ring; the next d s must touch the last d s of the scallop before it.

     SCALLOPS JOINED TOGETHER AT THE TOP. With one shuttle make 4 d s, 1 p, *8 d s, 1 p, 4 d s, close the half ring, 4 d s, draw the thread through the p and repeat from *.





     SCALLOPS WITH PICOTS. Make with one shuttle 4 d s, 1 p, *3 d s, 1 p, 2 d s, 1 p, 2 d s, 1 p, 2 d s, 1 p, 3 d s, 1 p, 4 d s, close the ring.



     Leave sufficient length of silk, before beginning the next ring, for the rings not to overlap each other. Make 4 d s, draw the left-hand silk through the 5th picot of the preceding ring, and repeat from *.


     Rings are always made with one silk thread, chains with two. Picots are of ordinary length unless a long picot (l p) is indicated. When the directions say "r 3 p separated by 2 d s" or ch the same it means 2 d s, p, 2 d s, p, 2 d s, p, 2 d s; that is, there must be as many d s before the first p and after the last as there are between; but if they say r, or ch, 3 d s, 3 p separated by 2 d s, 2 d s, it means 3 d s, p, 2 d s, p, 2 d s, p, 3 d s.

     A clover leaf is a group of three or more rings as indicated, made close together.

     When a ring or other part is to be repeated three times it means that you are to make that part three times not counting the one already made,or the there will be four when finished.

     Never tie and cut the silk if it can be inconspicuously carried to the next point, as the knots are even more unsightly.

     It will be well for the beginner to practice on the simple edges and insertions which follow before attempting the more intricate patterns.




     Fig. 12 EDGING. This is the simple edge our grandmothers made, and it is very dainty when made with silk thread and used on the edge of footing to trim handkerchiefs or is suitable for edging ruffles for underwear and children's clothing. It may be made with any number of stitches between picots and with two or more picots if desired.



You Should Also Read:
Belding Bros. Silk Tatting Book Pt. 1
Belding Bros. Silk Tatting Book Pt. 2
Tatting Basics and History


Related Articles
Editor's Picks Articles
Top Ten Articles
Previous Features
Site Map





Content copyright © 2019 by Georgia Seitz. All rights reserved.
This content was written by Georgia Seitz. If you wish to use this content in any manner, you need written permission. Contact Georgia Seitz for details.