An Orchid Grower's Resolutions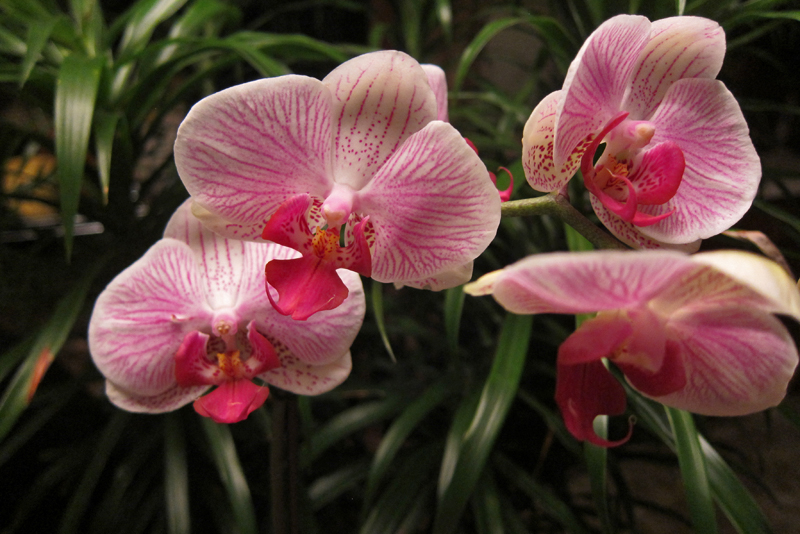 The holiday season is almost over and it's time to start thinking about the New Year and what we would like to do differently with our orchids. Here are some thoughts I have had during the past year based on successes and failures with my plants.

Be less impulsive in buying
Every time I go to a show or sale or nursery, I simply can't resist buying something new and often it is a plant that I simply don't do well growing. I tell myself that this time it is going to be different and the plant will thrive and bloom for me. And if I cannot determine what I did wrong with a plant that died or did not thrive then don't buy any more of them!

Treat my plants the same
Earlier this year I happened to watch what I was doing with some extra fertilizer water I had. My favorite plants got it.. These plants are the ones that flower and grow the best for me. Now is that because I fertilize them more and pay more attention to them or just because they grow better in my conditions? This year I will give that extra bit of love to those that are not doing so well and see if that will help them!

Automate one thing in the greenhouse
I want to automate at least one any of the many things that must be done to keep my plants happy. This is going to be the year that I get that thermostat controlled exhaust fan and self opening vents!! I will not be so tied down to the care of my plants and the conditions will be less likely to get out of hand.

Pay more attention to being consistent
I will work at taking measurements of heat, humidity and light at various times to determine what the conditions are and then put the right plants in the right places. The best grown plants are produced from the best attention to the conditions they need. And consistency is the key to good conditions.

Use what I learned last year
I have a Cymbidium Golden Elf 'Sundust' that hadn't flowered in two years and decided that I'd see if more sun would make it flower. In March or April I put it in a spot with full morning and afternoon sun (I acclimated it over the course of a week) and got 3 spikes on it in July. But, the first spike dried up because I did not water it enough as the weather got warmer. I learned that a lot of sun is important and a lot of water is necessary to get the most out of these plants.

Research how to collect and use rainwater to the best advantage
My city water supply is very high in calcium and leaves a lot of unsightly dried minerals on my orchid leaves. In addition, using it for misting makes the nozzles clog up. I need to research how to best collect, store and use rainwater for misting and fertilizing since reverse osmosis water use is not energy efficient. If you have a working system, please let me know about it.

You Should Also Read:
Review -- The Potting Workshop
Winter Orchid Growing Tips
Growing Orchids on Mounts


Editor's Picks Articles
Top Ten Articles
Previous Features
Site Map





Content copyright © 2023 by Susan Taylor. All rights reserved.
This content was written by Susan Taylor. If you wish to use this content in any manner, you need written permission. Contact Anu Dharmani for details.