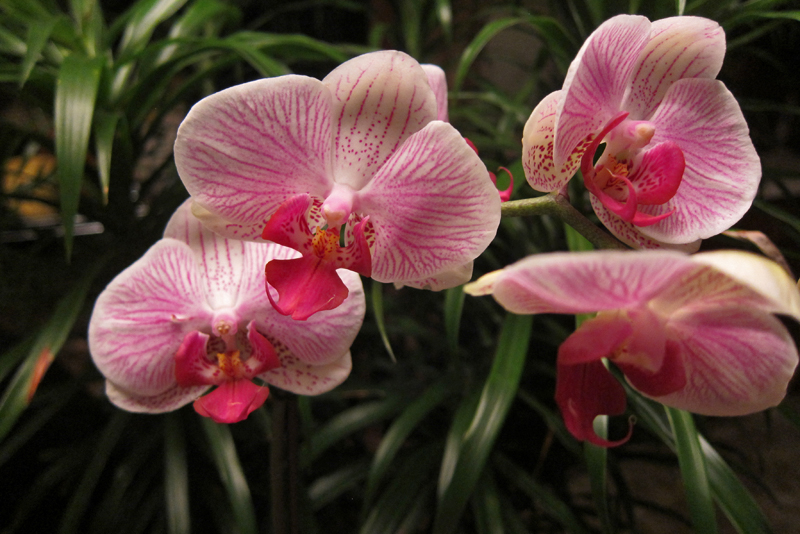 As mounting nearly replicates the natural environment, it works best for epiphytic orchids.

1. Wooden blocks can be successfully used for mounting orchids. Rougher the block better is the grip formed by the roots. You can curve out some groove if the block is smooth.
2. Logs of varying lengths; can be used for growing more than one orchid. If it has crevices, furrowed bark the better it is. If you take the log from a soft wood tree then it will need replacing more frequently than hard wood logs. You can grow the orchids directly attached/tied to the logs, and growth medium can be avoided. As the orchid roots get attached directly to the log. There will be no waterlogging problem. But then, high humidity is required around the orchids. If the outside humidity is favourable, orchids can be tied to a tree trunk also.
3. Another mounting material can be grapevine. It can last for more than a decade and has enough grooves for the orchid roots to grow into and attach.
4. Driftwood and sphagnum moss can also be used for growing orchids. Both of these retain some moisture, so orchids which require water for longer period can be grown on these. But you need to clean off the salt if you choose driftwood.
5. Pine wood is another choice for mounting orchids; it has rough bark which is good for orchid roots. But, it needs to be changed after a year or so. Pine wood is known to release substances which restrict the growth of orchids, but this happens on a live tree only, I doubt the release of chemicals from cut pine logs.
6. Vertical mounting can be used for more than one orchids, will save time on watering, and no water logging too;)
7. You can use coconut shells as baskets with a hole made at the bottom to drain of extra water. Just put the orchid inside the shell, no need for any growth medium.
8. Rubber/ tyre tubes have also been used by orchid growers, with holes made near the bottom. Orchids can be put on moss, husk pieces, bark chunks etc. inside the tubes.
9. Wooden baskets are another very common option.
10. Hollow bamboo stems hung slightly tilted to drain off excess water can also be used for mounting orchids.
11. Moss sticks as used for other climbing plants is another option for mounting orchids. An orchid tree can be grown on these sticks
12. Anything else that you can imagine. Only keep a few points in mind. There should be something for the roots to cling to. Water logging is a strict no no and lot of air is available to roots.

Benefits
1. You can move the mounted orchids according to need. Inside or outside, facing a sunny side according to season (east window in summers and south window in winters).
2. This method of growing orchids almost replicates the natural growing conditions, so orchids grow better.

You Should Also Read:
Using Orchids and Their Flowers for Decorating
Ideal Plants to Grow
Growing Orchids as Houseplants


Related Articles
Editor's Picks Articles
Top Ten Articles
Previous Features
Site Map





Content copyright © 2022 by Anu Dharmani. All rights reserved.
This content was written by Anu Dharmani. If you wish to use this content in any manner, you need written permission. Contact Anu Dharmani for details.