Resolve to Make Peace with Your Worst Enemy - Yourself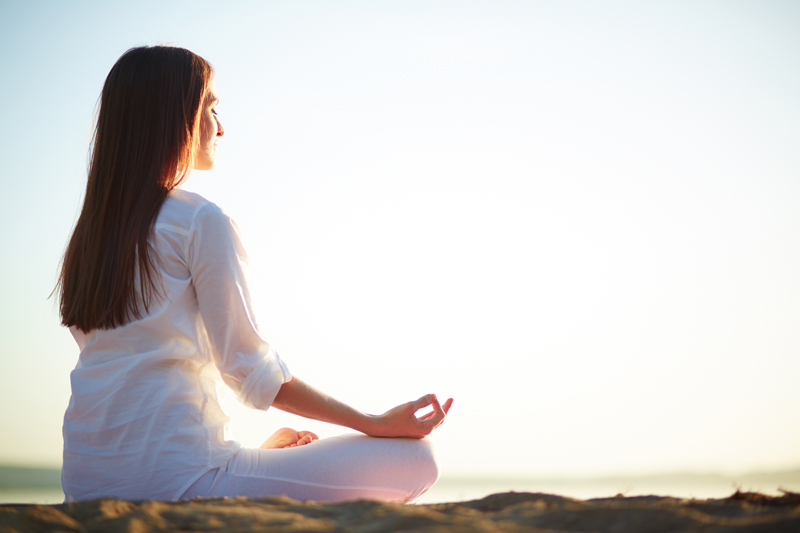 We are surrounded by enemies and it's time to make peace with them: our food, our bodies and our past. We have become so militaristic that I don't think we even realize that we are constantly waging war. This past summer, when it was hot and humid, all people wanted to do was beat the heat. At that time I advised everyone to learn to get along with it. We never win when we try to fight nature and our natural rhythms. We feel better when we do not expend the energy to force life to fit into our narrow context. All I hear during my workshops is that we are so unhappy with our weight that food has become a formidable enemy. Food isn't the only enemy! Another is our bodies whom we view with hostility, even with disdain, trying to beat them into submission at the gym or tame them with deprivation. At the top of the enemy list are our souls whom we beat up over the past: failures, poor choices and sour relationships. All these foes don't give us a minute's peace.
Food is particularly frightening during celebrations, holidays and vacations because "there will be too much delicious food." During ordinary days we fight our common sense and eat fatty, processed foods to comfort us when we are sick, tired or sad – never reaching for healthy nourishing food which we know would make us feel better. We weigh ourselves gasping, jiggle the scale or relocate it, buy a diet book, join a diet program or order small portions of food to be delivered to our homes. We skip meals mostly breakfast, drink our food or cut out entire food groups. Ironically, most of these diets cause us to gain weight because we have slowed down our metabolism by fasting and our bodies begin to hold on to stored fat. Then we get disgusted and swing to the other extreme. How about trying this amazingly effective strategy? Stop obsessing about food.
Instead, we can perceive our food as nourishing, pleasurable and the fuel that gives us positive energy. When we change our attitude about eating, we will sense when we are full and what healthy foods our body craves. We will lose the weight we always wanted to lose easily. All we have to do is get rid of the guilt and really taste our food. Let stop eating in numbness.
The next invader: Why is it that so few of us like our bodies or ever accept a compliment that we look good? We need to learn from the animals who never say that their butts are too big or wish that they had slimmer thighs. We are cutting ourselves up with plastic surgery trying to lose fat and tighten up any body part that softens with age. We have become an anti-aging society. Well, for the record, I am pro-aging and prefer the term, youth-enhancing. Eagerly, we buy anything that remotely promises to beat the clock. Enviously, we look at young people, trying to compete with their hard bodies and unlined faces. However, our tactics are all wrong and we will lose this battle.
Instead we might call a truce to accept our age and our defining lines. We can use this newly released energy to fortify ourselves within to be secure enough to be our natural ourselves and have fun; after all we know what's important in life and who we are. Young people can't compete with us on this level!
Perhaps most amazing of all is that we beat our spirits into submission with regrets about things long past. We relive the mistakes, the old arguments and all the things we left undone. "I should have… I was so blind…" An angry flush rises to our faces as we remember. We disrupt our sleep, our rapport with family and friends and our goals.
Did it ever occur to us that past rejection, failure and loss have shaped us into the wonderful, improved versions of ourselves? Did we expect something for nothing? We are all like pebbles thrown into a pond; we make many ripples. Our lives are filled with marvelous contradictions. We can choose to make peace with our multiple selves, to feel whole again.
This moment, together, let's commit to live life differently by changing our attitudes about our appearance and our accomplishments. Wouldn't it be liberating to end our self-imposed suffering now? Let's end our war of attrition, the self against the self. When we make peace, we will have the energy to heal physically and emotionally. Most auto-immune disorders along with fatigue will vanish. And most of all, by living peacefully we can be happier, making room for fun.
---
Debbie Mandel, MA is the author of
Changing Habits: The Caregivers' Total Workout
and
Turn On Your Inner Light: Fitness for Body, Mind and Soul,
a stress-reduction specialist, motivational speaker, a personal trainer and mind/body lecturer. She is the host of the weekly Turn On Your Inner Light Show on WGBB AM1240 in New York City , produces a weekly wellness newsletter, and has been featured on radio/ TV and print media. To learn more visit:
www.turnonyourinnerlight.com


Related Articles
Editor's Picks Articles
Top Ten Articles
Previous Features
Site Map





Content copyright © 2019 by Debbie Mandel. All rights reserved.
This content was written by Debbie Mandel. If you wish to use this content in any manner, you need written permission. Contact Debbie Mandel for details.