Dreams - Your Dream Plan For The New Year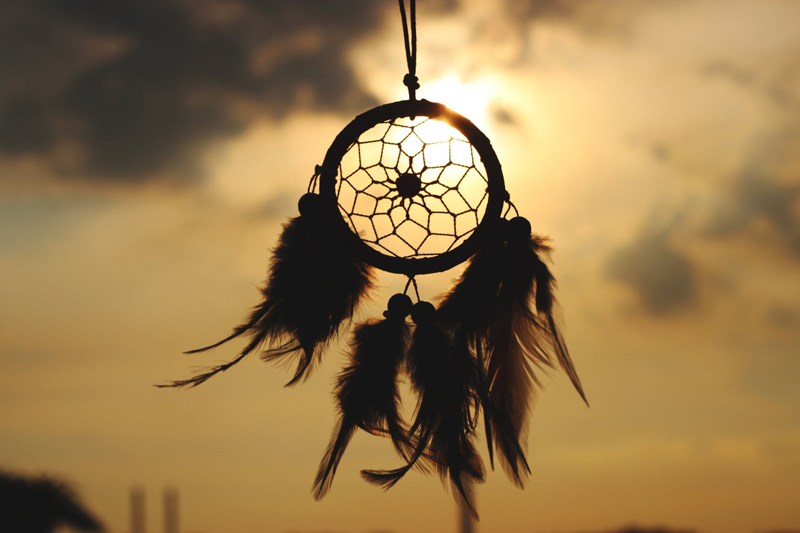 My neighbors celebrate the end of the old and beginning of the new year with a fireworks display at midnight. My German relatives opened the back door to let the old year out and the front door to welcome the new year. My Italian Nana used to yell, "Good Riddance!" while banging on pots and pans. Some religions mark the new year with the fall harvest or beginning of spring. Although the time and date of the new year may vary across cultures, most recognize the transition with ritual or custom to reflect upon the past and dream of the future. With a little effort, your dreams can be a valuable tool for reflection and achieving your goals.
In our society, making "New Year Resolutions" are a tradition that we often joke about because we rarely keep them. One year, I told my friends that maybe if I made a resolution to smoke three packs of cigarettes per day and date at least four men who were totally wrong for me the reverse would come true! Frequently, we express what we would like to achieve but don't give much thought to how we're going to get there.
Your dream can't come true if you don't have a dream. Resolutions and businesses frequently fail due to the lack of a clear plan. Some experts say that banks or investors are more likely to support a new business that has a detailed business plan with realistic goals and time frames. People are more likely to achieve the goals they set for themselves when they believe in their dream, especially when they write those goals down. Addiction recovery programs and even diet plans recommend a "relapse prevention" plan so that the person will know in advance what to do if their resolve becomes shaky. Groundbreaking life coach Debbie Ford says that to have
The Best Year Of Your Life
you need to dream it and plan it before you can live it.
What is your dream? Have you ever really thought about it? Take a few moments to daydream about your perfect life. You may even want to write a short little story about it, telling it as though there were absolutely no obstacles for achieving your perfect life. In a perfect world, what would every day be like? What vision do you have for yourself in the next year? Do whatever you can to visualize a clear picture of your ideal future? Take a few minutes to do this at least a few times a week, every day if possible. Borrow your kids' crayons and draw a picture. Tack it up where you can see it several times a day.
You may want to set aside a few hours to set the stage for a year of positive dreaming. Most of us are so busy that we have lowered our housekeeping standards. Clutter often ends up in the bedroom because it can easily be closed off from view. A chaotic environment can affect our inner state, making us feel just as disorganized within. Creating a comfortable, peaceful sleeping environment can support the dreaming process. A new year brings a fresh start and you might want to physically clear away some of the debris of the past by giving your bedroom a good de-cluttering. Getting rid of the old makes room to receive the new. If the task is too overwhelming or time is a problem, you could start by dancing
FlyLady's 27-Fling Boogie
. Grab a box or trash bag and quickly grab 27 items to throw out or give away. If you make this a regular practice, you'll make a lot of progress over time.
In
Dream Magic
, author Sirona Knight presents the idea of a "dream altar." Your unconscious will respond with dreams when you set aside an area in your bedroom to consciously focus on dreaming. You could use a part of your dresser or nightstand for a candle and items that remind you of your goals, or you could make a
"dream scrapbook"
with pictures that create visual representations of your dreams. You can flip through it before you go to sleep or use a set of
dream cards
to request dreams from your unconscious mind.
Now is the perfect time to start your
dream journal for the new year
. Take some time to meditate and reflect upon the reasons you plan to work with your dreams and what you want to receive from them. Perhaps you'd like to dedicate your journal by writing an inscription on the first page. It can be as simple as, "May all my dreams come true." The act of keeping a dream journal is often all that's needed to stimulate dreams. This tells your unconscious that you want to remember your dreams. If you have difficulty remembering your dreams in the beginning, go ahead and write "No dreams last night" each morning until you do start remembering them. Keep the journal and a pen close enough to the bed to write down your dream as soon as you wake up.
Next, take some time to reflect upon the past year. By reviewing the past, you'll be better able to plan the future. What has happened that you don't want to happen again? What mistakes do you not want to repeat? When you look at negative or painful events, don't focus on the ones that you could not do anything about. Move on to the positive. What have you accomplished? You have very likely achieved at least one goal and it's even more likely that you have achieved several even without precise planning! It's so important to acknowledge your progress. Take a look at what steps you took to get there. When you're ready, move on to your "Dream Plan." As you list each goal, think about what you will need to do to actually achieve it. For instance, if you want to buy a house you may have to get a job. What tools do you have? Which tools do you need? How will you obtain them? Your goals should be realistic. or instance, don't set a goal to lose 30 pounds in one month. If your goal is to change a behavior, plan what you will use to replace the behavior. For instance, if you want to stop smoking you could replace smoking with yoga, walking, brushing your teeth, devoting more time to a hobby, writing a book or getting frisky with your mate!
Your plan doesn't have to be perfect. Plans can always be adapted if circumstances change or re-evaluated if they are not working. The most important thing is to
have
a plan to guide your steps. By writing your plan in your dream journal, you are directing your unconscious to help you by providing wisdom and insight through your dreams. You will also be able to review your goals daily and connect them to your dreams easily if they are right there in your journal!
True success in life comes from gratitude and joy. Don't forget to include time with loved ones and time to do the things that bring you joy in your dream plan.
May all your dreams come true!
Parthena Black is a professional social worker and ordained minister with experience in tarot and runes. For private spiritual counseling and intuitive readings via e-mail, please visit her at
oymygoddess.com
---
You Should Also Read:
Goddess Dream Journal
Sample Dream Journal Form
Dreams That Predict The Future


Related Articles
Editor's Picks Articles
Top Ten Articles
Previous Features
Site Map





Content copyright © 2021 by Parthena Black. All rights reserved.
This content was written by Parthena Black. If you wish to use this content in any manner, you need written permission. Contact Lori Chidori Phillips for details.