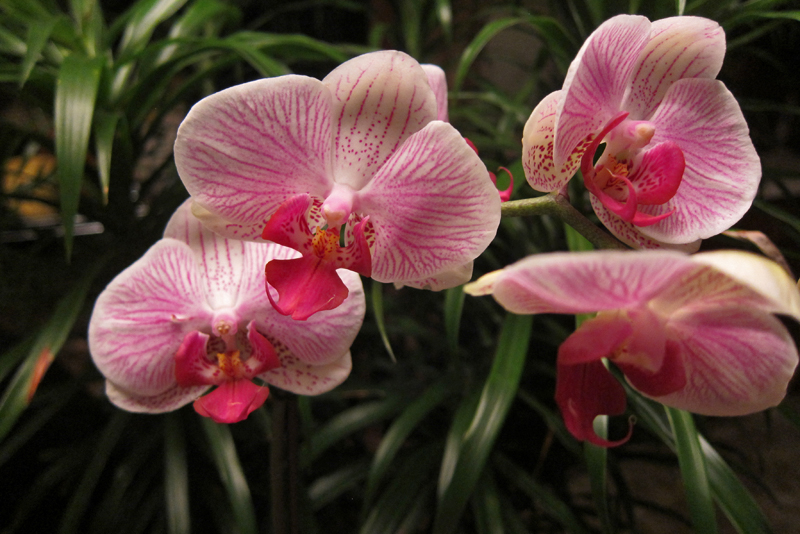 This is a continuation of the Tips articles which were posted previously. If you have any tips you'd like to contribute, please send me an e-mail with "Tips" in the subject line. I would like to thank the members of the AOS Forum, Orchid Dreams Forum and the Houston Orchid Society for the tips they contributed.

Protect buds from snails and slugs with cotton pads
Slit a cotton pad in half and place on an inflorescence to discourage snails and slugs. Use thread or raffia to hold the cotton to the inflorescence. Snails and slugs will not cross the cotton.

Orthene
Orthene kills scale, both juvenile and the mature hard scale and provides some systemic effect so it will act as a preventative. Apply it according to manufacturer's instructions and be sure to protect yourself if you are sensitive to insecticides.

Cleaning pots
Put clay pots in the oven when you run the self-cleaning cycle; they come out with just a bit of ash where the algae, roots, etc. had been clinging. Allow the pots to cool off before removing them. When you clean this way, be sure that you soak the pots well before reusing.

For ease in mounting, use plastic thread and a needle
When mounting orchids, thread a regular needle with plastic see-through thread and use this to secure the plant to the mount. It makes it much easier to handle and you can make the thread go exactly where you want it to. I also use a small piece of plastic window screening over the sphagnum moss and sew it on with the thread before putting the plant on top of it. This holds the sphagnum moss much more securely while the plant is rooting.

Forcing problem plants to grow
When you have a plant that is not doing too well, or was bought dry root and you're not sure if it will grow, put it into an empty clay pot. Water and fertilize with all your other plants on your normal schedule. If the plant is going to make it, it will put out new roots or a new shoot and you will be able to repot it. This way you're not wasting medium and money on a plant that will die.

Use Neem Oil as an insecticide and preventative
Neem Oil at a rate of one ounce per gallon of water and one ounce of dishwashing or insecticidal soap used as a spray will kill insects on contact and will also be absorbed systemically by your plants. Spray the plant including the top of the medium until the point of runoff. The spray can also be used for benches, walls and floors in greenhouses. Mix only what you can use in a four to six hour period since the effectiveness of the mixture will degrade after that time.

You Should Also Read:
Winter Orchid Growing Tips
Review -- The Potting Workshop
Growing Orchids on Mounts


Editor's Picks Articles
Top Ten Articles
Previous Features
Site Map





Content copyright © 2022 by Susan Taylor. All rights reserved.
This content was written by Susan Taylor. If you wish to use this content in any manner, you need written permission. Contact Anu Dharmani for details.