Trappist Beer - The Select Seven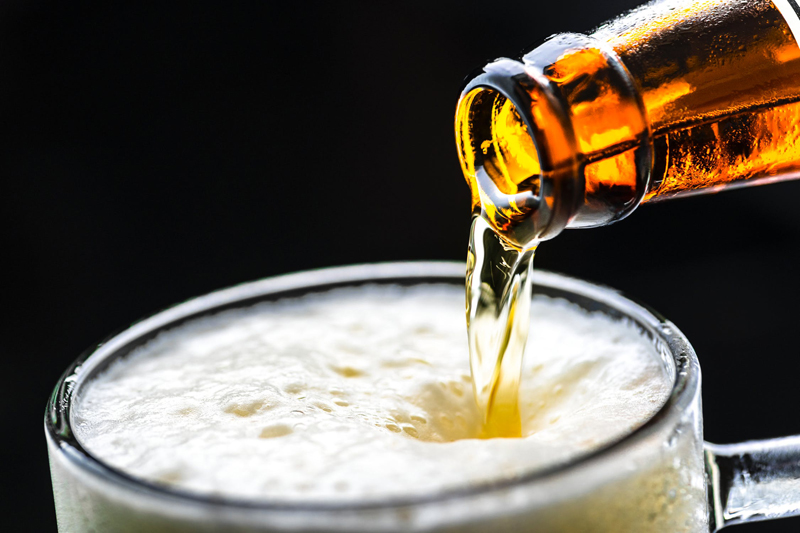 It is no wonder that a mysterious aura surrounds the world of Trappist Beer. An excerpt from the article, Guide to European Beer Trips & World Class Adventure, is a perfect illustration of the esoteric fog that exemplifies life within the walls of an abbey:

"Although Abbaye Notre-Dame de Saint-Remy, the monastery that brews world-class Trappist Rochefort Ales, has a reputation for limited access, beertrips.com had acquired approval for a tour of the abbey and brewhouse – with one limitation. Due to traditional beliefs, women would only be permitted to tour the exterior grounds. Several conversations (in French) between [Mike] Saxton and Père Jacques would not change this, so the travelers accepted this limitation with respect.

Upon arrival, Père Jacques bent from tradition, and graciously permitted the women to enter the hallowed walls. They began with a tour and tasting, followed by admission into the mid-day service, a mysterious manifestation of age-old praise and Gregorian chanting that sent goose bumps up their necks. The experience remains one of the most vivid in his [Saxton's] memory – quintessential!"


Despite centuries of turmoil and change, the spiritual, abbey-lifestyle of modern times continues to be cemented in traditions of the past. The initial rules that governed monastic life had been developed by St. Benedict of Cassino, during the 6th Century. Built upon a foundation of prayer, work and self-sufficiency, Benedictine monks accepted separation from the temptations of the secular world, living a secluded life in which they could remain focused upon spirituality and sacrifice.

During the 12th century, St. Bernard broke with the Benedictine Order, calling for a higher level of involvement in manual labor among those choosing the monastic life. These were the original Cistercians, an order that was to endure yet another revision centuries later.

Armand-Jean Le Bouthillier de Rancé had been a well-educated member of a noble family who had lived at court as a worldly priest, collecting revenue from the Abbaye de la Trappe, Normandy, as abbot in commendam. After years of scandalous conduct, he had a change of conscience, disposed of his worldly possessions, and sought permission from the king to retire to la Trappe. There he initiated vast change, founding the Order of the Reformed Cistercians of Strict Observance. Rancé required austerity of diet, penitential exercises and, with the exception of daily chanting, absolute silence.

Granted land by the local nobility, the monks grew barley and wheat as a part of their ascetic lifestyle. To sustain them during periods of fasting, they also brewed beer – liquid bread inspired by faith, patience and a desire to reach spiritual perfection. These were the first Trappists.

Driven out of France in the 1700's during the French Revolution, the Trappist monks lived in exile throughout Belgium and the Netherlands, where they established new abbeys and resumed brewing beer by 1830. Brewed in small quantities, but with the same dedication to perfection that had become their trademark, this beer became known throughout the world as the champagne of Belgium.

Modern commercial beer companies were quick to take notice and attempted to associate themselves with Trappist brewing. To protect themselves and their well-deserved reputation from commercial entities that might abuse the Trappist name, eight Trappist Abbeys founded the International Trappist Association – Internationale Vereniging Trappist – in 1997. Criteria were established to determine qualification as a Trappist Beer, a logo was created, and laws governing the use of the Trappist Beer appellation were approved. Membership in the ITA is open to the more than 171 Trappist Abbeys worldwide, but the financial burdens and time commitment associated with membership creates its own limitations.

As of January 2006, only seven Trappist breweries have gained acceptance by the International Trappist Association as those who respect the production criteria set forth by the association and are worthy of the Trappist appellation. These are Chimay, Westmalle, Orval, Rochefort, Westvleteren and Achel, located in Belgium, and LaTrappe in the Netherlands. These breweries alone are allowed to affix the hexagonal insignia "Authentic Trappist Product" to their products. Some produce additional products – cheese, wine, jelly, etc. – that can also bear the insignia.

Trappist beers must be brewed within the walls of a Trappist abbey, by or under the control of Trappist monks; the brewery and choices of brewing must depend on the monastic community; and their economic purpose must be directed toward charitable assistance, and not for profit.


These beers are not a style, but a family of styles, unique unto themselves. Their complexity is characterized by a yeasty breadiness, sustained sweetness, fruity esters that develop further complexity on the palate, bright hops that may diminish with aging, damp earth, herbal or floral aromatics and bold strength. They may display a complexity of yeasts, including Brettanomyces, the characteristic "saddle leather" attribute that develops a dry and strong distinction with aging.

Guide to Trappist Beer

Chimay - Abbaye Notre-Dame de Scourmont, Chimay, Hainaut, Belgium – Bieres de Chimay
Chimay is the most famous of the Trappist Beers. Although there is a "consume by" date on the bottle, these beers never, in fact, "go bad." There are currently three beers produced within this brewing community:

Chimay Rouge/Premier (Red) – Chimay's original beer is a dubbel with 7% abv that glows russet brown with a fluffy white head. Aromas are of malt, apricots and black currants, with a zest of pepper and hops. A silky mouthfeel allows light fruit to slide across the palate. Hops have a restrained, feather-light touch. Finishes dry.

Chimay Blanche (White) - Renamed Cinq Cents in honor of the town's 500th anniversary in 1986, Chimay's tripel is a burnished honey color with rocky white head. The scent of yeast and bright hops comes to the fore. Flavors of hops and caramelized sugar come forth within a clean and dry palate. Although these Trappist Beers can be kept in storage and aged, it is recommended that Cinq Cents be consumed while young, before the full flavor of hops has time to diminish. At 8% abv, Chimay White is also available in kegs.

Chimay Bleu/Grand Reserve (Blue) – At 9% abv, Grand Reserve is the strongest of the Chimay collection. Colors are a dark, garnet brown, with port-like aromas of dark fruit, nutmeg and black pepper. The taste buds are treated to sensations of plums and malt, with a firm bitterness. If cellared for 5 years, Grand Reserve takes on notes of port and sherry, with additional spiciness. It is recommended that Grand Reserve be cellared in vertical storage, and may be aged for 10, 15, even 20 years.

Westmalle - Abdij der Trappisten van Westmalle – Malle, Belgium – Brouwerij Westmalle
Westmalle is considered the most influential of all the Trappist breweries. Officially named "Our Lady of the Sacred Heart," it is one of the most beautiful brewhouses in the world, with its art deco influences and post-WWII artistry. These Trappist beers speak of complexity, blending malts from Belgium, Germany and France, in conjunction with brewing water that is high in mineral spirits for a uniquely-defined style of beer.

Westmalle Tripel - A massive, white head is carried above a nebulous body of peachy orange, while flakes of yeast float gently within the chalice. Aromas are of sweet dough, yeast, bubblegum and fruit – perhaps pineapple and lemon. The sweet fruits meet at the forefront, then drop back, while a dry hop presence blends with the profile of dry wine. Finishes clean and sharp.

Westmalle Dubbel - Russet brown with a fluffy tan head, Westmalle defines the style of a Belgian dubbel. The air fills with aromatic raisin bread, toast, dates, plums, and banana. Complexity is king, as dark fruits, chocolate, port wine and musty yeast tease the palate. A dry, lingering bitterness, filled with spiciness, grabs at the finish.

Orval - Abbaye Notre-Dame d'Orval, Villers-devant-Orval, Luxembourg, Belgium – Brasserie d'Orval
Orval means "Valley of Gold." Legend has it that the Countess Mathilda of Tuscany accidentally dropped her wedding ring into the waters in this beautiful valley. Distraught with the situation, she fervently prayed to God, whereupon a trout immediately rose to the surface with the ring in its mouth. She proclaimed this the "Val d'Or" and pledged to build a monastery on the site. Orval produces only one beer.

Orval – Beer enthusiasts refer to this as the essence of the Valley of Gold or gout d'Orval. A three-stage process requiring patience and diligence is necessary to develop the complex flavors characteristic of Orval's style. European barleys, candy sugar and ale yeast comprise the first fermentation. A second fermentation is accomplished with the addition of ten yeast strains, including Brettanomyces, a strain capable of comsuming sugars that others cannot. Dry hops are added, the beer is allowed to rest, and it is bottled with fresh yeast and priming sugar. Then it is aged for nine weeks. The results are a body of brilliant orange, reminiscent of a sunset, that glows beneath a pillowy, white head. Aromas are an intensely complex array of herbal and flowery hops, sage, hay, damp earth and leather. Flavors are dry, fruity, herbal, and bitter, with a clean snap. Aging diminishes the hop character, but develops greater complexity, dryness and strength.

Rochefort - Abbaye Norte Dame de Saint-Remy – Rochefort, Namur, Belgium – Brasserie de Rochefort
Known as the most beautiful of the Trappist breweries, the beers produced at Rochefort are all dark, and known by the concentration of their corresponding worts of 6, 8 or 10. They are blended of malts and dark candy sugar, touched with German Hallertauer and Styrian Goldings Hops and undergo a warm and fast fermentation.

Rochefort Six – Pale brown with a touch of red, topped with tawny foam, Six fills the olfactory senses with dark fruits and a hint of hops. It has a soft sweet palate, round in the mouth, with herbal flavors and hints of plum in the finish.

Rochefort Eight – With a 9.2% abv, Eight is russet brown with an aromatic blend of figs and raisins. The palate is awash with caramel and malt, while a firm bitterness echoes the initial fruit aromas.

Rochefort Ten – Dense brown with highlights of red dance under a rocky tan head. Aromas of sherry and dark, brandied fruit fill the nose. The tongue delights in a port-like complexity of raisins, plums, hard candy, and sherry, while hops linger in the background, imparting a firm, pleasant bitterness.

Westvleteren – Sint Sixtusabdij van Westvleteren – West Flanders, Belgium – Abdij Sint Sixtus
When word gets out that beer distribution is ready, beer lovers gather in volumes, desirous of the elixir that comes from Sint Sixtus. Beer is only sold to individual customers who promise not to sell the beer to others. This Trappist Beer can be conserved for years, and recommendation for aging is that it be stored vertically. The beers are distinguished by the color of their cap alone.

Westvleteren Blonde (Green cap) – A malty nose rises out of the hazy gold elixir, while hints of citrus swirl above a cream-colored head of bubbly eggshell. Sweet malts entwine with spicy hop flavors, and finish with a dry, tart aftertaste.

Westvleteren 8 (Blue cap) – Deep chocolate brown liquid is slathered with a chunky head of beige foam. The nose is vinous, with a dark fruity profile. Alcohol spiciness spills over the lips, lighting the tongue with peppery yeast, dark sweet fruit – figs, plums, raisins, prunes – and a Styrian hops bite. 8% abv

Westvleteren 12 (Yellow cap) – At 10.2% abv, Twelve carries pronounced flavors that make you wonder if it had been made by angels. Burgundy brown with a monumental off-white head, the aromas of caramel, nuts, fruit, exotic spices, anise and licorice are but a touch of the complexity of this heavenly brew. Flavors match aromas – intense and seductive, while others emerge and surround your senses.

Achel – Sint Benedictus Abdij – De Achelse Kluis, Achel, Belgium – Brouwerij van de Achelse Kluis
Located on the Dutch border, Achel is the new kid on the block, having brewed its first beer since WWI, in 1999. Dedicated to work and self sufficiency, they brew two strengths of Blond, and two strengths of Brune, along with an Extra Blonde.

Biere Blonde 8° - A hazy golden yellow body upholds the rocky white head, while aromatic wafts of lemon, lime and bubblegum fill your space. Malty sweetness is accompanied by apricots, oranges and other citrus fruits in a marriage on the tongue. Hops are met by honey and coriander, with a smooth and velvety finish.

Biere Brune 8° - Deep russet brown with a thin tan head, this dubbel fills the sense of smell with notes of prunes, sweet malt and alcohol. Flavors are alive with acidic hoppy notes, yeasty malts, and spiciness.

La Trappe – Bierbrouwerij de Koningshoeven, Berkel-Euschot, Netherlands
This is the only Trappist Beer in the Netherlands. Between 1999 and September, 2005, the International Trappist Association had withdrawn La Trappe's rights to the Authentic Trappist Seal. On September 9, 2005, the rights to the hexagonal seal were reinstated.

La Trappe makes five standard beers, with occasional seasonals, as they determine. The five standards are: Blonde, Dubbel, Tripel, Quadrupel and Witte Trappist.

Witte Trappist is a Witbier, while the others are all styles of Belgian Ales with complexity, fruity esters, exotic spices and a dedication to brewing.

La Trappe Quadrupel – Pours a deep russet color with magnanimous, creamy head and sheets of lacing. A treat to the nasal passages, due to the aroma of dark sugar, musty oak, and red wine. Flavor profiles of grapes and alcohol roll thick and chewy on the tongue. Spectacular!

The International Trappist Association, headed by the Mother Abbess of the Abbaye Notre-Dame de Clairefontaine near Bouillon in Luxembourg, currently consists of approximately 12 members from Belgium, Netherlands and Germany, including three Belgian nunneries in the mix. The possibility of other abbeys receiving the Trappist designation awaits on the horizon.

Photos courtesy of beertrips.com and LaTrappe.

Cheers! 
You Should Also Read:
Secrets of Belgian Style Ale - Dubbels & Tripels
Pleasurable Saison & Belgian Beauty
Biere de Garde - The Best Kept Secret of French Flanders


Editor's Picks Articles
Top Ten Articles
Previous Features
Site Map





Content copyright © 2022 by Carolyn Smagalski. All rights reserved.
This content was written by Carolyn Smagalski. If you wish to use this content in any manner, you need written permission. Contact Carolyn Smagalski for details.