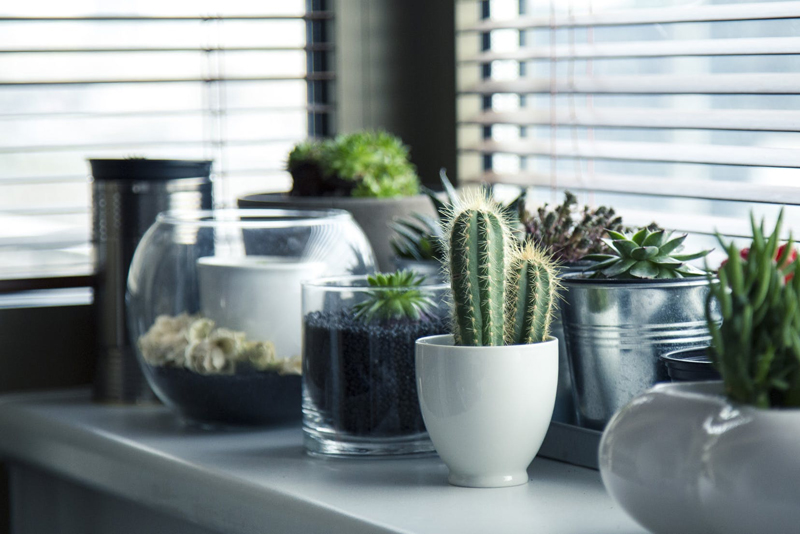 Here is a plant that people fall in love with! Hoyas are a type of tropical vine or shrub with thick fleshy leaves and gorgeous, fragrant flowers. A lot of houseplant growers only grow Hoyas! They are so attractive and varied that you might find more than one sneaking its way into your collection. When you do, it's best if you know what to expect and how to care for a Hoya.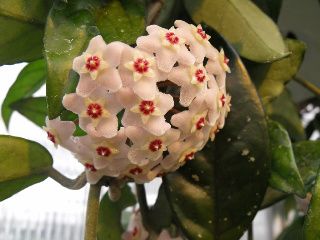 Hoyas do best in bright, but indirect sunlight. This could be provided in a southern window with some protection, in direct morning sun, or protected evening sun. If you are far north or during winter-time your Hoya can handle direct sunlight for more hours of the day. If your Hoya will not flower, first check your lighting conditions.
Watering should be done somewhat infrequently. Do not soak the soil when you water, and let it dry out completely before watering it again. Hoyas like it dry, and are even forgiving of low humidity.
Hoyas are light feeders, but they should be fertilized on a regular schedule. Find a schedule that works for your plant with your lighting conditions. It may vary for different plants, but I would suggest watering "weakly, weekly". When growth slows down as winter approaches, you may stop fertilizing. The fertilizer won't be used by the plant and the salts may accumulate, preventing the plant from taking up water.
The flowers on a Hoya are star-shaped and grow in clusters. The inflorescence is called an umbel, which resembles an umbrella, and grows from a peduncle, or stem. Do not cut the peduncle off after the blooms are spent as the plant may bloom from it again many more times. When you see a flower stalk begin to grow, do not move the plant or the flowers may die. The flowers are often beautifully fragranced and come in many different colors, so spend the time finding a variety that really appeals to you.
There are a few pests you should look out for when you are growing Hoyas. Mealy bugs love them, unfortunately. There are some spider mites that enjoy Hoyas, as well, but you can definitely treat for them. It is a great idea to use a systemic as a preventative measure, but if you see mealy bugs or spider mites you will have to treat them specifically. Alcohol is great for getting rid of mealy bugs, whether you dab the insects themselves or mist the whole plant. Insecticidal soaps can be useful, but no matter which route you go, plan on re-treating several times.
Pruning, re-potting, and other maintenance should be done as infrequently as possible. Be aware that Hoyas will bloom on new growth, so don't go chopping and pruning these plants. Prune only when necessary or when the portion of the plant you are removing is obviously dying or has died. Hoyas really hate to be disturbed and take a long time to readjust when re-potted. Re-pot no more than once a year.
One last note before you start shopping for a Hoya: buyer beware. Hoyas are quite popular and therefore command higher prices in many instances. There are some less than reputable sellers out there who would love to pass off a cheap plant for an expensive one and take your money. If you are interested in purchasing one of the more exotic Hoyas, please be sure to research the seller. There are lots of great Hoya growers out there, and many of them are online. Other than that, have fun shopping for your next favorite houseplant!
This site needs an editor - click to learn more!

You Should Also Read:
Repotting a Plant
Mealybugs
Houseplants Newsletter




Related Articles
Editor's Picks Articles
Top Ten Articles
Previous Features
Site Map





Content copyright © 2022 by Lisa Beth Voldeck. All rights reserved.
This content was written by Lisa Beth Voldeck. If you wish to use this content in any manner, you need written permission. Contact BellaOnline Administration for details.