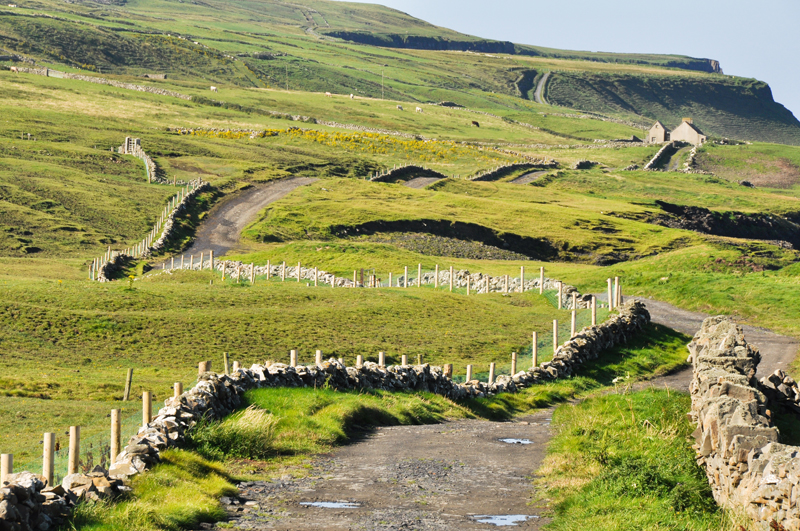 There are a number of foods associated with Halloween celebrations in Ireland. The marriage of mashed potato and kale or savoy cabbage, also known as colcannon, is one traditional food. Chocolate is popular for trick or treating but you also see packages of peanuts, or monkey nuts as they are called in Ireland, appearing in the shops. Pumpkins have caught on in popularity in the past decade, being an import from North America.

But what is distinctively Irish is the fruited yeast bread known as barm brack. Traditionally charms that would tell your fortune for the next year would be tucked into the bread. Remember that Halloween was originally the Celtic New Year. This tradition of putting in charms in baked goods migrated to the door stopper solid Christmas cakes that are part and parcel of Irish Christmas celebrations. The charms would typically be a ring to foretell love and marriage, perhaps a horseshoe for success and a coin to represent an injection of income. They would be wrapped in greaseproof paper and put into the dough and baked into the bread.

In these more litigious and health and safety minded times, my own version of barm brack is charmless. But the fruit in the bread represents abundance and the sugar includes a wish for a sweet future. The spices are just that; we all need a pinch of spice in our life.

I used Northern Irish strong white bread flour for this recipe. I have been informed that the gluten content is slightly different between Irish and North American flour. So you may need to adjust the recipe slightly to get it exactly right with your own favorite brand of flour.

The same advice applies to ovens and timing. I did the first proving and kneading in a bread machine but baked it in a gas oven at Mark 6/200C/400F. It is smaller than US ovens and was preheated piping hot. You will know your own appliance and adjust accordingly. In my small oven it was done in thirty minutes; it gave a nice resounding thud when I tapped the bottom.

I used a two pound loaf tin that was greased and lightly floured. I have also devised the recipe using American cup measures. Sorry, this cook does not think in metric!

My Halloween Barm Brack Recipe

Oven preheated to Gas Mark 6/200C/400F. Grease and flour a 2 lb loaf tin. Allow 30-35 minutes for baking.

Method:

In a bowl combine 5 cups strong white bread flour, 1 cup of granulated sugar, ½ cup mixed candied peel, ½ cup candied cherries, ½ cup currants or raisins, 1 tsp. ground mixed spice, 2 tsp. cinnamon, 2 tsp. dried yeast.

Rub in 1/3 cup of butter or solid vegetable fat. (I grated it into the dry ingredients, which helps to evenly distribute it.

Add in 16 fl. oz. of tepid milk.

Work the ingredients until they are combined. Prove the dough in a draft free place. I use a bread machine using the Dough program for the first proving. Or put the bowl in a warm, draft free place; put the bowl in a large plastic bag that 'tents' over the bowl. Go away and do something else for an hour or so while the yeast works and the dough doubles in size.

When you come back, generously flour a clean work surface. The proved dough will be a bit sloppy. Gradually knead in more flour until it is manageable and soft. (This will probably be one cup or less, but use your judgement.) Put the dough into the prepared tin. Find a warm spot in the kitchen for the second proving; put the tin in a large plastic bag and 'tent' it so that the dough will not touch the top as it rises. Go away and do something else for an hour or so.

NOW you are ready to bake the bread. It is lovely to have it buttered hot out of the oven. It is also good as toast or buttered with a cup of tea as a little afternoon pick me up.

Have a Happy Halloween and a Lucky Celtic New Year!







You Should Also Read:
Irish Halloween or Samhain
Tay so Strong the Spoon Stands to Attention


Related Articles
Editor's Picks Articles
Top Ten Articles
Previous Features
Site Map





Content copyright © 2022 by Bee Smith. All rights reserved.
This content was written by Bee Smith. If you wish to use this content in any manner, you need written permission. Contact Bee Smith for details.